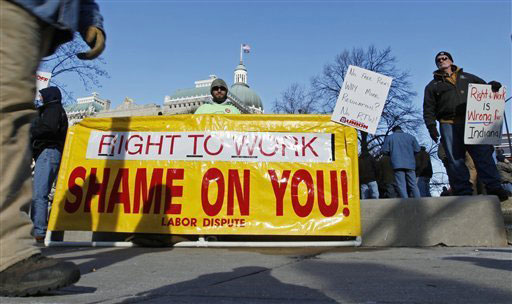 The AFL-CIO has issued a national appeal for help to stop passage of a so-called "right-to-work" law in Indiana as Democratic lawmakers there continue to incur thousands of dollars in fines for boycotting the legislature in order to prevent a vote on the measure.
"We are at war," the AFL-CIO appeal, released on Friday, reads. "The assault on workers in Indiana continues. For the second time in less than twelve months, over 35 elected members of Indiana's State House are denying Republicans a quorum, and this year they are incurring fines of $1,000 per day to stand with the labor movement."
Unions and their allies are canvassing the districts of wavering Republicans and thousands continue to lobby daily in the state Capitol. Busloads of workers from all over the state continue to arrive and phone lines are barely able to keep up with the thousands of calls coming in, urging representatives to turn down the Republican-backed measure.
Republican Gov. Mitch Daniels, who is slated to give the GOP's national response to President Obama's State of the Union message Tuesday night, is aiming for passage of the right-wing measure in the next two weeks, before the Super Bowl in Indianapolis. The National Football Players Association has denounced the "right-to-work" proposal and the game, itself, could end up as a serious embarrassment for both Daniels and the national GOP. Republicans fear that players and fans might use the games as an opportunity to expose to the nation what Republicans are doing.
The federation says people all over the country can help by calling their local labor federations and unions to get information about where they can get hooked up with a phone bank, or by sending funds to "A Working Person Like You," 1701 W. 18th St., Indianapolis, IN 46202.
Last week a judge ruled that Republicans trying to ram through the bill could not, in addition to the fines, seize the pay of Democrats staying off the floor in their filibuster.
A Marion County judge issued a temporary restraining order barring the pay seizure after three of the House Democrats challenged Republicans' decision to fine filibusters $1,000 a day by stealing their pay. The ruling still allows the fines to be levied but blocks withholding of paychecks.
The fines follow a number of other Republican tactics designed to ram through their bill. On numerous occasions they have shut the protesting public out of the statehouse and they have gone back on their one-time promise to consider amendments to their bill that would result in putting the issue up for a statewide vote.

Polls show that 71 percent of the public in Indiana supports pitting "right to work" on the ballot rather than having it rammed through the legislature.
Photo: Ben Fairchild of Decatur, Ind., displaying a sign outside of the Statehouse in Indianapolis. Darron Cummings/AP