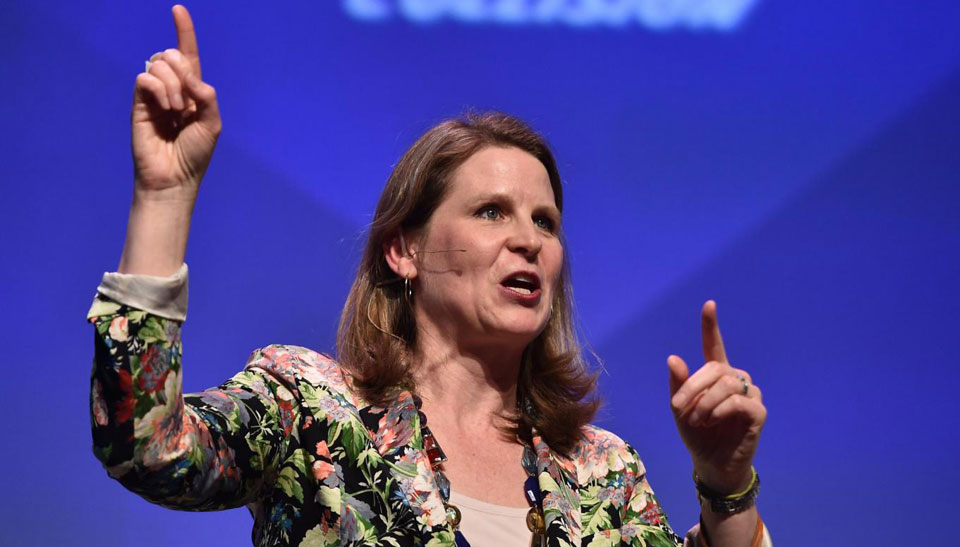 WASHINGTON—The AFL-CIO is cheering the latest Biden administration reversal of racist Trump-era immigration policies. Biden's Homeland Security Department banned massive ICE raids to round up and deport undocumented people, and imposed a U-turn to pursue exploitative employers, instead.
"To improve wages and working conditions, we must change the current enforcement environment in which employers violate labor laws with impunity, while immigrant workers live in fear" of repression, sexual harassment on the job, wage theft, deportation, and dangers, President Liz Shuler said—building on the labor federation's 22-year drive to legalize the undocumented.
Instead of summarily splitting families and deporting parents, Homeland Security Secretary Alejandro Mayorkas' memo to his Immigration and Customs Enforcement (ICE) field offices orders agents "to ensure our nation's workplaces comply with our laws."
"We will not tolerate unscrupulous employers who exploit unauthorized workers, conduct illegal activities, or impose unsafe working conditions," Mayorkas announced.
"Employers engaged in illegal acts compel the focus of our enforcement resources. By adopting policies that focus on the most unscrupulous employers, we will protect workers as well as legitimate American businesses."
Mayorkas also imposed his order on two other often-rogue DHS agencies, the Customs and Immigration Service and the Border Patrol. The patrol's officers, in particular, are infamous for roundups based on racist reasons, violent family separations, and even shootings of migrants at the U.S.-Mexico border.
The federation supports complete legalization, including an eventual path to citizenship, for the estimated 10 to 11 million undocumented people in the U.S., most of them Spanish-speaking.
Shuler reiterated that point, along with stating that legalizing the undocumented, bringing them out of workplace shadows, actually helps all workers because it not only removes the exploitation but also ends employer use of it as a lever to stop organizing drives and to drive down the wages and benefits of all other workers, too.
DHS took "an important step to ensure immigration enforcement supports, rather than interferes with, the effective enforcement of the laws meant to protect all workers in this country," she said.
"It is long past time for our country to rebalance its worksite enforcement priorities, and this directive guidance is a much-needed step in the fight to remove the barriers to organizing and promote a just recovery for all."
Reversed a policy
Mayorkas reversed a policy which saw ICE agents raid factories and food processing plants, with the excuse to round up and deport undocumented people. Raids occurred in Iowa, at Swift and Co. meatpacking plants, and at factories in Mississippi, Ohio, and elsewhere.
Those worksite raids, especially at meatpackers in the Midwest, drew sharp condemnation from United Food and Commercial Workers President Marc Perrone. His union represents meat and poultry plant workers, many of them workers of color and some of them undocumented, too.
That's because exploitative bosses often called in ICE agents for a raid when the workers started to organize. Shuler now wants the Homeland Security Department "to work closely with unions" on Mayorkas's new policy. That'll be a switch if ICE does switch.
Shuler also reminded people that the Protect The Right To Organize (PRO) Act, labor's #1 legislative priority, will protect all workers, documented or not. And the federation will "continue to call for concrete protections and work authorization for working people demanding safe and fair workplaces," she promised.
UnidosUS, Public Citizen, and the National Employment Law Project also lauded Mayorkas's decision, but NELP doesn't trust ICE to follow Mayorkas' orders, Executive Director Rebecca Dixon said. It'll keep a sharp eagle eye on their actions.
Dixon cited ICE raids during organizing drives in particular, plus its misuse of the visa process to retaliate against worker activists. Bosses often "report workers who organize or report violations to the police, which can subject a worker to immigration detention and deportation in many jurisdictions," Dixon warned. That undermines workplace enforcement.
ICE agents' refusal to follow Mayorkas's orders would be no great surprise. Former GOP Oval Office occupant Donald Trump gleefully ordered the ICE raids, and the ICE sector of the Government Employees (AFGE) is enthusiastic about them.
Like Trump, its agents view undocumented people as criminals or worse. The ICE sector endorsed Trump's candidacy for the presidency in both 2016 and 2020. In return, on his way out the Oval Office door, Trump's regime awarded the ICE sector a new seven-year contract, with a virtual veto over any DHS directives from above. Biden yanked the pact.
But that ICE record and attitudes led the ACLU to say Mayorkas didn't go far enough.
"The history of ICE and CBP (Customs) is rife with abuse," ACLU's petition to Congress says. "In 2020 alone, nearly $23 billion in funding enabled these two DHS sub-agencies" to among other actions, conduct the raids.
"ICE and CBP have been front and center in pushing a racist anti-immigrant agenda at the expense of people's lives. It must stop."