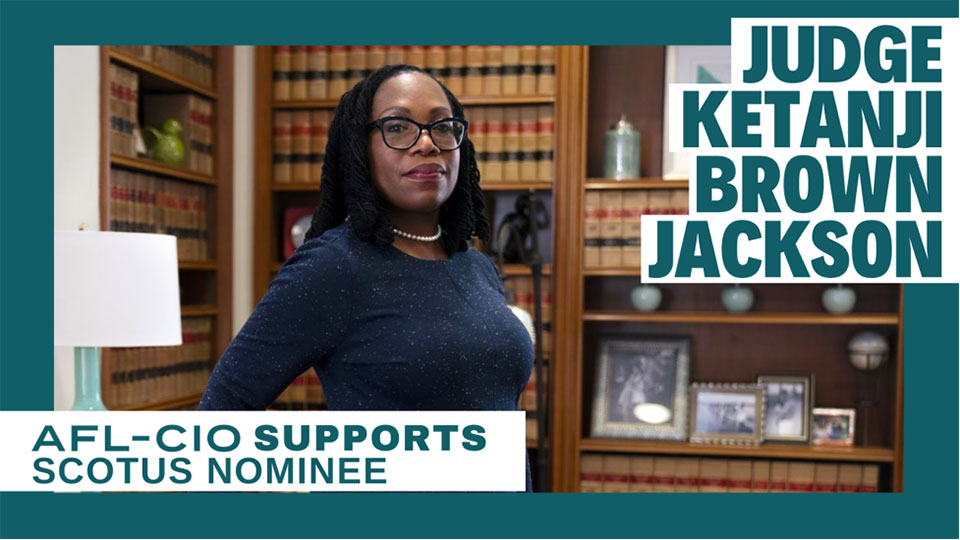 WASHINGTON—Building popular support in advance of Senate votes, the AFL-CIO is circulating an online petition urging signatures for immediate confirmation of Appellate Judge Ketanji Brown Jackson to a seat on the U.S. Supreme Court.
The federation posted the petition on March 22, the second day of Senate Judiciary Committee hearings on Democratic President Joe Biden's nomination of Judge Jackson, 51, to succeed one of her mentors, retiring Justice Stephen Breyer. The panel aims for an April vote.
The AFL-CIO petition came as Judge Jackson fended off GOP attacks. But she also admitted "constitutional interpretation is done" now by looking back through history—the method the six-justice GOP-named conservative majority on the High Court routinely takes.
The petition does not go into Judge Jackson's prior rulings, including her pro-worker rulings, as a reason to confirm her. Instead, it lauds "her clear commitment to equal justice and fairness at the highest court in the land."
It also cites her position as the first Black woman ever nominated to the Supreme Court, her 650 lower federal court rulings, and her past service as an assistant public defender and on the U.S. Sentencing Commission: "Being the first is never easy and Judge Jackson is doing what so many women have done before her, breaking barriers to ensure she is not the last."
Besides the AFL-CIO, union sponsors include the Government Employees, the Bakery, Confectionery and Tobacco Workers and Grain Millers, the Machinists, the Bricklayers, Actors Equity, the Ironworkers, the Professional and Technical Engineers, and the Theatrical and Stage Employees. The petition is on the fed's electronic carousel at www.aflcio.org.
Joining the union signers are state labor federations of Minnesota, California, Ohio, Connecticut, Virginia, Arizona, Oregon, North Carolina, Michigan, Indiana, Texas, Nebraska, Iowa, Colorado, New Mexico, Oklahoma, and Washington state. Central Labor Councils from New York City, Los Angeles, D.C., Philadelphia, Nashville, Memphis, Detroit, St. Paul, Minn., San Francisco, and Milwaukee signed on. So did AFL-CIO constituency groups: The Coalition Of Labor Union Women, Pride At Work, APALA, and the A. Philip Randolph Institute.