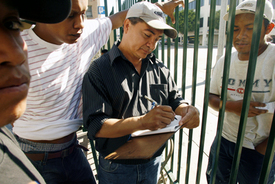 Going to work, getting paid, coming home in one piece and walking your neighborhood with dignity is the goal of a new "watershed" partnership between the AFL-CIO and a network of 140 immigrant worker centers in 80 cities and towns. AFL-CIO President John Sweeney and Pablo Alvarado, executive director of the National Day Laborer Organizing Network, announced the collaboration in Chicago, Aug. 9.
Sweeney told reporters, "Day laborers in the United States often face the harshest forms of workplace problems and this exploitation hurts us all, because when standards are dragged for some workers, they are dragged down for all workers."
He continued, "The work being done by worker centers, and the National Day Laborer Organizing Network in particular, is some of the most important work in the labor movement today and it's time to bring our organizations closer together.
"Through this watershed partnership, we will strengthen our ability to promote and enforce workplace rights for all workers — union and nonunion, immigrant and non-immigrant alike."
Alvarado said, "The growing worker center movement shows that the fight for change at work has never been as vibrant, varied and urgent. Yet the end goal remains the same: to insure that the rights and freedoms of workers aren't reserved for a few, but extended to the many — regardless of where you were born, the color of your skin, your gender and migratory status. This partnership will advance that goal."
Alvarado is no stranger to life in the shadowy world of undocumented workers. Born in El Salvador, he came to the U.S. 16 years ago, working in factories, construction and gardening in California. He knows firsthand about working all day only to get a short paycheck or no paycheck, and about police chasing workers from helicopters and cars, jailing them and imposing stiff fines. He became a legal permanent resident in 1997.
In 1998, Alvarado led a group of immigrant workers who filed suit against a Los Angeles County ordinance aimed at day laborers, banning solicitation in the streets. They won in 2000.
In addition to coordinating worker centers, which provide legal, educational, loan and health care assistance, Alvarado goes to Home Depot parking lots and other areas where immigrant day laborers gather to get work. He recently conducted a meeting of 120 workers on a busy street corner in Agoura Hills, Calif. They took a vote, deciding to set a rate of $15 an hour for their labor.
Battling racist stereotypes, the National Day Laborer Organizing Network encourages immigrant workers to be good neighbors and respectful of the community near their gathering spots. The network connects workers to centers, many religious-based, for services, including language and immigration assistance.
Worker centers and immigrant workers were the core of the massive demonstrations for immigrant rights that swept the country this spring.
The AFL-CIO's executive council approved the collaboration at its August meeting in Chicago. The partnership will enable formal ties between central labor councils and state federations and worker centers. It will provide an organized framework for joint work on issues like workplace rights, immigration reform, health and safety and other job-related concerns.
The landmark alliance between the NDLOC and the AFL-CIO, the nation's largest labor federation, protects and advances all workers, Sweeney said. "By combining our resources in communities and states, we hope to translate the substantial gains achieved by worker centers into the lasting improvement of working conditions," he said.
"Worker centers will benefit from the labor movement's extensive involvement and experience in policy and legislative initiatives on the local, state and national levels. This partnership will also benefit AFL-CIO unions and local labor bodies by establishing channels to formally connect with local worker centers in order to expose abuses and improve workplace standards."
The 700,000-member Laborers' International Union of North America embraced partnership with NDLON at a separate press conference, Aug. 10. Although the Laborers left the AFL-CIO to join the Change to Win labor federation, they maintain a close relationship with local AFL-CIO councils and cooperate in the struggle for immigrant rights.
"We see unionizing in construction as a vehicle of growth," Laborers President Terence O'Sullivan told reporters. "We are looking to organize and give immigrant workers power." The union plans an organizing drive for day laborers early next year.
"We stand side to side with NDLON," Laborers spokesman Richard Greer told the World. "For several years we have been working together on local issues in residential construction, especially in Los Angeles. Local actions are key to organizing, although that is over the horizon."
The corporate right wing was quick to attack. They trotted out Reagan-appointed former National Labor Relations Board General Counsel Jerry Hunter, who provided numerous interviews to the mainstream West Coast press. Hunter sought to stir up division between current Laborers' Union members and potential members who are undocumented workers. "Members could start asking themselves, 'Whose interests are you [the union] serving?'" he suggested.
"That's ridiculous," AFL-CIO spokeswoman Esmeralda Aguilar told the World. "The biggest challenge to organizing, she said, is "the impermanent relationship workers have with the employer. Employers incite and prey on division to increase profits."