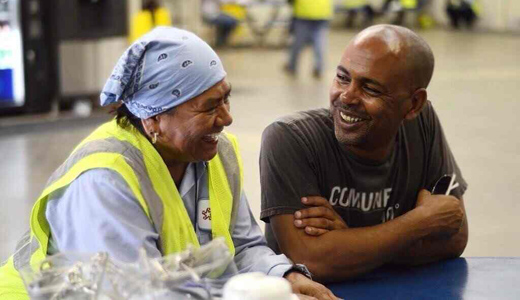 LOS ANGELES – Do American workers lose out because of immigration?
At a recent Los Angeles summit on race and justice sponsored by The Atlantic, Tefere Gebre, executive vice president of the AFL-CIO, was asked that question on a panel moderated by León Krauze, news anchor for Univision KMEX.
"The system doesn't work for any workers," responded Gebre. He went on (in condensed form): "The system is set up to make the rich richer. Immigration reform is our Number One priority. Actual wages have been going down for three decades. Today 12 million undocumented people in the U.S. can't stand up to defend themselves. Obama is trying to compromise with people who do not want to work with him."
And echoing the current national presidential debate, Gebre added, "the middle class is blaming the lower class instead of the upper class, which is ripping them off on a daily basis."
Gebre himself has a powerful immigration story. He fled from poverty and oppression in Ethiopia to come to the United States. As a refugee, he understands the factors that lead people to pick up what little they have and set out for a safer place.
The current world refugee crisis is, of course, a hot topic in many nations, often topping the news. Because of war, violence, poverty, oppression, global warming and other factors, there is now a post-World War II record of 65 million people displaced from their homes. While the executive and the legislative branches in the U.S. debate admitting refugees from Syria, Gebre points out that most of the refugees we see in the U.S. come from three Central American countries: Guatemala, Honduras, and El Salvador, all of which have been heavily impacted for decades by brutal U.S. military and economic policy.
They are refugees from trade policies and violence, says Gebre. "When we talk about the refugee crisis we have to start with our own hemisphere."
Following the thread of conversation about trade policies, Krauze floated a question about the Trans-Pacific Partnership (TPP). What effect would it have on the U.S., and why does Pres. Obama support it?
"Barack Obama's entire base opposes TPP," says Gebre, "so I don't know. Let immigrants lead the conversation."
Other panelists commented on the topic, "The Changing Face of California's Workforce." State Assembly member Lorena Gonzalez, D.-San Diego, reminded the audience that when labor protection laws were enacted in the 1930s, the best deal that could be struck with Democratic forces at the time, under Pres. Franklin D. Roosevelt, left domestic and farm workers out. To no one's shock – indeed, this was the point – such workers were largely Black and Mexican-American. California has been slowly addressing these shortfalls in the law: Recently the legislature passed a law guaranteeing farm workers overtime pay for over 40 hours work per week.
Another panelist, Manuel Pastor, director of the Center for the Study of Immigrant Integration at the University of Southern California, speaking by phone, cited much progress in terms of attitudes toward immigrants, but also said that economic progress is still very challenging. Despite its liberal image, California inequality is fourth from the top in the U.S.
Anthony Ng, a policy advocate for Asian Americans Advancing Justice, and himself both gay and undocumented, pointed out that "immigration policy pits one group against another." The immigration crisis affects different communities in distinct ways, but ultimately "it's about humanizing who immigrants are. We want to live our most authentic lives."
On Monday afternoon, September 19, Tefere Gebre addressed the United Nations in New York, sharing his views "as a migrant, a refugee, a person of color and a labor leader.
"I've logged many miles to get to this point. I was a child when I left Ethiopia at the age of 13 to escape political violence. After numerous brushes with death, I was given refuge by the government of Sudan and eventually settled in the United States.
"I know, firsthand, how much refugees and migrants can achieve and contribute when they are given a chance.
"Since arriving here, I've spent my life organizing to ensure that all workers, regardless of immigration status, can exercise their rights and collectively lift each other up. That's why I feel so strongly that we must embrace this historic opportunity to build a more just global system for millions of other migrants and refugees."
Gebre spent years in conservative Orange County, California, building the labor federation there. His success coincided with unprecedented demographic changes which brought thousands of new immigrants to the area. What was once a solidly Republican stronghold is now contested ground, especially in cities such as Santa Ana, Anaheim and Irvine.
"It is essential that any new commitments on migration empower workers to exercise their rights. We call on the leaders gathered here to produce a global compact that gives workers of all skill levels a real chance at family reunification and permanent migration. 'Safe, regular and orderly' is a bare minimum. Instead, we must pursue a rights-based approach that raises standards for all working people.
"Many existing regular channels for labor migration do not meet that basic standard and are not just, fair, or even, in many cases, safe. From the Gulf region, to Southeast Asia, to North America, workers entering circular or temporary labor migration programs face exploitative recruitment practices, are restricted in their movement and risk detention and deportation if they dare to speak up, threaten to leave or otherwise exercise their rights. These are the fundamental failures of an employer-controlled visa system.
"Much is made of the injustices of the Kafala system, but the pathways for migrants to work in my country are not so different. In the United States, the land of the free, one recent study found that 71 percent of labor trafficking victims entered on lawful visas, and victims paid an average of $6,150 in recruitment fees. Another study found that Mexican workers in the low-wage H-2 visa program experienced employment conditions and wages as poor as, or worse than, irregular Mexican migrants in the same industries. These pathways may be regular, but I ask, are they safe?
"These programs do not empower workers and families, nor do they contribute to equitable development. They merely continue to swell corporate profits at the expense of workers.
"Expanding such regular pathways  –  already the norm in destination countries  –  is the wrong way forward. With xenophobic sentiments on the rise and opportunistic politicians exploiting the real pain of working people, we cannot build equitable societies with proposals that further divide workers and exacerbate inequality.
"We need a different approach that elevates the human and labor rights of migrants and allows workers to exercise those rights without state or employer interference.
"To achieve sustainable development and human rights, we must also tackle the root causes of displacement  –  including failed trade and economic policies, crushing poverty, climate change, lack of access to education and quality public services, and violence. These elements are clear drivers of displacement and many are well within states' power to address. It is time to focus on preventing mass movements, rather than simply responding to them."
It was at the historic AFL-CIO Convention in Los Angeles in 2014 that Gebre was elected to his current position. This was the first time a non-native-born person – with an identifiable accent – had been elevated to such a high leadership role in the labor movement. The move was seen as giving inspiration to the many millions of foreign-born workers struggling for recognition and rights in the U.S.
"As these summits conclude, and the negotiations on the compact begins, we call on our leaders to shape these commitments through social dialogue, listening to the voices of workers and migrants, not just wealthy corporations. The leadership of the ILO [International Labor Organization] should be central to this effort as they hold a rights-based mandate and operate through an established tripartite process that brings legitimacy and balance.
"As trade unionists, we know firsthand that the protection of migrant rights is essential to achieving decent work. We continue to demand that our world leaders use this global process to help build a more equitable and prosperous world."
For a fuller report, see the AFL-CIO report here.
Photo: UFCW Western States Council.