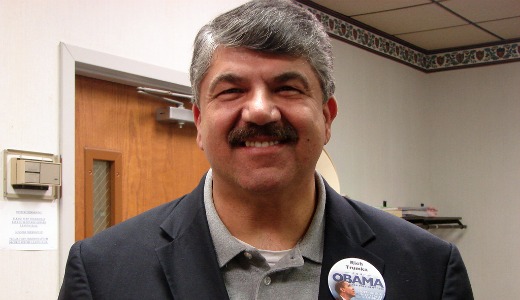 WASHINGTON – In a major speech at the National Press Club May 20, AFL-CIO President Richard Trumka said he supports unions taking an independent political approach in their fight to build the power of workers.
"Working people want a labor movement strong enough to restore balance to our economy, fairness to our tax system, security to our families and moral standing to our nation," Trumka told the live audience here and tens of thousands of viewers on C-Span and other media outlets. "Our role is not to build the political power of a party or a candidate. It is to improve the lives of working families.
"It doesn't matter if candidates and parties are controlling the wrecking ball or simply standing aside – the outcome is the same either way," said Trumka. "If leaders aren't blocking the wrecking ball and advancing working families' interests, working people will not support them. This is where our focus will be – now, in 2012 and beyond."
The leader of the nation's largest labor federation said that an independent labor movement was critical now because of attacks on workers' rights, new efforts to curtail voting rights and calls for austerity on the backs of seniors, children and the sick.
"These events signal a new and dangerous phase of a concerted effort to change the very nature of America – to turn this into an 'I've got mine' nation and replace the land of liberty and justice for all with the land of the rich, by the rich and for the rich," Trumka declared.
He said that politicians like Republican Govs. John Kasich (Ohio) and Scott Walker (Wisconsin) campaigned promising to take action on the nation's jobs crisis, only to show when they took office that "their jobs agenda was to make them disappear." He added, "But their real passion was for eliminating the rights of working people and their unions because they are the people standing in the way of their agenda."
Trumka cited Alex Hanna, a graduate assistant at the University of Wisconsin in Madison and co-president of the Teaching Assistants' Association, which belongs to the American Federation of Teachers.
Hanna, whose family is from Egypt, was in Cairo rallying for freedom for Egyptian workers when he heard about Gov. Walker's push to end collective bargaining for public workers.
He rushed home to join the demonstrations at the Wisconsin state Capitol.
Hanna, who joined Trumka at the press conference, said the Cairo and Madison experiences, though different, show that "when people overcome their fears and stand for what they believe in they can succeed."
Trumka warned that "powerful political forces are trying to silence working people." He said, "In this environment we must do more than just protect our own right to a voice in the life of our nation. We must raise our voice to win a better future for all working families here in America and around the globe."
The union leader closed his speech with a strong pitch for unity.
"We know that only a dynamic, effective movement of working people working together can reclaim the value of work, " He said. "Our unions must reach out to every working person in America – to those whose jobs have been outsourced and down-sized, to carwash workers in Los Angeles, to domestic workers who have few legal rights, to freelancers and young people who have 'gigs' rather than jobs. And together with the AFL-CIO's construction and manufacturing workers, pilots and painters, plumbers and public employees, bakers and others, we will be heard."
Photo: Stock shot of Trumka. AFL-CIO // CC 2.0