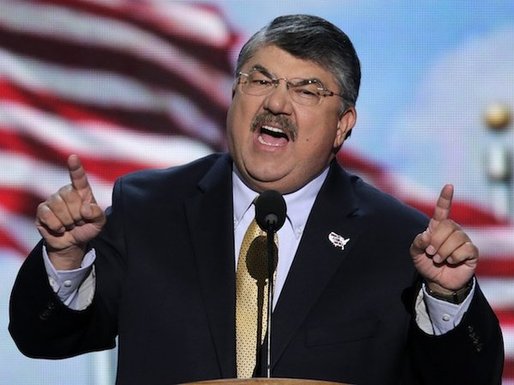 WASHINGTON – The AFL-CIO, which saw President Obama push one top provision of the Affordable Care Act – a 2018 tax on so-called "Cadillac" health care plans – down its throat, is upset by the latest health care development: a one-year postponement of another key section, the employer mandate.
In a statement, federation President Richard Trumka called the postponement "troubling" and implied the administration bowed to business pressure. When Congress passed health care, Obama assured workers with insurance that they would keep it.
Obama announced the postponement in early July, citing the complexity of instituting the mandate in 2014. The mandate orders all employers with more than 50 workers to provide health care coverage or pay a tax per worker to cover costs of care for the uninsured. The uninsured would get care through state or federal-run health care exchanges. Many GOP-run states resist those, too.
"In the health reform debate, we fought to ensure employers have a responsibility to provide affordable, comprehensive health benefits to their workers and their families," Trumka explained. Private-sector health care coverage has been declining for years, as employers shift its costs to workers or dump it entirely.
"The employer responsibility provision in the Affordable Care Act (ACA), while not as strong as we asked for, was designed to give large employers an incentive to offer or continue offering affordable, comprehensive health care coverage to some of their employees," he said. Dropping the mandate ends that incentive, he added.
The nation's largest private-sector employer, virulently anti-worker Walmart, is an example of what Trumka was talking about and what the mandate is supposed to fix. Walmart health care is expensive – especially given its rock-bottom wages – and available only to full-timers. And Walmart carefully curbs workers' hours to make them part-time. So more than 40 percent of Walmart workers and their families depend on Medicaid or public programs for health care.
"The administration's announcement that it is delaying employer responsibility assessments until 2015 is troubling because it removes that incentive for next year. In light of this decision, we believe it is even more urgent for Congress and the administration to reaffirm their commitment to employer responsibility," Trumka said.
The ACA still needs some improvements, the fed president said. Notably, its requirements must be rewritten to make multi-employer plans – often jointly run with unions in industries such as construction and food manufacturing – viable. "We hope the administration will address these concerns just as they have the concerns voiced by employers," he concluded.
Photo: Richard Trumka. AP