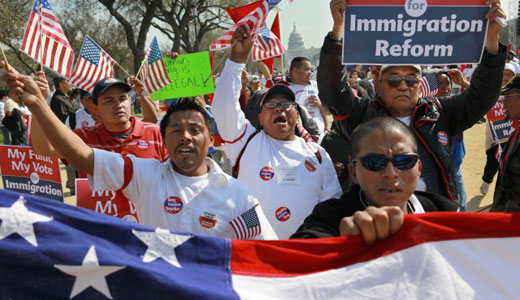 WASHINGTON – The fate of comprehensive immigration reform with a road map to citizenship that fully protects the rights of all workers is in the hands of House Republicans. Today, the AFL-CIO launched a multi-city ad campaign telling Republicans to take action now. The ads also hold anti-immigrant Republican lawmakers accountable for their hostile statements about Latino immigrants.
The Senate passed a bipartisan immigration reform bill in June, and last month a House bill patterned on the bipartisan Senate measure was introduced. But House Speaker John Boehner (R-Ohio) and other Republican leaders have indicated they will not allow a vote on a comprehensive immigration reform bill with a road map to citizenship.
You can help by texting SHAME to 235246 and telling House Republicans it's time to vote on citizenship.
The ads (see the video) will air in Spanish in Atlanta, Bakersfield, Calif., Denver and Orlando, Fla., and in English in metropolitan Washington, D.C. (story continues after video)
In addition to the ads, labor will launch in-district mobilizations to increase pressure on House Republicans to support immigration reform with a road map to citizenship that protects workers' rights. Says AFL-CIO president Richard Trumka:
The time for acting on immigration reform is now, and the labor movement has decided to throw down in a big way to make it happen, Every day, over 1,000 people are deported, while House Republicans refuse to act on immigration reform with a road map to citizenship and workers' rights. We won't stop until the deportation crisis ends and aspiring Americans have the road map to citizenship they deserve.
Photo: Activists hold an immigration reform rally in Washington, D.C. Jacquelyn Martin/AP