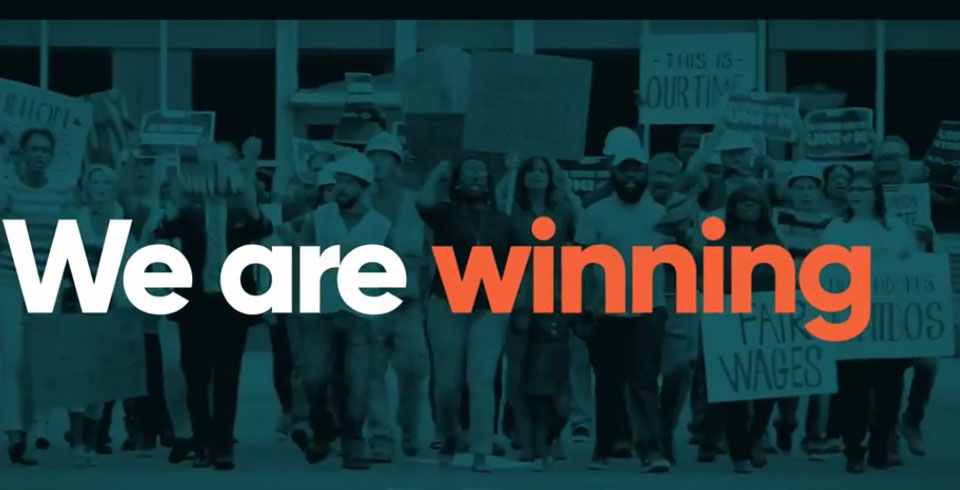 The AFL-CIO today launched a television ad campaign highlighting the wave of collective action sweeping the country. From surging organizing victories to the defeat of Prop. A, working people are on the rise. As AFL-CIO President Richard Trumka puts it:
"Brothers and sisters, it's time…And, I know you can feel it…Let's fight for those who fight for us…You see, something is happening in America…When we stand together, we have the power." 
The ad will run on CNN, MSNBC and Fox News through at least Labor Day, coming on the heels of some major victories for working people. Some 262,000 joined unions last year—three quarters of them under the age of the 35, according to data released by the Bureau of Labor Statistics.
The good news for unions goes beyond just membership gains over the recent perioid. The entrance of unions into the political arena is scoring increased successes. Pro-worker  candidates have been elected in Pennsylvania, New Jersey, Alabama and elsewhere across the country.
Prop. A was voted down by two thirds of Missouri voters, including half of Republicans.
The improved atmoshphere for the growth of union membership and influence has bee reported in major newspapers including in publcations not generally favorable to the labor movement. The New York Times declared that unions have the wind at their backs wind is at our back, while even The Wall Street Journal warned CEOs that unions are on the march.
Labor unions' approval rating has risen to 61%, the highest in nearly 15 years.
You can check out the new ad here.