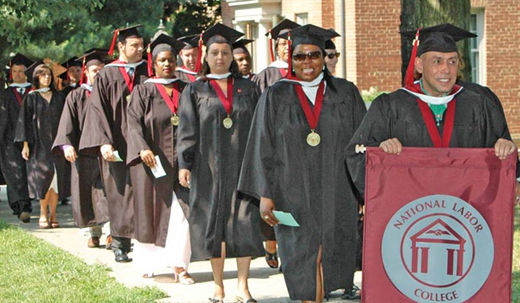 The AFL-CIO is joining the National Labor College and the Princeton Review to launch an online college to bring high-quality degree programs to the federation's 11.5 million members and their families.
The organizers of the new online college, tentatively called the College for Working Families, say they aim to expand job opportunities for union members by providing education and retraining that's affordable and accessible. The programs will combine the advantages of online learning with the resources of unions to provide services specifically suited to the needs and interests of working families, they say.
The online college will be the first and only accredited degree-granting institution devoted exclusively to the education of union members. Courses will begin in the fall and include topics such as health sciences, business, criminal justice and education.
AFL-CIO President Richard Trumka, who chairs the National Labor College Board of Trustees, said expanding good jobs is a top priority for the labor movement.
"To achieve this, workers' skills and knowledge must match the role of employers in a changing job market," he said. "This new online education venture demonstrates our strong commitment to playing a significant role in ensuring that quality education for America's workers and their families remains affordable and accessible."
Michael Perik, president and CEO of the Princeton Review, said it's critical that the American workforce be successfully educated and retained without driving tuition costs beyond the point of affordability.
"We are confident that, through this partnership, we can help ensure that the students who enroll in the college will have a successful learning experience and will contribute in important ways to the growth of the American economy," Perik said.
William Scheuerman, president of the college, said the online courses would cost about $200 a credit, competitive with community colleges and far cheaper than most four-year colleges and for-profit schools. He said the labor college chose the Princeton Review and its Penn Foster subsidiary as partners because of their expertise in distance learning.
Penn Foster, based in Scranton, Pa., first provided mail correspondence safety courses to coal miners in 1890. Today Penn Foster provides online courses to 220,000 students and a large part of its operations is unionized.
The labor college is also accepting applications from workers in unions not affiliated with the AFL-CIO such as the Teamsters and Service Employees unions. Scheuerman said such students would probably have to pay a premium above what AFL-CIO members pay.
The online college seeks to provide bachelor's degrees primarily but plans to ultimately also offer associate's and master's degrees.
The AFL-CIO first established the National Labor College as a training center in 1969 to strengthen union member education and organizing skills. The college became a degree-granting institution in 1997 and in March 2004 gained accreditation from the Middle States Commission on Higher Education. The school is located in Silver Spring, Md.
Since its founding more than 200,000 union officials and members have taken one or more of the courses offered. Over 1,100 B.A. degrees in labor studies have been granted. Recipients include international union presidents and officers, local union officials and stewards and workers from virtually every national and international union.
In other news, the labor college and the AFL-CIO's Center for Green Jobs recently launched the Green Labor Journal, a monthly online journal that aims to examine issues of sustainability, energy use and climate change from a union perspective.
The journal will feature green initiatives by labor groups and provide up-to-date information on new developments in green policy, technology and work processes. The online journal will also highlight the important role of unions in environmental debates.
Each month the journal will emphasize that green jobs must pay decent wages and benefits so workers can sustain themselves and their families, labor leaders say. All green policy initiatives must include fair labor standards, they add.
The journal's current topics include an article on the recent United Nations climate change talks in Copenhagen and the NLC's Green Workplace Representative Certificate Program. The program provides working people with the theoretical knowledge and practical skills they need to conduct workplace sustainability audits, organize a "greening committee" in every workplace, and work with management to make needed changes to address climate change.
The four-week program will be spread over 12-16 months with a curriculum designed for people in every workplace and is described as not highly technical.
To learn more about the National Labor College visit its web site. Also see the Green Labor Journal web site.
Photo: National Labor College graduates receive diplomas. (www.nlc.edu)