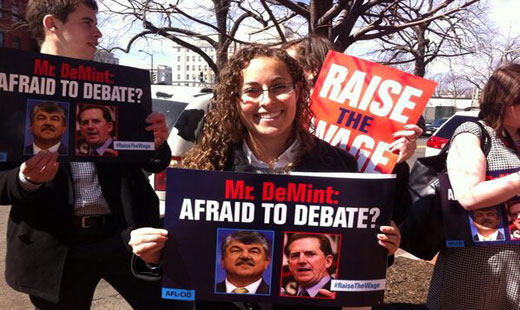 WASHINGTON – The labor movement turned up the heat today on opponents of a minimum wage increase by gathering outside of the Heritage Foundation here, demanding to know why its chairman, former Sen. Jim DeMint, is afraid to debate the issue publically with AFL-CIO President Richard Trumka.
AFL-CIO Executive Vice President Tefere Gebre, who led the group, said it was wrong that DeMint, who is behind Heritage Foundation strongarming of lawmakers to oppose a wage hike, would be "afraid to come out on this issue and debate President Richard Trumka."
Trumka began pressuring for the debate more than a week ago because DeMint's organization has been lobbying lawmakers against an increase in the minimum wage. Republicans have been going along with the Heritage Foundation lobbyists as they continue to block any hike in the wage.
According to Josh Goldstein, spokesperson for the AFL-CIO, DeMint's office is claiming the former senator has no time for a debate. The AFL-CIO has told DeMint's staff, according to Goldstein, that Trumka is willing to debate "wherever and whenever" DeMint wants to debate.
The demonstration today is an attempt by the AFL-CIO to draw attention to DeMint's refusal to debate. The federation is using social media to draw attention to the refusal. The point, according to Goldstein, is that even those most ideologically determined to oppose a federal minimum wage hike know that it is a difficult, if not impossible, position to defend.
Democrats have proposed to increase the minimum wage to $10.10 per hour. DeMint and his Heritage Foundation have not only opposed the minimum wage increase but DeMint himself, as a member of the Senate, proposed legislation that would have abolished the federal minimum wage altogether.
"I'm not too surprised that Mr. DeMint is afraid to debate," AFL-CIO director of communications Eric Hauser wrote in an email last week. "If I thought the minimum wage should be zero, I probably wouldn't want to debate either. But a big part of life is facing your fears. Certainly millions of American workers bravely do that every day. I hope Mr. DeMint is willing to face his fear and debate President Trumka on the minimum wage."
Polls show that a majority of voters back a minimum wage hike. Those majorities holding across political lines, including among Democrats, Republicans and Independents. Democrats are expected to make the minimum wage a centerpiece of their campaign during their 2014-midterm elections.
Once again today, after the demonstration, DeMint refused to agree to a debate.
Photo: AFL-CIO blog