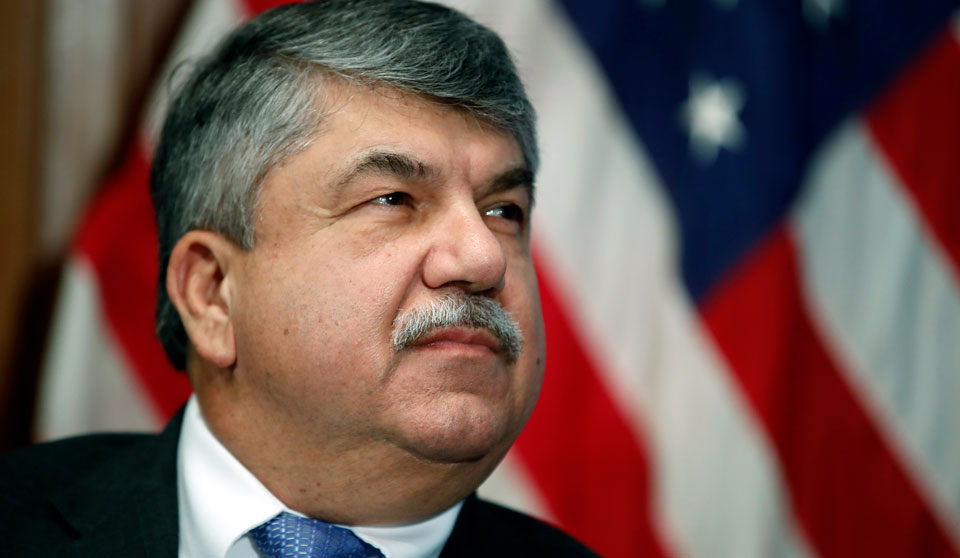 WASHINGTON—AFL-CIO President Richard Trumka, who, following predecessor John J. Sweeney, took U.S. organized labor in a far different and more activist direction, died of a reported heart attack, Senate Majority Leader Charles Schumer announced on the Senate floor today, August 5. Trumka was 72.
"The labor movement, the AFL-CIO, and the nation lost a legend today. Rich Trumka devoted his life to working people, from his early days as president of the United Mine Workers of America to his unparalleled leadership as the voice of America's labor movement," the federation confirmed.
"He was a relentless champion of workers' rights, workplace safety, worker-centered trade, democracy and so much more. He was also a devoted father, grandfather, husband, brother, coach, colleague, and friend. Rich was loved and beloved.
"Today, the 56 unions and 12.5 million members of the AFL-CIO mourn the passing of our fearless leader and commit to honoring his legacy with action. Standing on Rich's shoulders, we will pour everything we have into building an economy, society, and democracy that lifts up every working family and community."
"Rich Trumka was our brother in the truest sense of the word," said Teachers (AFT) President Randi Weingarten. "His sudden passing is a tremendous loss for the entire labor movement, and for working families across the country.
"From his first mining job in the late 60s," through serving with the Mine Workers, to "his fierce and courageous leadership of the AFL-CIO for more than a decade, Rich fought his entire life for dignity and respect for American workers.
"He practiced what he preached, and he brought the voices of working people to the forefront of our nation's consciousness with deep humility and an abiding belief in the power of collective action. President Trumka was a beloved colleague and friend, and his legacy will endure for generations."
"Rich Trumka dedicated his life to the labor movement," said Communications Workers President Chris Shelton. "Rich cared deeply about improving the lives of all working people, and he never forgot what it was like to work in the mines of western Pennsylvania. Under his leadership, the AFL-CIO fought every day for a more inclusive, just America.. I was proud to call him my brother."
The son and grandson of Pennsylvania coal miners, Trumka, a miner himself and a former United Mine Workers president, succeeded Sweeney in the AFL-CIO's top job in 2009. The Sweeney-Trumka ticket ousted the federation's old guard in 1995, first forcing President Lane Kirkland out, then defeating his successor in a contested election, the federation's first.
Trumka had planned to step down at the federation's next national convention, which was originally scheduled for this fall. The coronavirus pandemic postponed it until next spring. Under the federation constitution, Secretary-Treasurer Liz Shuler, an Electrical Worker, becomes federation president, the first female president in organized labor's history.
Under first Sweeney and then Trumka, the federation hit the streets more often and concentrated on grassroots organizing and grassroots politics, which it also believed would lead to organizing triumphs. Labor's record in that latter field was good but not outstanding, with wins in some high-profile campaigns and losses in others, most recently at the giant Amazon warehouse in Bessemer, Ala.
As AFL-CIO president, Trumka also made clear to politicians they could not take organized labor's support for granted unless they gave more than lip service to labor's agenda.
In one memorable closed-door meeting of the AFL-CIO Executive Council in Orlando, then-Vice President Joe Biden, having just been re-elected along with his boss, Barack Obama, with labor's support, started his speech with a standard line: "Osama bin Laden is dead and GM is alive." With Trumka looking on, the room erupted in "What have you done for workers?!" demands.
But Biden was and is a long, strong, and public friend of organized labor, and the federation hit the hustings for his successful presidential election bid last year.
At Trumka's death, and under his leadership, it was hitting the hustings again, this time for senators to dump the filibuster and then approve the Protect The Right To Organize Act, the most wide-ranging, pro-worker labor law reform since the original 1935 National Labor Relations Act.
And as another indication of the close ties between Trumka and labor on one hand and Biden on the other, the president last month nominated Trumka's son, Richard Jr., to the Consumer Product Safety Commission. The younger Trumka is staff director for the House Economic and Consumer Policy Subcommittee.
"If you have to be in a war, you want to be in the trenches with Richard Trumka," Weingarten concluded. "Our hearts go out to Barbara, Richard Jr., and his entire family. May his memory be a blessing."