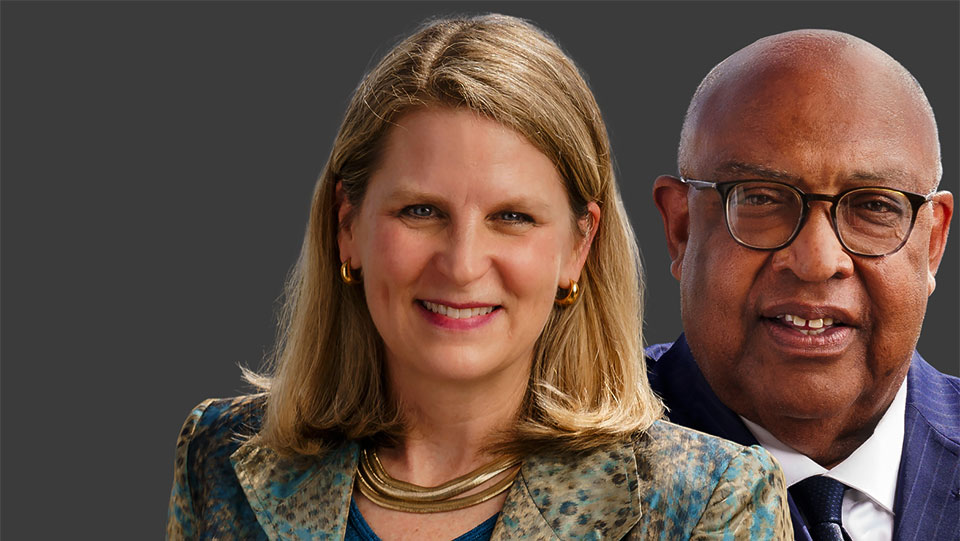 PHILADELPHIA—AFL-CIO President Liz Shuler, formally elected to her first full term in office, has set a goal to "grow our movement by more than one million working people" in a decade.
If it succeeds—and she admits it won't be easy—that would mark a substantial increase in organized labor's density, especially in the private sector, where it has fallen from one-third in the early 1950s to just over 6 percent.
Public-sector density is just under one-third, but the absolute number of private-sector unionists slightly exceeds that of public workers, Bureau of Labor Statistics calculations shows.
Shuler announced that goal in her inaugural address after the convention delegates, meeting in Philadelphia on June 12, elected her, an Electrical Worker, to a first full term atop the nation's labor federation. They also elected Steelworker Fred Redmond to the federation's #2 job, Secretary-Treasurer. Both were unopposed.
Their election, plus a batch of new faces on the AFL-CIO Executive Council, mark a generational shift in organized labor's leadership. The current council last year elected Shuler, then Secretary-Treasurer, to the top job, through the convention, after incumbent President Richard Trumka, a Mineworker, unexpectedly died.
Shuler, the first woman ever to head the AFL-CIO, and Redmond, the first Black in the #2 post, started putting together their ticket and discussing plans just before Trumka's death. Trumka had been expected to retire at this convention.
In a roundtable with the few reporters who covered the June 12 session, Shuler and Redmond explained that details of how the federation will implement that million-person goal will be worked out within the first 100 days of the convention.
"We want to make sure our organizing unions" are on board "and are accountable" for results, she said. "We have to firm up the structure and the financing. We want to concentrate our resources on organizing," she declared.
"The federation's muscle on organizing has not been as robust" as it should have been, she admitted.
Ironically, complaints about too much politics and not enough organizing led seven unions to withdraw from the AFL-CIO at its 2005 Chicago convention.
They formed Change To Win, which has since shrunk to three member unions—the Service Employees, the Teamsters, and the Farm Workers–and several more affiliated unions which are AFL-CIO members. It's also become a resource center, rather than an alternative federation, SEIU President Mary Kay Henry said in an informal conversation in early June.
The involvement will be AFL-CIO-wide—modeled not just on trying new organizing methods, but having every union in on the campaign, just like 15 unions sent a combined 100 organizers to aid the Retail, Wholesale and Department Store Union's organizing drive before a second election at the massive Amazon warehouse in Bessemer, Ala.
Another key part of it will be a Center for Transformational Organizing, "to bring together the brightest organizers," strategists "and researchers" to tackle how to organize the "new economy," typified by Amazon and other giants, Shuler said.
But the emphasis on organizing, on new ways of doing it, and on new issues to emphasize with workers does not mean the federation will abandon politics and lobbying.
The big push for fall elections
It's gearing up for a big push in this fall's elections, and to pass—at least—the higher fines for labor law-breaking, taken from the Protect The Right To Organize (PRO) Act, and inserted in Democratic President Joe Biden's Build Back Better/reconciliation bill. A Republican Senate filibuster threat has prevented even debate on the House-passed BBB legislation.
The unions are also "taking advantage of the moment" the two leaders said. The coronavirus pandemic "pulled the curtain back" for the entire country to see worker exploitation, Redmond explained. "You tell them they're 'essential' workers one minute, and then, in negotiations, they're expendable the next.
"If I'm an essential worker, compensate me for being an essential worker. And when it comes to fighting income inequality, we're all in."
But organizing new workers, tough as it already is, needs the PRO Act's "breadth and depth," not just its higher fines for labor law-breaking corporations, their executives, boards, and managers. So, both declared, labor's lobbying for the full law will continue.