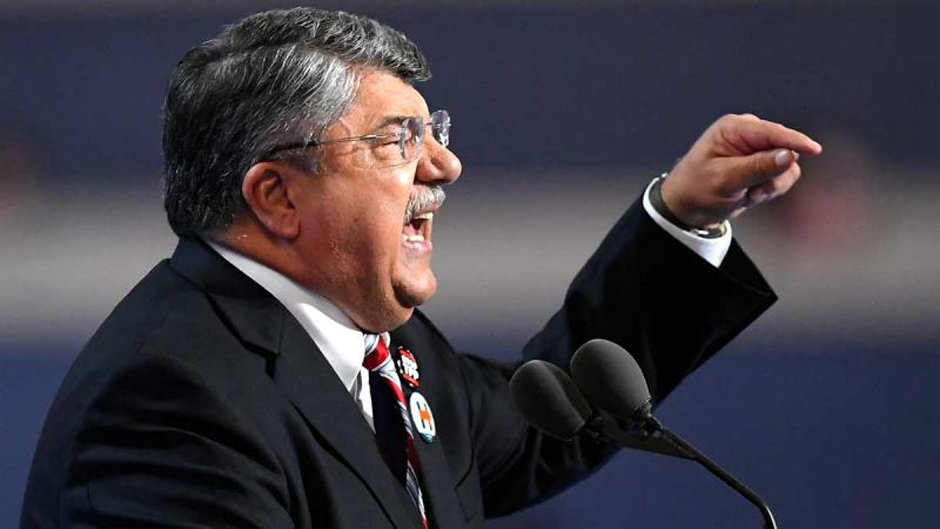 WASHINGTON – AFL-CIO President Richard Trumka is challenging organized labor to go on the offense, despite control of Washington and states by anti-union politicians.
The fed leader issued his demand at the United Auto Workers political conference in D.C., in early February. He headlined a parade of speakers, including Sen. Debbie Stabenow, D-Mich., and Rep. Pramila Jayapal, D-Wash.
Trumka spoke just days before GOP President Donald Trump proposed his federal budget for fiscal 2019, which starts Oct. 1, but after the Republican-run Congress – with some Democratic help – broke months of budget deadlock and passed a 2-year budget blueprint.
The blueprint ended the threat of another government shutdown, and avoided a controversial vote on U.S. public debt. Pro-worker Democrats, in exchange for their key support, got increases in domestic spending, but not a solution – which both unions and they campaigned for – to keep the 690,000 Dreamers in the U.S. for good.
The budget blueprint also established a special commission, to report by mid-November, with legislation solving the fiscal problems of troubled multi-employer joint labor-management pension plans, pro-worker Sen. Sherrod Brown, D-Ohio, reported.
All that came just after Trumka told the UAW "It's time to drop our shield, pick up our sword and go on offense for a while," to campaign for protecting pensions, Medicare, Medicaid, Social Security, to rebuild infrastructure and to "protect our water from becoming poisoned like it was in Flint, Mich."
"These investments will pay dividends for generations to come and will make our country more competitive in the world," he said.
But in an indication of the uphill political battle workers and their allies face, protecting pensions and Medicare run counter to the GOP's budget blueprint. GOP-run governments in Indiana and Kentucky are forcing Medicaid recipients to work – or get cut off.
Meanwhile, House Speaker Paul Ryan, R-Wis., has talked of cutting Social Security increases and Trump EPA Administrator Scott Pruitt is rolling back clean water regulations.
Trumka also touched on trade, saying workers "want trade deals that actually work for people," a key union cause in general and UAW cause in particular. Trump promised to pull out of jobs-losing trade pacts, but is "renegotiating" NAFTA, instead.
Due to those deals and the nation's trade deficit, "More jobs were outsourced in 2017 than any of the previous five years. And the new tax law" – which Trump and the GOP pushed through Congress on party-line votes – "gives corporations more reasons to ship jobs out of the U.S.," he said.
To achieve such goals, Trumka urged more unionists to run for public office. At least two are seeking governorships, in Iowa and Minnesota, for example. But he also reminded delegates "we must hold each and every elected official accountable — regardless of what party they belong to."
Last year, at its convention the AFL-CIO approved a Workers' Bill of Rights, and said it would be a virtual litmus test for political endorsements.
Trumka also criticized the Trump administration for killing federal rules to protect overtime pay and worker health and safety, as 150 workers die from injuries and occupational illnesses every day. "If 150 people died each day from terrorism, the public would be screaming for action. Nobody stands up and screams: 150 workers died today," he said.
Stabenow, Jayapal and new NAACP President Derrick Johnson stressed other themes.
Johnson warned against "a house divided," to use Abraham Lincoln's phrase, between labor and other progressive groups, and especially on civil rights. He predicted the right wing would continue to use divide-and-conquer tactics to try to pit white against black against brown against any other "others."
Labor and civil rights organizations "are natural allies," Johnson said. And all the progressives "must stay sharply focused on the next five years to turn the tide on the attacks from the right."
"What is at stake is our democracy," said the Detroit native who now lives in Mississippi — where Nissan successfully split white and black workers to defeat a UAW organizing drive. "We have to focus. We can only do that when we have a clear message," he explained.
Jayapal, a native of India who migrated to the U.S. at age 16, hit the Trump administration's use of the ugly term "chain migration," to describe how family members first become U.S. citizens or legal residents and then apply to bring close relatives over. Trump demands an end to such immigration as part of his price for legalizing the Dreamers.
"The president and his supporters in immigration have weaponized the term 'chain migration' to thwart a noble goal: Keeping families intact," she said. She noted the right accepted such migration as long as it was restricted to whites, which it was until 1986.  "We cannot change our immigration system to make America white again," she said.
Stabenow slammed the Trump-GOP tax cut for the rich and corporations, as it channels more than 80 percent of its cuts to them and the top 1 percent. "Corporate investors get millions; American workers get Twinkies," she said.