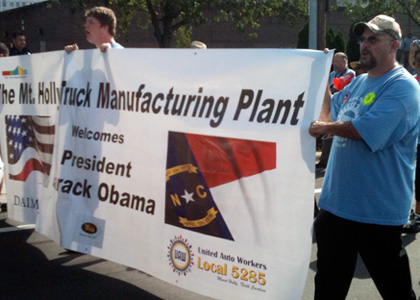 CHARLOTTE, N.C. – AFL-CIO President Richard Trumka will address the Democratic National Convention here in prime time. In an advisory sent out to the national press, the nation's largest labor federation with more than 12 million members, said he "will speak to the vision working people have for an economy that values hard work and offers shared prosperity for all working Americans."
Trumka, according to the AFL-CIO, "will stress the importance of electing leaders like President Barack Obama who will stand with working people in creating an economy that works for all."
Trumka actually has two official roles at the convention this week. In addition to representing his 12 million members in a speech on national television he is serving as a delegate for the state of Pennsylvania.
The AFL-CIO is in the midst of the largest grassroots mobilization ever for a national election. It is planning to put 400,000 "boots on the ground" between now and the election.
Promoting policies that strengthen the working and middle class is a major goal of the hundreds of labor delegates at the convention this week.
Speaking at the DNC on Labor Day, AFL-CIO Executive Vice President Arlene Holt Baker said, "We built this country together. Every one of us lends a hand. We do it every day. All work has value. Our work connects us to each other. And together we are better. All work is honorable. All work has dignity and is worthy of respect. And decent pay. And good benefits."
This morning, 300 labor delegates, including representatives of the American Federation of Teachers, the American Federation of State, County and Municipal leaders and the International Brotherhood of Electrical Workers and the North Carolina AFL-CIO convened at the DNC. They mapped out a progressive policy agenda to take back to their state delegations.
On Labor Day, at this speech in Toledo, Ohio, Trumka said that Romney "has decided to target people" like union members. "He wants to target us by appealing to ugly emotions and social divisions. His goal is to pit the American people against each other, so we won't vote about what matters. I want everybody here to volunteer this year. Register voters. Knock on doors. Fill the phone banks. Everywhere you go and with everyone you meet tell the truth about Romney and take a stand against intolerance and for American values."
The urgency of the task at hand and the critical nature of the coming election have not stopped union members from having some fun this week, however.
At the CarolinaFest in Charlotte, if funnel cakes and riding on slides were not enough for you, you could also "hug a union thug" at a booth sponsored by the North Carolina AFL-CIO.
The "Hug a Union Thug" booth featured firefighters, teachers and nurses poking fun at right wing attempts to scapegoat union members.
Jeremy Sprinkle, communications director for the state AFL-CIO said even people who didn't stop for hugs couldn't help but smile and that union members gave out more than 500 hugs.