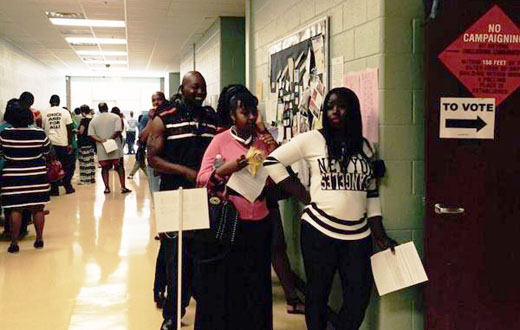 The AFL-CIO's determination to advance the struggle in southern red electoral states came alive Sunday, Oct. 26, with a Get Out the Vote rally in suburban Clayton County, near Atlanta, where Tefere Gebre, their executive vice-president, spoke about the urgency to energize the grassroots, door-to-door efforts building for the Nov. 4 election.
Flanked on stage by Charlie Flemming, Georgia AFL-CIO president, and Roberta Abdullah-Salem, former state representative and present coordinator of the Friends of Transit, Gebre spoke of the need for public transportation to help create jobs locally.
Four years ago, Clayton County was written out of regional plans for public transit (CTRAN) connecting it with the popular MARTA system, which serves metropolitan Atlanta. After years of wrangling in the state legislature and a final approval by the county commissioners, Clayton County residents won the fight to get a referendum on this year's ballot.
Supporters of the ballot initiative, who include bus drivers from the Amalgamated Transit Workers Union, estimate that nearly 500 new jobs would be created by the 48 million-dollar expansion to Clayton County, where lack of transportation contributes to high unemployment.
The rally and subsequent caravan ended with door-to-door canvassing and voting, and the charismatic Gebre's promise to return to Georgia on November 3rd. The decision to come south twice underscores recognition of the critically close race for both senator and governor in the Peach State.
Latest polls give Michelle Nunn (a Democrat following in the steps of her senator father Sam Nunn) a razor-thin lead over David Perdue, a local vulture capitalist known for his Swiss bank accounts and closing local plants to send jobs abroad.
In the gubernatorial arena Jimmy Carter's grandson, state senator Jason Carter, is pulling even with the Republican incumbent, Nathan Deal. It would seem that in places like Georgia, having a reasonable political viewpoints is only acceptable if you have dynastic connections.
Photo: Georgia voters line up to cast their ballot early, Oct. 26 (via Tefere Gebre Twitter feed).