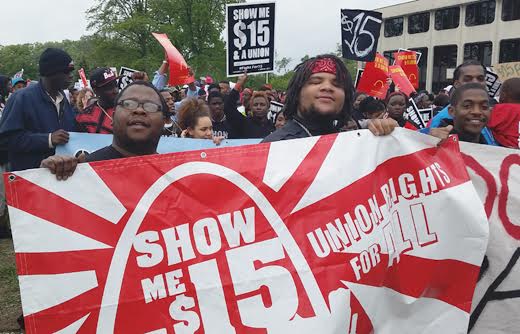 WASHINGTON (PAI) — An AFL-CIO report on the first year of its "Raise The Wage" campaign lauds grassroots successes by local unions and unorganized workers out in the field, and makes an effort to link them to the campaign itself-a link that isn't always obvious.
The nine-page report says workers hit the streets for causes ranging from decent pay to undoing two-tier wage systems to health and safety. It adds that in a record year of contract bargaining, 2015, the average worker won a 4.2 percent annual raise.
Some of the lowest-paid workers got double-digit percentage raises, it adds. And two-tier wage systems are on their way out in the auto industry, the fed says, with the UAW winning a 45 percent raise over the life of its FiatChrysler contract for lower-paid workers there.
The AFL-CIO also claims workers are educating themselves about Common Sense Economics, the fed's multi-part platform that includes specific "raise the wage" ideas. But the report does not tie any platform planks, by name, into specific successes. By year's end, "a growing number of people across the country were unwilling to accept stagnant and falling wages without complaint. They're demanding new rules" for the U.S. economy, the report says. It points to successes in a number of fields:
Organizing wins included among taxi and Uber drivers, AFT's win among adjunct professors at Temple University, National Nurses United wins that created new locals, and the Communications' Workers win among 5,000 airline passenger service agents at Envoy.
Gridlock in Washington was balanced by President Obama's pro-worker executive orders, plus Labor Department rules expanding overtime for all and minimum wages for federal contractor employees and home health care workers. Also balancing the D.C. inaction: State and local legislation to raise the minimum wage, enact equal pay for equal work and approve paid sick leave, among other items.
Even the strike was revived to some extent-and it succeeded when it was, the report claims. Among others, it cites successful teachers strikes in Chicago and Washington state, the Steelworkers' success when the major oil firms forced them to strike over safety and the ongoing Fight for 15. That includes successful 1-day strikes by fast food workers.
As a result, even low-wage and non-union firms such as Walmart had to raise wages for their low-paid workers, the report claims. "We recognized we can create a healthier economy and a more democratic society" in last year's drives, the AFL-CIO says. "But everyone has to participate to create an economy that works for all of us.
But 2016 is another matter, the report warns. "The landscape in 2016 looks very different than it did in January 2015," it explains. "The torrent of intolerance and hate unleashed by would-be presidents"-the report doesn't name names-"is designed to sow fear and division. Anti-union and extremist forces have mobilized to fight on all the fronts. But we're different, too. We'll keep our eyes on the prize: A more just and inclusive economy that serves all of us, not just the wealthy and well-connected," it concludes.
Photo: Fast Food workers and allies from across the nation shutdown McDonald's annual shareholders meeting in Oak Brook, Illinois, May 20, 2015. Earchiel Johnson/ People's World.