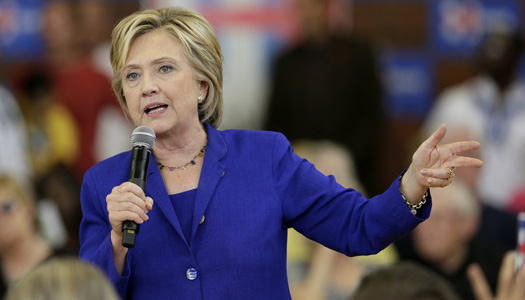 WASHINGTON (PAI) – Finding that almost two-thirds of the members it polled over the last six months support her, AFSCME, the AFL-CIO's largest union, endorsed Hillary Clinton for the Democratic presidential nomination.
"We heard throughout our endorsement process that AFSCME members want a candidate who is committed to fixing our out-of-balance economy and raising incomes for hardworking people who are still struggling to make ends meet," union President Lee Saunders said.
"A victory for America's working families is now up to us," he added in a letter to local leaders and activists, urging them to volunteer for Clinton, the former secretary of state.
"Members want a candidate who will make it easier instead of harder to join together in strong unions and stand together for wages and benefits that can sustain our families," Saunders explained in the endorsement announcement on Oct. 24.
AFSCME members also "want the candidate who will be the most effective champion for working families, and who will be able to deliver a victory in this critically important election."
AFSCME pledged to mount a large grass-roots campaign for Clinton, to counter the overwhelming influence of corporate money in politics. Corporate sponsorship of right-wing politicians, especially Republicans, produced a huge volume of anti-worker – and specifically anti-public worker – laws since 2010. Those laws have hurt AFSCME.
"Grassroots organizing is the only answer to the hundreds of millions of dollars that will be poured into this election by the same CEOs and corporations that rig economic rules in their favor. Members felt strongly that it was time to begin turning out friends and neighbors to cast a ballot for Clinton and get involved in the 2016 elections," the union stated.
The union said the other Democratic contenders share AFSCME's values. But it did not name them and declared Clinton "a proven champion for working families, and…the candidate who can deliver on our hopes and hard work next November."
The AFSCME decision came after six months of polling, surveys, contacts with members, town hall meetings and national meetings in D.C., St. Louis, Indianapolis, Albuquerque and San Diego. The union's endorsement is important for several reasons.
Along with the Teachers, AFSCME is one of the most politically active unions in the labor federation. AFT, with 1.112 million members as of the latest official figures released earlier in 2015, is the second-largest AFL-CIO union. AFSCME then had 1.277 million.
AFSCME's and AFT's Clinton endorsements, coupled with earlier backing from the Machinists and a group of building trades unions, means unions with at least 3 million members back Clinton. That's one-third of the federation's total membership of 9.3 million.
By contrast, Clinton's main foe, Sen. Bernie Sanders, Ind.-Vt., who is running in the Democratic primaries, has just one union backer so far: National Nurses United, with 164,465 members.
The federation's normal presidential endorsement process says it will not endorse a specific candidate unless members of its General Board who represent two-thirds of all the federation's members back that candidate.
AFL-CIO President Richard Trumka said earlier this year that he does not expect any federation-wide endorsement decision before its Executive Council – the smaller group of around 56 top leaders – meets in San Diego in February.
Two non-AFL-CIO unions, the Carpenters and the National Education Association – the nation's largest union – also back Clinton. AFSCME's decision drew little protest from its rank and file members, unlike the earlier endorsements from the two teachers' unions.
Photo: Charlie Neibergall/AP