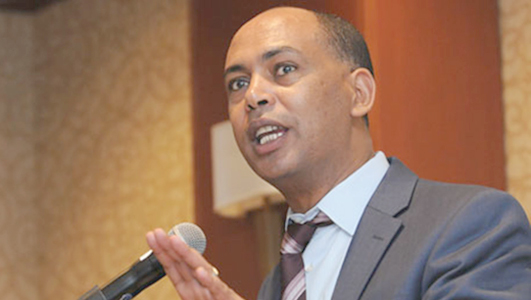 RALEIGH, N.C. – "Organize, organize, organize – that's how we can overcome income inequality," AFL-CIO Executive Vice President Tefere Gebre told union communicators meeting here.
"We can make government more pro-labor," he said, "but it doesn't work to try to change politicians. We must work to change voters," the union leader told attendees last week at the 2015 convention of the International Labor Communications Association. Its members work for unions as journalists, social media experts and spokespersons.
Gebre emigrated to the U.S. from war-torn Ethiopia as a teen and began his union career as a night shift loader at UPS and a member of Teamsters Local 396.
"The issues that are facing working families today are big, and the only answer is to be big in return," Gebre said. "We are too small to do the job by ourselves. We must join with civil rights groups, church members, parents, immigrants, labor councils and foundations."
For example, he said, "we should join the movement against mass incarcerations. The U.S. has more prisoners than China or Russia. Prisons are being privatized. The union movement should join with others who are saying 'instead of building more prisons, we should be creating more jobs and offering more job training.'"
"Union halls," he said, "used to be more than just places where you talk about work. They used to be part of the community, where all people could come and be together. We have to get back to that."
Gebre criticized the way many progressive organizations conduct election campaigns. "What we are doing is not working," he said.
"If we have somebody to run, the first thing we do is hire a pollster. The pollster advises us that 'if the candidate talks about the things that really concern you, she'll lose.' So the candidate says the things she needs to say to get elected.
"But once elected, the candidate sticks to the agenda that got her elected. She's useless to us.
"We have to engage in year-around politics, not just politics around elections," Gebre said. "We can't depend on a hero on a white horse to come and fix things.
"We shouldn't follow the poll results. We should work to create new poll results."
For example, he said, union leaders shouldn't shy away from talking about tax policies. They should try to convince people that better schools are needed, and that costs money.
Gebre was optimistic about what workers can accomplish if they organize.
He described his own experience as an organizer in Orange County, California. "It used to be solid Republican," he said. "But unions joined with many other organizations and community groups in a campaign for a ballot initiative to increase taxes for schools and services.
"Companies threatened to leave Orange County. All the experts said we would never win. But we did."
Gebre said, "If we can win in Orange County by working with others, we can win anywhere the same way, even here in the South.
He concluded: "Don't ever listen to those who say that the workers' movement is dead. Workers will always find a way to organize and fight back. There is no lack of spirit."
Photo: Tefere Gebre, executive vice president, AFL-CIO. N.Y. State United Teachers