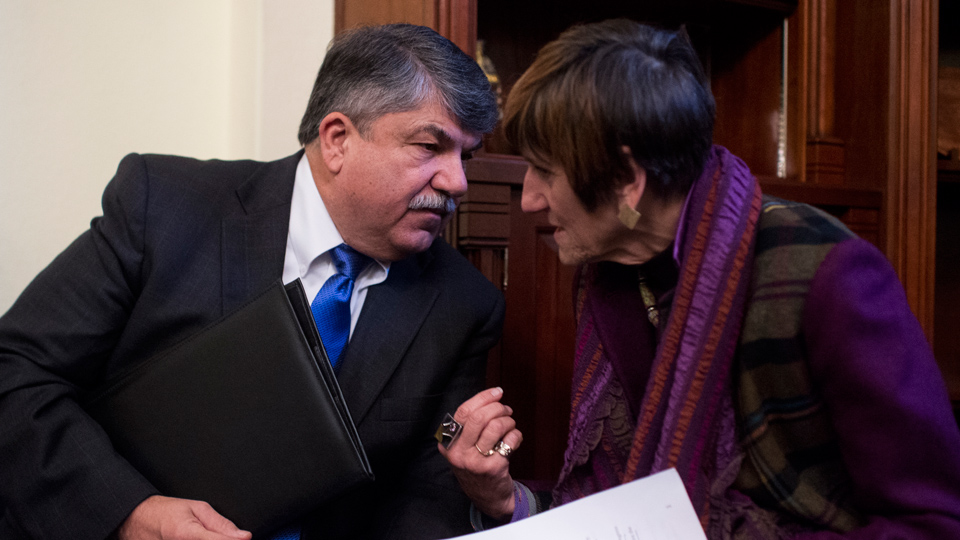 Vowing to hold Republican President-elect Donald Trump to his promise to repeal the controversial 23-year-old jobs-losing North American Free Trade Agreement (NAFTA), the AFL-CIO and a group of pro-labor lawmakers plan to push for a new NAFTA that protects workers' rights and raises their incomes, too – on all sides of all U.S. borders.
Their opening salvo came in a press conference on the first day of the GOP-run 115th Congress. Whether their plan will get anywhere is open to question: As some lawmakers noted, several key players in Trump's proposed Cabinet are confirmed "free traders." And the lawmakers who spoke were all House Democrats, who are heavily outnumbered there.
"Renegotiating NAFTA is a necessary first step towards creating an economy with shared prosperity" for workers, AFL-CIO President Richard Trumka said.
Trump used his denunciations of NAFTA and similar job-losing trade agreements to narrowly win the key Great Lakes industrial states of Ohio, Michigan, Pennsylvania and Wisconsin, giving him an Electoral College majority over Democratic nominee Hillary Clinton.
His arguments resonated with factory workers who have lost their jobs – with no or inadequate replacements, the lawmakers said – to NAFTA and succeeding trade pacts. Unions and workers opposed the pacts, predicting the calamities which have since occurred. Calculations show NAFTA alone cost between 685,000 and 1 million factory jobs in 23 years.
But, emphasizing that they're for fair trade that helps workers, the lawmakers and Trumka want to trash the current NAFTA and replace it with one that puts workers first. And Trumka reminded listeners that Trump promised on the campaign trail to make such pro-worker deals. He vowed the AFL-CIO will hold him to it.
"The momentum for a new" type of trade pact "is very, very clear and growing," Trumka said. "We saw it in the grass-roots campaign that killed the TPP (the Trans-Pacific Partnership trade pact), in the primaries of both parties and in the general election.
"When Donald Trump was elected, I made it clear that the labor movement would work with Trump, where possible, on positions consistent with our values," he said. Trade is one.
"Working Americans have to be at the center of any new strategy" for trade deals, both a replacement NAFTA and anything else, added Rep. Rosa DeLauro, D-Conn., who led the successful fight in Congress to kill the TPP.
Rep. Peter DeFazio, D-Ore., said the junking-bad-trade-deals stand should extend to other past pacts, including letting China into the World Trade Organization. And Rep. Marcy Kaptur, D-Ohio invited Trump to come there, or to "any state that has lost jobs to NAFTA, and talk to the workers" about its devastation of factories, workers, families and communities.
Rep. Jan Schakowsky, D-Ill., added another harm from NAFTA and similar pacts: Firms used them to force U.S. workers to accept lower wages and lousy benefits, by threatening to move. That's what Mondelez, owner of Nabisco, did with its Oreo cookies production line on Chicago's South Side last year, she said. That's what it's doing now at a cookie plant in the Philadelphia area, added Rep. David Norcross, D-N.J., a former building trades leader whose South Jersey congressional district is right across the Delaware River.
And Trump could act as soon as he becomes president, Rep. Brad Sherman, D-Calif., added, by sending a required negation notice under the pact to Canada and Mexico. Trump "also has the authority to impose additional tariffs on" a big trade violator, China, he added.
The "new NAFTA" labor and the lawmakers envision would include:
Enforceable worker rights and environmental standards written into the texts of trade pacts, not as "side letters," and accompanied by tough and predictable enforcement.
Elimination of the Investor State Dispute System (ISDS), the secret pro-business "trade court" staffed by trade lawyers, that can kill federal, state and local laws – everything from job safety to Buy American statutes – that firms claim threaten present or future profits.
Making currency manipulation a trade violation, subject to penalties and tariffs. DeLauro said several months after NAFTA passed, Mexico devalued the peso, further inciting U.S. firms to move plants to Mexico. Maquiladoras – U.S. factories transplanted over the border – have grown by 86 percent in 23 years, she said.
Writing protection for Buy American language into a new NAFTA and any other trade pacts. Federal, state and local "government dollars" should be spent on "procurement or products" made by American workers, Rep. Kaptur, D-Ohio, said.
Upgrading "rules of origin" for cars and parts. Trade pacts let so many car parts be made overseas, said Rep. Debbie Dingell, D-Mich., that "40 percent of a vehicle can be made in China or Japan and it still could say 'made in North America.'"
The new NAFTA should be written so that workers on all sides of both the U.S.-Mexico and U.S.-Canada borders benefit from it, Kaptur declared. Holding up a 22-year-old Houston Chronicler she had carefully saved, Kaptur noted the paper was the only one to send reporters to Mexico to find out what would happen there as a result. The result was unemployment of hundreds of thousands of Mexicans, and migration to the U.S., the Chronicle forecast.
Several of the lawmakers said they were unsure of where Trump stands. He nominated ardent "free traders" to top posts, except for his nominee for U.S. Trade Representative, former Reagan administration trade official Robert Lighthizer.
Teamsters President Jim Hoffa, who was not at the press conference, said that nod shows Trump "laid the groundwork for following through on his campaign promise to end U.S. trade policies that devastated working families for the past 30 years." The Teamsters hope "Lighthizer will enact policies that help our working families by strengthening U.S. industry and bringing back good-paying jobs to our country."