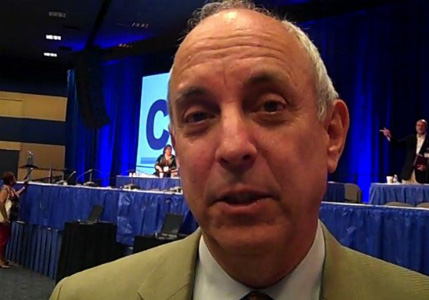 ORLANDO, Fla. – In a closed sessionof the AFL-CIO executive council today, union leaders are drafting, a resolution to Senate Democrats that will involve holding their feet to the fire until the impasse in Washington over the National Labor Relations Board is resolved.
"We have decided," said Larry Cohen, president of the Communications Workers of America during a break in the sessions, "that in today's America it is unacceptable that we cannot fill the position on a labor board designed to protect the rights of American workers, and we will no longer accept the argument that nothing can be done because the Republicans are filibustering. I want you to quote me on that."
Cohen's union has been active in a coalition to reform Senate rules which he says are used to stand in the way of democracy in the country; "They (Senate Majority Leader Harry Reid and the Democrats) had the chance to change the rules and they didn't" Cohen said. "Now we demand that the President name all five people to fill those NLRB positions and that the Senate vote promptly. We expect the Democrats to use every option, including the talking filibuster or rules changes to prevent the Republicans from blocking this. If they don't, they can expect us to go after them like we never have before — in the nation's capital and in their districts – wherever they go."
The details of how the unions plan to pressure Democrats on fixing the problem with the labor board are going to be included in a special statement on the NLRB that is being drafted today in the closed session. Cohen said that what is unique about the coming statement is that it will hold Senate Democrats, who have been the beneficiaries of labor support in the elections, responsible for helping to lead a fight on the issue.
Photo: Larry Cohen. Teresa Albano/PW