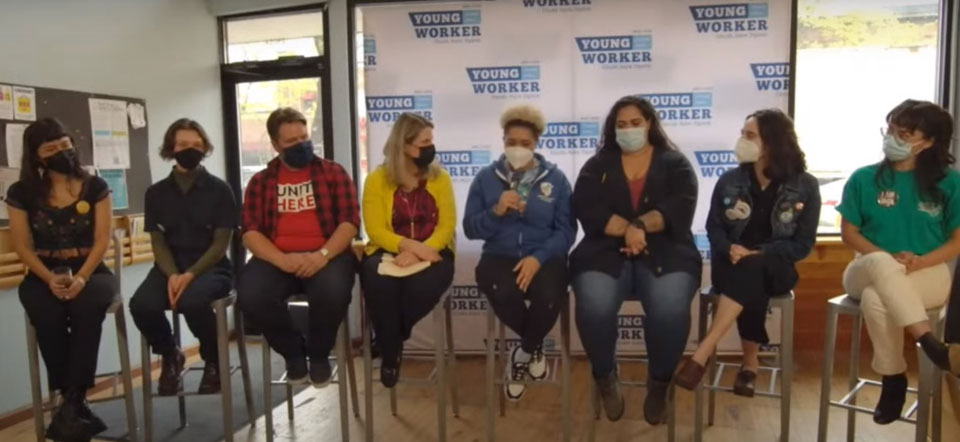 MINNEAPOLIS—When you assemble a group of young activist workers, there's no shortage of new ideas for unionizing, or of new priorities for unions. AFL-CIO President Liz Shuler learned that in a Minneapolis "Town Hall" roundtable with seven of them in late May.
"People think we're old and stodgy, but that's not true," Shuler said, explaining her call for advice and ideas. "But what can I take away from this?" Answers were many and varied.
Shuler convened the session both to hear from the young activists and to gather ideas in the runup to the AFL-CIO convention, scheduled for June 12-15 in Philadelphia.
It also continues her efforts, started when she was first elected the federation's Secretary-Treasurer, to promote more young people, workers of color and women into leadership positions up and down the labor movement.
Accountability was a high priority for the workers, aimed at politicians as well as bosses.
"When it comes to elected officials, make sure what they say and what they do are the same before we endorse them," warned Anders Bloomquist, a Unite HERE member and worker at the Fair State brewery, whose conference room was the site of the session, which was heavily attended by area unionists.
"One thing to focus on is transparency," said Ami Neff, an AFSCME Local 5 member and staffer at the Minnesota Historical Society. They won their recognition election by "more than 80 votes, out of a 300-person" workforce, she said. The actual tally was 144-63 out of 317. Now they're bargaining for a first contract.
Many times that employer transparency is lacking. One young worker said the employers tried to "promote" some 42-43 workers out of the bargaining unit—a common corporate tactic during organizing drives. The gambit failed.
Ileana Mejia, a Minnesota News Guild member who helped lead organizing at the Minnesota Council of Non-Profit Organizations, noted bosses at non-profits can be just like private sector bosses, despite the noble goals such NPOs often set. "We're overworked and underpaid," she said. "When we went public, Twitter and Instagram blew up," with support.
"Salaries and benefits aren't always #1. A voice on the job is," Mejia added. But so are other benefits, notably eradicating student loan debt. Several of the workers mentioned that. The AFL-CIO has already announced it stands for complete student debt forgiveness.
Working conditions also took the stage. Starbucks United worker/organizer Lola Rubens called the environment at her store "incredibly toxic…The pushback was from our manager. She took it personally" workers were talking union only a few months after the store opened.
When the coronavirus pandemic hit, the owners of the independent bookstore Half Price Books "furloughed the whole staff," said United Food and Commercial Workers member Laura Pena. When it reopened, bosses "hired half the workers as temps, with no security, and the other half were people who had been there 15 years or more…With a contract we could put a stop to that."
Other goals included emphasizing unions' role in achieving equal justice—including on race relations—and propelling young workers of color to the forefront.
Unions should be about "creating authentic diverse space, where people of color feel it's welcoming," said Ma-Riah Roberson-Moody, an education support professional in Minneapolis schools, and first vice president of Minneapolis Federation of Teachers/AFT Local 59.
"Having a hard line" against teaching about racism and bias "is not an option."
"We want to show the labor movement is a modern, dynamic movement for everyone," Shuler replied. "Ending systemic racism should be our #1 priority, and show the labor movement is a place where we can solve those problems."
Higher pay is very important, especially for workers of color, the group told Shuler. But it shouldn't be the sole goal of an organizing drive. Better and safer working conditions, including safety from gun violence, is a priority, too.
Both the workers and Shuler had reasons to single out guns. The Minneapolis session fell after the racist massacre of 10 Black people in a Buffalo grocery store and before an 18-year-old armed with an AR-15 semiautomatic charged into an elementary school in Uvalde, Texas, killing 19 primary-graders and two teachers. "This cannot stand," Shuler commented.
And the Twin Cities still grapple with the murder of unarmed Black man George Floyd two years ago, and killings of Daunte Wright a year later, and Amir Locke in February 2022.
"Our whole campaign was about safe and stable schools," with more teachers but also more social workers, nurses and support staff, said the Teachers' Roberson-Moody. Those staffers are needed, she explained, to help kids cope with the traumas of the killings, the impact of the pandemic and disruption caused by months of zoom-centered distance learning.
School district resistance to those goals, plus its refusal to pay education support professionals a decent living wage, forced the MFT into a successful strike earlier in May.
"We're the first responders" to bad conditions that affect students "and people don't get paid a lot of money for that," Roberson-Moody added.