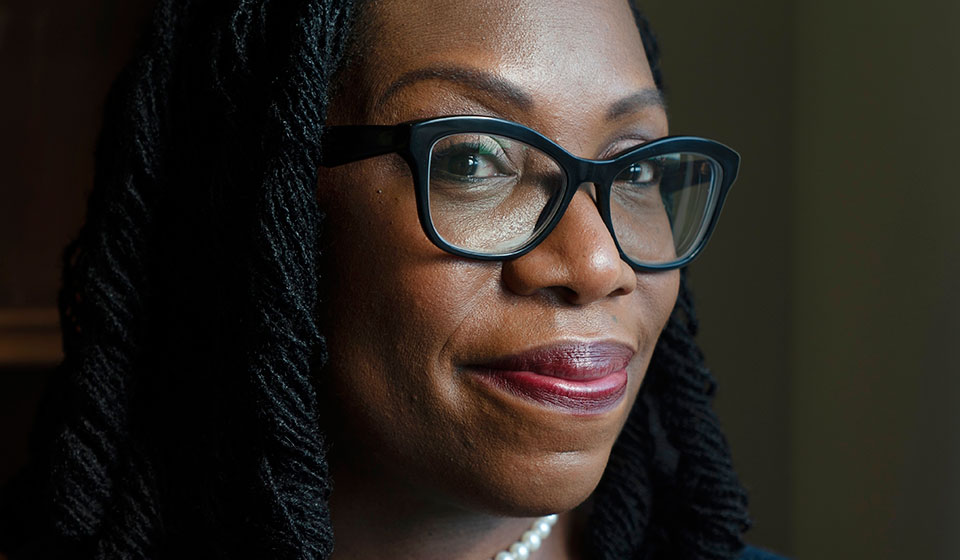 The following statement issued by the AFL-CIO was prepared by Liz Shuler, the president of the federation:
"We applaud the historic nomination of Judge Ketanji Brown Jackson to the U.S. Supreme Court. Judge Jackson has had a distinguished legal career, and she is eminently qualified for this critical lifetime position.
"Working people need a champion on the bench who will defend and protect our civil rights, including our right to organize in the workplace. Judge Jackson has a strong legal track record of fighting on behalf of working people, including during her tenure as an assistant federal public defender in Washington, D.C., and we are confident that she will bring that leadership to the highest court in the land.
"Representation matters and that is especially true in our nation's legal system, which can disproportionately impact or lift up Black and Brown communities. Today's nomination aligns with President Biden's ongoing efforts to diversify the roster of individuals who are nominated and confirmed for the judiciary.
"Being the first is never easy and Judge Jackson is doing what so many women have done before her, breaking barriers to ensure that she is not the last. We call on the U.S. Senate to deliver a speedy and fair confirmation process."
AFGE National President Everett Kelley: "While serving as U.S. district judge for the District of Columbia Circuit, Judge Jackson issued a deciding ruling in a lawsuit brought by AFGE and a dozen other unions challenging a set of executive orders issued by the Trump administration that illegally denied workers their right to representation. That single ruling safeguarded federal workers' union rights and demonstrated the limits of a corrupt administration. Her reasoning demonstrated exactly the kind of principled, independent judicial thinking that should be a hallmark of the highest court in our land."
AFSCME President Lee Saunders: "Judge Jackson is a brilliant, fair-minded jurist committed to advancing civil rights and protecting equal justice under the law. Her lived experience and professional background reflect the nation's diversity and show a deep understanding of the challenges facing everyday working families. She is uniquely qualified to serve on the highest court in the land, and we urge the Senate to move quickly on her nomination."
American Federation of Teachers (AFT) President Randi Weingarten: "The work of the Supreme Court impacts all of our daily lives. In nominating Judge Ketanji Brown Jackson to the bench, President Joe Biden and Vice President Kamala Harris have chosen an experienced, exceptionally qualified jurist who is devoted to the rule of law, the Constitution, and our country's rich history of democracy and freedom. Her life story is the story of America."
Association of Flight Attendants-CWA (AFA-CWA) International President Sara Nelson: "AFA first noticed Judge Brown Jackson in AFGE v. Trump when she ruled in favor of federal workers, issuing an injunction to halt three Trump executive orders that gutted collective bargaining rights, due process, and union rights. Judge Brown Jackson has a long record of protecting the constitutional rights of workers and everyday people. We urge swift confirmation of this eminently qualified jurist."
Electrical Workers (IBEW) International President Lonnie Stephenson: "Judge Jackson has long stood with working people and is one of our nation's brightest legal minds. A graduate of Harvard Law School, Judge Jackson clerked for Supreme Court Justice Stephen Breyer before working as a public defender in Washington, D.C., where she won uncommon victories for her clients. She has served as Vice-Chair of the United States Sentencing Commission, as a judge for the United States district court for the District of Columbia, and as a United States circuit court judge for the U.S. Court of Appeals for the D.C. Circuit. It was in this role that she invalidated a 2020 rule by the Federal Labor Relations Authority that had restricted the bargaining power of federal-sector labor unions. These exceptional credentials, combined with Judge Jackson's unimpeachable character and unwavering dedication to the rule of law, will serve her well as she serves the American people on the highest court in the land."
Machinists (IAM) International President Robert Martinez Jr.: "Judge Ketanji Brown Jackson, one of our nation's brightest legal minds, is eminently qualified to serve on the Supreme Court. As a federal judge and in both private and public practice, Judge Jackson has built a lifetime record of fighting for the freedoms of all people. IAM and NFFE-IAM members in the federal sector saw her stand with them to block the Trump administration's campaign to gut their collective bargaining rights."
School Administrators (AFSA) President Ernest Logan: "Judge Ketanji Brown Jackson's nomination to the Supreme Court offers our nation a jurist with great experience and extraordinary qualifications. It shows America is moving forward, expanding representation and adding the voices of those who have not had an opportunity to serve on the nation's highest court. It is inspiring not only for me but also for the next generation of children, who will understand they can do anything if the playing field is level."
International Association of Sheet Metal, Air, Rail and Transportation Workers (SMART): "We commend President Biden's historic nomination of Judge Ketanji Brown Jackson to the U.S. Supreme Court. Her experience, credentials, dedication to public service, and commitment to the rule of law illustrate that she will safeguard the rights and freedoms of working people. While serving as an appeals court judge, Judge Jackson issued a ruling ending a Trump administration policy that restricted collective bargaining rights of public-sector workers. The U.S. Supreme Court should reflect the diversity of the communities that it serves, and this nomination is an important step in helping achieve a fair judicial system. We urge the Senate to swiftly confirm her nomination."
UAW President Ray Curry: "Judge Jackson played a key role in the U.S. Sentencing Commission on criminal justice reform and showed a keen understanding of the implications of the law on everyday lives. She has been a private attorney and a public defender and is recognized as one of the bright legal minds of our generation."
United Steelworkers (USW) International President Tom Conway: "As union members, we know all too well the profound impact that Supreme Court decisions can have on the everyday lives of American workers and families. We look forward to having an even-handed justice in Judge Jackson who is committed to upholding the American ideals of democracy, liberty, and equal opportunity for all. Judge Jackson has proven time and again that she has the credentials and the character to serve on our nation's highest court. She has, for good reason, received bipartisan support for her two previous nominations. Senate leaders should move forward as soon as possible to make sure that her nomination to the Supreme Court receives the fair hearing and the swift confirmation that it deserves."
Alliance for Retired Americans President Robert Roach Jr.: "Judge Jackson is exceptionally qualified to serve on the Supreme Court. We have every confidence that she will safeguard the civil rights of all Americans, including protecting older workers from discrimination and defending the right of every worker to join a union. We call on the Senate to confirm her quickly."
A. Philip Randolph Institute Philadelphia Chapter President Thelma Clements: "We congratulate Judge Jackson on her nomination. She will bring exceptional credentials and extensive litigation experience at every level of the federal court system. As a District Court judge, she ruled on over 550 cases and is renowned for her careful, methodical approach to ensuring equal justice under law on reproductive rights, disability rights, and workers' rights. This historic nomination confirms an end to the omission of women, especially black women in our legal institutions."
Democracy Initiative Executive Director Charly Carter: "Judge Jackson will not only be the first Black woman to serve on the Supreme Court. She will also be the first ever justice with a background as a public defender, bringing a vital perspective on individual rights to our nation's judicial system. Her recent decision affirming the workplace rights of federal employees shows that Judge Brown Jackson is sensitive to the needs of working people, a welcome addition to a Court that has too often ignored the needs of working families."
Michigan State AFL-CIO President Ron Bieber: "Judge Jackson has already proven her dedication to working families in the United States during her tenure on the U.S. Court of Appeals and as an assistant federal public defender. The Michigan AFL-CIO is confident that Judge Ketanji Brown Jackson will use her years of legal experience to fight for working people as our country's next U.S. Supreme Court Justice."
North America's Building Trades Unions (NABTU) President Sean McGarvey: "North America's Building Trades Unions applauds President Biden's historical nomination of Ketanji Brown Jackson to the Supreme Court. Throughout her career, Judge Jackson has called balls and strikes fairly in our justice system, stood up for democracy, and upheld the Constitution for the betterment of the American people. Her record demonstrates a deep understanding and concern for economic justice, workers' rights, and the right to collectively bargain. Judge Jackson's remarkable reputation and impeccable experience will serve America well at the highest court, and we look forward to her swift and bipartisan Senate confirmation."