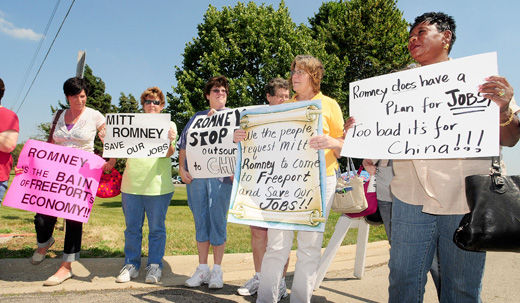 CHICAGO — The largest labor federation in the United States is warning Polish communities nationwide, including here, that Lech Walesa's meeting with Mitt Romney in Poland this week did not have the support of Polish workers, their unions or the labor movement here in America.
The warnings by the labor movement, say AFL-CIO officials gathered now in an executive council meeting in Washington D.C., will go to Polish communities in this city and to others including those in Cleveland, Milwaukee and New York.
The AFL-CIO is commissioning its field staff to bring that message into many of the Polish neighborhoods but particularly into those in swing states like Ohio, according to Cathy Feingold, the federation's international affairs director.
Romney met Walesa, the one-time leader of the Polish trade union Solidarnosc (Solidarity) on July 30 at the end of his three-nation tour – a tour marked by Romney gaffes in London and war mongering against Iran while he was in Israel. Walesa, during his meeting with Romney, endorsed the presumptive Republican nominee.
Katherine Kowalski, a CTA worker at a downtown station here, chuckled when asked for her reaction, saying, "So here in America the Romney who exports jobs and hates unions suddenly loves workers and unions when he goes to Poland. Polish people will not fall for this." Kowalski, 40, and a mother of two elementary school children, arrived in Chicago from Gdansk, Poland 20 years ago.
"Walesa is a disgrace anyway," she said, "Because any support he gave to workers was just to boost himself. His support for workers ended when he became president of Poland."
During the period Walesa held the Polish presidency, after the collapse of socialism in that country, he pursued policies opposed by the trade union movement. Feingold told a press conference of reporters at the AFL-CIO executive council meeting yesterday: "Even today, Solidarnosc has made it clear that they had nothing to do with the invitation to Romney and even more important that they do not agree with the top-down economics Romney continues to support.
"The Polish unions have distanced themselves from the Romney policies that weaken workers rights and job creation," Feingold declared, adding, "and what is most important is that the workers and unions in Poland stand in solidarity with American workers whose rights are under attack as we speak. Romney does not stand in solidarity with American workers."
The decision by the labor movement to send its field staff into Polish communities in swing states is seen as particularly important to the Obama campaign's attempt to increase its support among white male ethnic voters.
Other speakers at the AFL-CIO press conference yesterday noted that Walesa is not a spokesman for Polish workers, that he has resigned his position with Solidarnosc and has since formed an "independent" political party. When he ran for the Polish presidency on that party's ticket in 2000 he received only 1 percent of the vote.
"Walesa's views," said Rep. Marcy Kaptur, D-Ohio, who has many Polish constituents, "have apparently drifted away from those of Polish workers and voters.
"But in the end," Kaptur said, "Romney's effort may be for naught, as voters focus on the economy." She said voters in her Cleveland district have told her that the Romney trip was "an embarrassment."
Photo: In Freeport, Ill., workers at Sensata Technologies protest the loss of employment to oversees workers. Sensata is owned by Bain Capital, the firm presidential candidate Mitt Romney once led. Employees have appealed to Romney to intervene. Joe Tamborello /The Journal-Standard/AP