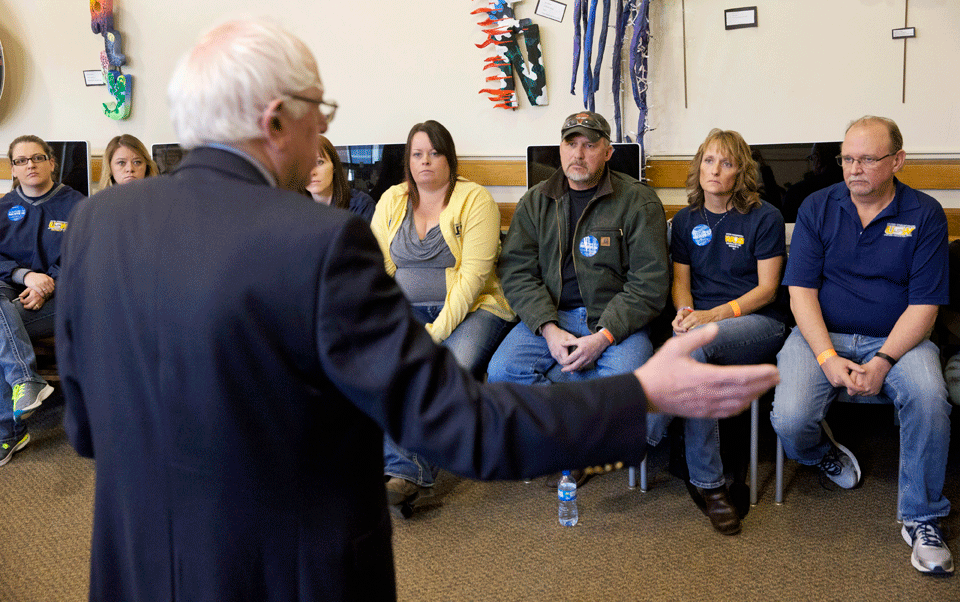 NEW ORLEANS—The AFL-CIO's decision not to make an early endorsement in the 2020 presidential race is by no means a decision by labor that it will stay out of the election. Almost every single union leader, without exception, wants to get rid of Trump, but this year most of them think that before labor endorses, the candidates should come forward to explain how they would lift workers up.
In People's World interviews at the federation's executive council meeting here yesterday, the union presidents, although not always for the same reasons, stuck with this position.
"We want to see how they engage with the workers, and what we really want to see is how the candidates talk about kitchen table economics," said Richard Trumka, the federation's president.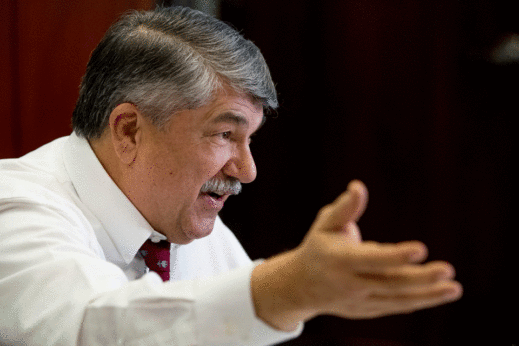 The approach is different than the one taken by labor prior to the 2016 elections, when unions put forward detailed platforms and judged the two Democratic primary candidates, Hillary Clinton and Bernie Sanders, on the basis of those platforms. Now, with 15 or more candidates, unions are trying to turn up the heat on all of them, telling them, essentially, to make the first move. It's the best way to use any leverage they have, some here feel.
David Cox, the president of the American Federation of Government Employees, has more reason than most to kick Trump out of the White House. Some 800,000 government employees were idled when the president locked them out in the government shutdown, with some still not having received their back pay.
Cox, whose union backed neither Sanders nor Clinton in the primaries last time, backed Clinton in the general and is staying out of the inter-Democratic fray this time, too. Some 40 percent of his members, including much of the border patrol, are registered Republicans.
"We've got to get rid of Trump," Cox said, "but we want the candidates to come to us and engage with us on the issues. We want to hear from them on what they would do about collective bargaining rights for federal employees who, like all workers, have the right to bargain collectively for their wages and working conditions."
Some of the more left-wing AFL-CIO unions back a delayed endorsement but for reasons other than just wanting to turn up the pressure on the entire Democratic field.
National Nurses United, although it has not yet made an official endorsement, has expressed pleasure in the announcement by Bernie Sanders that he is running again this year. They were among the first out of the box for Sanders last time.
Mark Dimondstein, president of the American Postal Workers Union, which also backed Sanders last time, wasn't interested in the "wait and see what they come forward with" approach. "I believe in judging candidates by their history and by their deeds," he said.
Elise Bryant, president of the Coalition of Labor Union Women, heads up a major AFL-CIO constituency group. She is hesitant about an early endorsement because she thinks labor can too easily get burned by jumping now on any one candidate's bandwagon. Nor does she believe that everyone in the Democratic field is quite as progressive as they claim.
"Far too much is being made of the move to the left. I am hopeful that the conversation is going to shift in that direction and that yes, change is coming," she said, "But after Barack Obama, I'm not going to be deceived again." She explained that her hopes were not realized when the former president failed to carry out many of his promises.
Cecil Roberts, president of the United Mineworkers of America, was unhappy that Democratic candidates have yet to reach out to many of the unions, his included.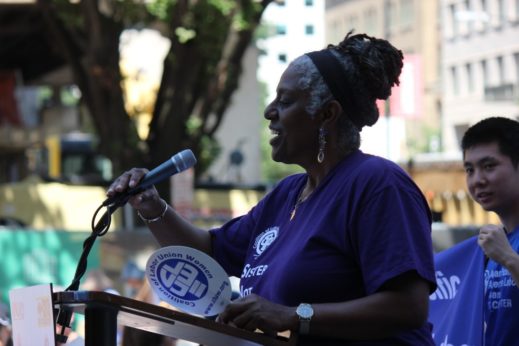 "They are giving unqualified backing to the Green New Deal," Roberts said, "and never came to us before doing so. How are they going to address the seven million workers in the fossil fuel industries who could lose their jobs?" he asked.
Although Roberts and other union presidents say the Democratic presidential candidates have not reached out to them, there are some, notably the presidents of the 15 building trades (construction) unions, with which the candidates have already met directly.
Jim Boland, the president of the Bricklayers' union, told People's World that the candidates came to them at one of their regular presidents' meetings. Since there were so many of them, 14 and counting, he said, they had to schedule a second meeting to accommodate all of the Democratic candidates. (See related story, Boland by Mark Gruenberg.)
At least one union president here raised a different issue, using some colorful language to express his opinion about the question of early endorsements in the coming presidential election.
"An election campaign two f*cking years long—it's crazy," said Leo Gerard, president of the United Steel Workers. "But in any case," he said, his members are "watching the candidates closely."