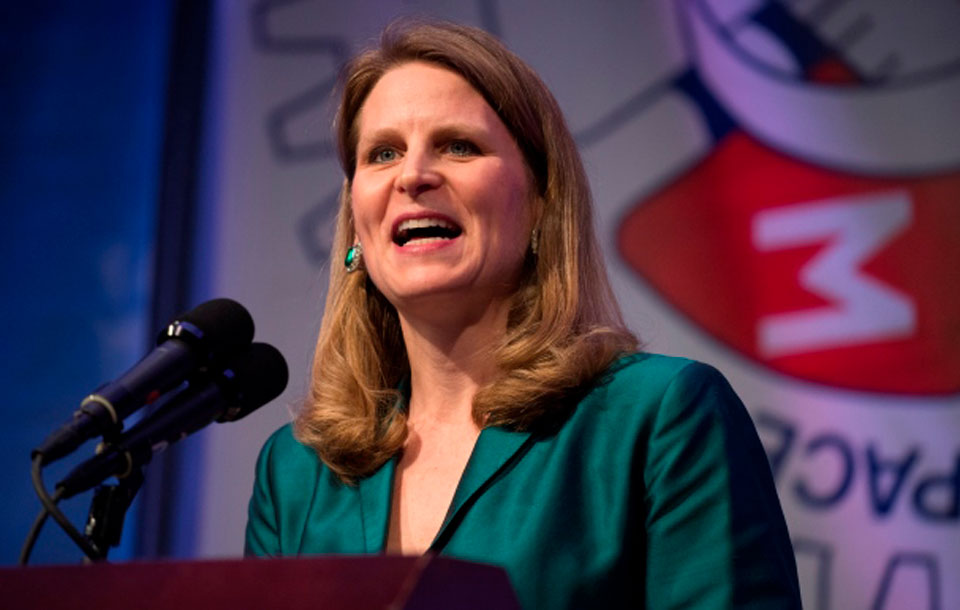 WASHINGTON—Democratic President Joe Biden's five-year $1.2 trillion Infrastructure And Jobs Act presents building trades unions with "a golden opportunity" to grow, but "it's up to us" to shape the future U.S. construction workforce, AFL-CIO President Liz Shuler says.
Closing a morning of speeches to North America's Building Trades Unions' legislative conference in D.C., the Electrical Workers (IBEW) member told the 3,000 delegates and guests crammed into the unionized Washington. D.C., Hilton hotel's International Ballroom that the measure will create hundreds of thousands of new jobs—and union members and union-trained apprentices must fill them, as Biden wants.
Shuler, House Speaker Nancy Pelosi, D-Calif., Biden Commerce Secretary Gina Raimondo—a former Democratic Rhode Island governor—and Sen. Lisa Murkowski, R-Alaska all followed NABTU President Sean McGarvey to the podium on April 5. The next day saw ten speakers, with Biden giving the closing address.
Shuler did not delve into construction worker demographics but a survey of the crowd showed what she was talking about. The delegates were overwhelmingly white, male, and middle-aged or older. Within a few years, most will be ready to retire.
That's not going to be the composition of the future construction workforce, Shuler and other speakers said, and unions must adjust themselves, their goals, their structures, and their opportunities to accommodate the new wave of workers.
"What is going to happen next?" asked Shuler, who got a huge roar as she entered the hall and made her way to the podium, escorted by workers from her home state, Oregon.
"It is up to us to shape this investment and take advantage of the strong labor standards we attached," to the law. "And it's up to us to supply the workforce: Women, people of color, of the formerly institutionalized, people who may not realize the power of a union.
"No one is better a training people than we are," she declared, citing construction unions' hundreds of training centers and 75,000 yearly apprentices nationwide. "And we will help President Biden build on his promise to deliver at least 40% of the investments in renewable energy to communities of color."
Just four of those present or planned investments, including a semiconductor plant in Ohio and a wind farm in the Atlantic off Rhode Island, a deal Raimondo put together, will produce 250,000 new jobs and Biden wants them to be union jobs.
"We have not only a chance to build sustainable infrastructure but sustainable jobs," added Shuler, speaking of both the wind farms and a Biden multibillion-dollar initiative, which would employ the Utility Workers and their colleagues, to replace all of the nation's lead-lined water pipes, thus averting future disasters such as occurred in Flint, Mich.
Apprenticeships also come into play, Shuler said. Pointing out a college diploma is not for everyone, and that apprentices, upon graduation and entering a trade, can earn six figures, Shuler urged delegates to start discussing the benefits of building trades careers with students as early as middle school.
"Earn while you learn and afterwards you have a good job waiting for you and after that, you have a career. You know it, you experienced it. Those folks find hope in their unions."
Biden's infrastructure law was one reason Shuler loaded the administration with praise, subtly reminding the delegates that in an election year, they must remind their members what his pro-worker government has done for union members both on Capitol Hill and in federal agencies. That reminder dominated McGarvey's speech (see story).
"But we have to shift with the times, with a labor movement with members and leaders who look like our community," Shuler warned. "I know what it's like to be the only woman in the room," she said. Shuler made that same point, in even stronger terms, several years ago when, as Secretary-Treasurer, she practically read her colleagues the riot act at a closed-door AFL-CIO Executive Council meeting in Atlanta. She was gentler, but pointed, at NABTU, in her first address to them as AFL-CIO President.
"Women will be half of the labor movement in three years," she said. The AFL-CIO is already the largest U.S. woman's membership organization, Shuler noted. "We want every single one of those women…to see women be at the head of the table."
"Lean-In Circles. Women In Trades," she said, naming a NABTU initiative and a longtime NABTU sector. "Our movement has to be constantly evolving and changing just as work has constantly evolving and changing."
That means changing methods of organizing and attracting new members to meet what she calls "the Uberization of the workforce all across the economy." Uber, Lyft, and other "gig economy" firms using computer-driven platforms, claim their workers are actually "independent contractors," not protected by labor laws, weak as those laws are. "Now there's a ballot initiative to take nursing into a platform," Shuler warned.
"The gig economy thinks they're unique, so they don't have to pay decent wages or protect their workers. But it doesn't have to be that way: Building Trades is the original gig model."
"We're not going to let outdated labor laws stand in the way…Our members and the American people are fed up, they're fired up. Let's show them the labor movement has their back. Let's build an economy that works for working people, everyone included no one left behind. I cannot wait to see where we go from here," Shuler concluded.