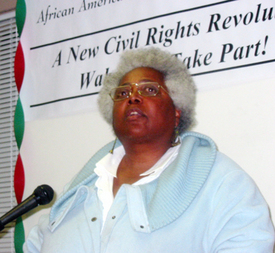 NEW HAVEN, CT – Oakland teacher and civil rights activist Cassie Lopez brought people to their feet with her powerful message at African American History Month events in Connecticut held at the New Haven Peoples Center, and in Hartford during the last weekend of February.
The People's Weekly World 34th Annual celebration at the People's Center was opened with drum and Marimba music by local artists Brian Jarawa Gray and Paul McGuire.
Prizes were awarded for a first time annual high school competition around the theme "Stop the Violence—The Future is Yours." The competition honors the memory of Dalzenia Henry, who dedicated her life to working with children and was a union and community leader until her untimely death in January.
The presentations of first place in poetry by Aishah Jenkins, and first place in essay by Joavonna Austin were received with great enthusiasm by the audience as were the presentations of second and third place winners. Prizes were donated by Alderwoman Dolores Colon, the Amistad Committee and the Peabody Museum.
Lopez has been actively involved in the struggles for racial and class justice since she was ten years old, when she joined her first picket line at Woolworth's Department Store, which didn't serve African Americans. She is founder and sponsor of Youth Power, a high school group which organizes around issues confronting young people today.
She talked about her past, the current situation and problems that need immediate attention in the communities. She called for a raise in the minimum wage so parents don't have to work two and three jobs and can spend time with their families, smaller class sizes and the right to adequate healthcare for everyone. She said it is time to bring our troops home from Iraq and fund education instead of war.
Lopez commended teachers at the event with their students who had participated in the competition, and told of her own commitment to understand and meet the needs of her students including making sure they are not hungry in the classroom.
Highlighting the presidential election, Lopez stressed that it is critical to defeat the Republicans this year noting that history is being been made with the candidacies of Clinton and Obama. She explained how she had volunteered for Obama with her students when they chose him after studying each candidate. They found hundreds of people of all ages and backgrounds in his campaign.
She called for everyone to join together to bring about a change and set a new agenda for the country. The packed house related to her message because they are feeling the pinch that is becoming harder every day and are ready for basic change.
Many thanks were expressed to Pastor Betty Marks and the New Growth Praise Center for their special service which raised a generous contribution for the People's Weekly World fund drive. During the weekend the $3,000 goal for the paper was met.
A Great Cry
A tear swells in the eyes,
The eyes of a mother
As she watches the feet of her son,
Watches them rise.
As the branch from which he hands
Begins to weaken.
The songs and spirituals sang
Sway the body of the boy that hands.
His skin will burn in the sun,
For he felt too much.
His eyes will be pecked out by the crows,
For they had seen too much.
His hands shall be bound behind his back,
For they were indeed too strong.
His feet would not meet the ground,
For they had walked a road,
A road far too daring.
His brains shall rot,
For within lied wisdom and intellect beyond measure.
And as the tear continued to swell,
To the ground the mourning woman fell.
The eyes through which she witnessed
Could never hide nor deny
The image then branded into them,
Her heart will never be repaired.
As the tear runs down her cheek,
It penetrates the dust beneath her knees.
It is time for the tears to stop falling,
We as African-Americans are no longer lynched literally,
But, are killed using worse methods metaphorically;
Minds are being wasted
Failure is placed in their faces
The faces of the young black teens across the nation,
As numbers take their places,
And I am tired.
We as a people have grown tired.
We are tired of sleeping.
Sleeping while black and Latino mothers lie weeping.
We cannot rely on others,
When they see our people they think gangsters and killers,
It is up to us to make sure justice is attained
The time for justice has come,
It will take time, but with a mustard seed of faith,
Justice will be done.
By: Aishah Jenkins
Age: 15
School: Hopkins School, New Haven CT