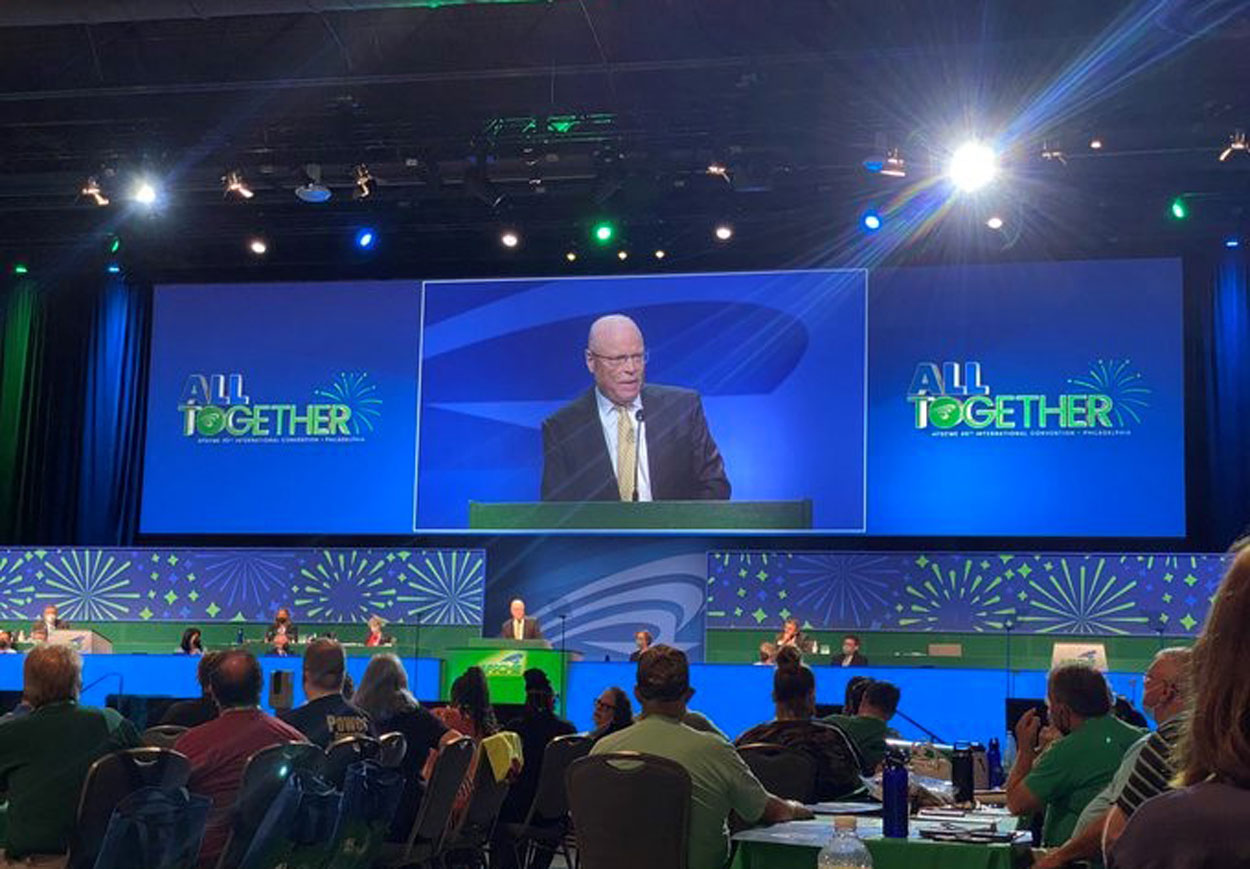 PHILADELPHIA—Despite past successes, especially under Democratic President Joe Biden, whom his union helped push to victory in 2020, AFSCME President Lee Saunders is warning his 1.4 million members of battles to come, both in Washington and on the hustings.
"Let me be clear. There is still plenty of unfinished business, plenty of challenges this administration still needs to meet," Saunders told his convention's thousands of delegates, meeting in Philadelphia on July 11. "But here's the bottom line: This is the most pro-worker, pro-union White House of our lifetimes. Period. Full stop. Bar none." (His emphasis)
Saunders spent much of his speech, though not all of it, not only talking political successes under Biden but contrasting them with prior Republican inaction or worse, their hatred, of unions, workers, and public workers in particular. Then he said workers will have to do their campaigning all over again.
"The progress we made under this administration–and any hope for further progress–is on the ballot this year. We have to defend the thinnest of majorities in the House and Senate," warned Saunders. Like his late predecessor Gerald "Jerry" McEntee, Saunders chairs the AFL-CIO's Political Committee. McEntee died the day before the convention began.
"And in state races, where the rubber really meets the road for us, there are 36 governorships and control of several state legislative chambers up for grabs."
Those include governors' chairs, now held by Democrats in key swing states such as Pennsylvania, Michigan, Nevada, and Minnesota, along with swing-state Republican-held seats in Georgia and Arizona.
Other key races feature Republican governors in deep-red Texas and leaning-Republican Florida, Democratic incumbents seeking new terms in strongholds California, Illinois, and New York, and two Democratic strongholds with Republican incumbents, Massachusetts and Maryland.
Maryland's Larry Hogan, who is term-limited, was pro-worker until recent days, as is Massachusetts's Charlie Baker. Baker's retiring. Hogan, eyeing a campaign for the Republican presidential nomination in 2024, turned sharply rightward in recent weeks. He's also making six stops in New Hampshire, the site of the first-in-the-nation presidential primary, on July 10-11.
All those states and more have legislative races, too. And states with Republican-gerrymandered legislative majorities, such as Florida and Pennsylvania, back a pending U.S. Supreme Court case from North Carolina, which Saunders did not mention. It could put total electoral power about who would actually win in state lawmakers' hands, regardless of votes.
Put it all together, Saunders said, and "I'm not going to lie to you, AFSCME family: We've got to get it done in a very difficult political environment. I'm asking you to have conversations with your co-workers, to register voters, and to get folks to the polls.
"I'm asking you to dig deep to put pro-worker candidates over the top in November. And when I say dig deep, I'm talking about your wallet too. Our political success depends on your financial support" in voluntary campaign contributions.
"This is our chance to elect the folks who make decisions affecting our pay and benefits. The investment we make in PEOPLE"—AFSCME's campaign finance committee—"pays for itself several times over when we have allies in office," he declared.
That money totaled $18.81 million in the 2019-20 election cycle, including affiliates, and $4.69 million so far in 2021-22. AFSCME's not in the top 10 of all campaign finance committees, records from OpenSecrets.org, which tracks contributions and spending, says.
There are many reasons to dig deep both for money and votes, though, Saunders urged his members, and, by implication, other workers: Biden's pro-worker record and achievements. Though the president has been faulted for not "selling" his achievements very well, Saunders argued for them in his speech.
At the start of 2020, he noted "public services were on the chopping block" as the coronavirus pandemic—and closures to try to stop community spread of it—shut down much of the economy. At the same time, demand for AFSCME's essential services, especially in health care and other front-line jobs, soared.
"That's why we made the case every single day for a package of federal aid that would fill revenue gaps, save AFSCME jobs, and bring the economy back from the brink," he said.
Topping Saunders' list: Biden's $2 trillion American Rescue Act, designed to drag the nation out of the pandemic-caused crash, and his $1 trillion, five-year infrastructure law, designed to both repair and replace aging highways, bridges, railroads, subways, and airports, going "green" where possible, while wiring the whole nation for broadband. The Rescue Act included $350 billion in state and local aid.
Both measures created or will create, tens of thousands of new union jobs. The Rescue Act also saved tens of thousands of AFSCME jobs, Saunders said. But not all of them.
Not counting schools, the latest Bureau of Labor Statistics jobs data show state and local governments employed 8.998 million workers, union and non-union, in June. That's down 348,100 nationwide from March 2020, before the pandemic hit full force, BLS records show.
"Resistance was fierce. Some politicians said it was fine if states go bankrupt and you end up on the unemployment line," Saunders reminded the delegates.  Senate Minority Leader Mitch McConnell, R-Ky., said that in April 2020. though Saunders did not name him.
"But when our livelihoods are at stake, and our communities are threatened, we run through walls to get what we need, and we sure as hell don't take no for an answer.
"We ran one of the biggest grassroots lobbying campaigns in our union's history…We lit a fire under Congress, calling and emailing their offices day after day, week after week, month after month.
"We pushed and pushed…but they said no. So, we kept pushing harder, but they still said no. So, we just kept pushing–ALL TOGETHER–until they said 'Yes.'" "All together" is AFSCME's slogan for this convention, which runs through July 15.
"Yes to the American Rescue Plan. Yes to $350 billion in aid to states, cities, counties, and towns. Yes to robust federal investment that means canceled furloughs, higher staffing levels, and hard-earned raises for thousands upon thousands of public service workers."
And, Saunders added, reviving the Public Service Loan Forgiveness Program, which Republican Donald Trump's anti-teacher anti-worker Education Secretary Elizabeth "Betsy" DeVos schemed to kill. Though Saunders did not say so, Teachers (AFT) President Randi Weingarten also campaigned hard—and sued DeVos, too—to keep the loans alive.
That program forgives college student loans for any worker who devotes at least ten years after graduation to public service. Biden's Education Department revived it, and 113,000 people have had their loans forgiven thus far, Saunders said.
"That's what happens when we show our strength. That's what happens when we stand together and refuse to stand down. That's what happens when we raise our voices and raise some hell!
"But it wouldn't have happened without a change in leadership in Washington–a change we delivered with our political power. During the 2020 cycle, we mobilized in overwhelming numbers.
"And we did it by innovating under unprecedented conditions. We executed a campaign without the benefit of a single rally or in-person event, without the ability to knock on a single door" due to the ravages of the pandemic.
The results were the wins in the White House and the even split in the U.S. Senate, he declared. And, the rest of his speech said, AFSCME, and by implication, the labor movement in general must do it all over again.