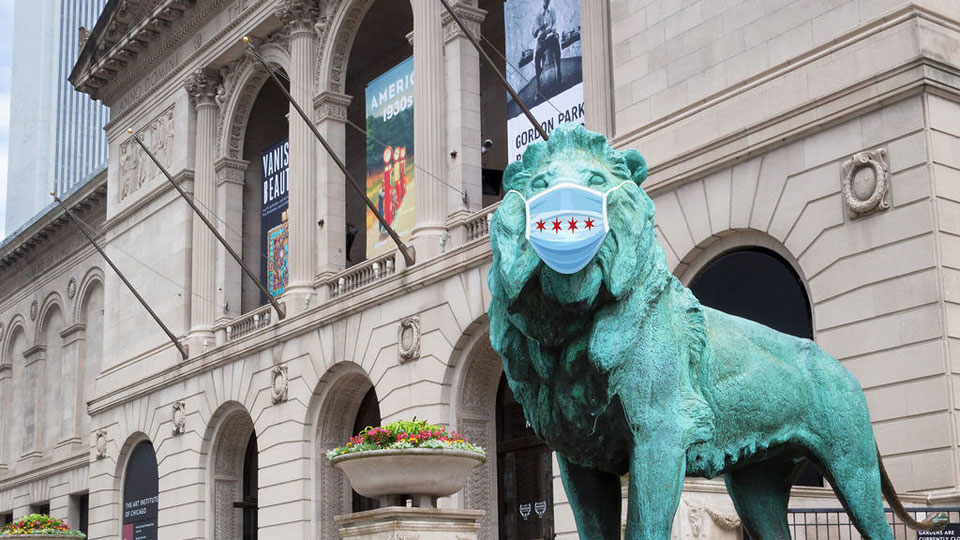 CHICAGO—By overwhelming majorities, AFSCME went 2-for-2 in union recognition votes on Chicago's Michigan Avenue: First the staff of the world-renowned Art institute and then faculty and staff at the museum's art school unionized with District Council 31. The results were announced on consecutive days, January 11-12.
The 142-44 vote at the institute itself and the 115-48 tally at the school will bring approximately 600 more members combined into the union's ranks, once contracts are negotiated and ratified. They'll then join more than 10,000 other museum staffers from coast to coast who've unionized with AFSCME, Council 31 Executive Director Roberta Lynch said. She invited staffers at Chicago's other top museums to contact the union, too.
Ballots are in, our votes have been counted, and in a tremendous show of solidarity and optimism, a majority of our coworkers said yes to our union, Art Institute of Chicago Workers United!" the organizing committee said after the first vote. "Not only that, but we also voted to form one bargaining unit for all museum titles, because together, we are stronger."
Management at the fabled facility challenged 20 votes among its own staffers and 44 among those at the school. The National Labor Relations Board's regional office didn't open those because the ballots would have made no difference in the outcomes.
"This is an incredible achievement—for us, for Chicago, and for cultural institutions across the country. Take a deep breath and savor this moment," the Organizing Committee told its colleagues. "Then, let's get back to work," setting bargaining priorities and electing officers and a bargaining committee.
The twin organizing drives went public in August, and featured marches in front of the Institute's original building fronting Michigan Avenue downtown, and rallies on its steps, between the two great lions who guard the main entrance.
"Winning our union means a voice in our workplace and a chance to improve working conditions for ourselves, our colleagues, and those who will follow us for generations to come," museum archivist Anna Feuer told DC31.
"This is a watershed moment," assistant curator Erica Warren added. "AICWU has proven that collective action is growing and we will make the museum field more accessible and equitable, paving the way for future generations of workers in the arts." The workers, especially at the museum school, also had more down-to-earth goals.
"My colleagues and I are building a new foundation" at the school, "based on transparency, equity and better working conditions," said activist Myia Brown, assistant director of career and professional experience there. Academic adviser Mike Zapata said workers "are fighting for better pay, more stability, equity and a voice in our futures."
Chimed in receptionist Rachel Perlman: "I voted yes because in nine years of working at the school my largest raise was 49 cents. We deserve equity, respect, and a living wage."