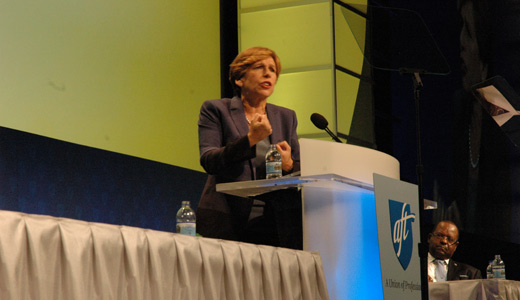 DETROIT – "Some of you are thinking that the big opening today is not in Detroit but in London. But don't ever forget that behind every sprinter, marathoner, gymnast or swimmer is a teacher."
That is how American Federation of Teachers President Randi Weingarten began her keynote address to 3,000 delegates as the AFT opened its 2012 national convention in Detroit's Cobo Center Friday morning. She drew a standing ovation.
The nation's teachers, the majority of them unionized and working in public schools, have been the bedrock for the success stories of people from all walks of life. With so much to be proud of, delegates here wondered, "When did we become the enemy?"
Weingarten said teachers have been targeted because they are in the front lines fighting to save public education.
She noted that the nature of teachers' work, tied to families and based in communities, puts them at the intersection of two important social movements – the movement for increased educational opportunity, and the movement for advancing economic dignity. Weingarten outlined the AFT's commitment to "solution-based unionism" – working to solve the challenges faced by schools and the communities they serve.
As an example she said the union has started community programs that make available to students and their families health, mental health, tutoring, counseling and other services.
Another initiative she cited is a web-based project called "Share My Lesson" that she said will be a "digital file cabinet" of the best teacher lesson plans and ideas freely available for all teachers.
Weingarten spoke of the AFT executive council's unanimous endorsement of President Obama. She said the candidates the union is endorsing in many cases aren't perfect but "they have felt the same winds of change that we have, and are attempting to deal with them in a way that honors and respects America's working families."
The two candidates for president couldn't be more different, she said, and the stakes are too high to sit this one out. She mentioned Romney's support of school vouchers and the Bush-era tax cuts for the very wealthy, his plan that would turn Medicare into a voucher system and his plan to double out-of-pocket costs for seniors, his opposition to the Obama's stimulus program that saved the jobs of 300,000 teachers and more.
"Mitt Romney says he would preserve the Department of Education only so he'd have a club to beat back unions. Should Mitt Romney be our next president?" asked Weingarten.
The delegates responding with a deafening "No."
At noon, hundreds of delegates went to rally in front of the offices of Detroit's emergency school manager, Roy Roberts. Weingarten said Roberts has used that power to gut school funding, pink-slip every teacher, and slash teacher pay. He has refused to negotiate with the teachers union to solve the deep challenges that Detroit schools face.
Weingarten told the delegates she had sent Roberts a letter Thursday, demanding that he meet with her and local AFT leaders, and within hours of receiving this letter, he agreed. This happened not just because of the letter, she said, but because the teachers made it known that they were prepared to turn out in force, she said.
The teachers rallying outside Roberts' office reinforced the message Weingarten delivered inside: "Only by working with educators, parents and the community will we be able to rebuild a strong Detroit for our children."
On a positive note, Weingarten said that despite a brutal economy and a right wing out to destroy the union, AFT membership is larger than two years ago.
Photo: American Federation of Teachers President Randi Weingarten addresses the AFT convention in Detroit, July 27. Courtesy of Nathan Goldbaum, communications coordinator, Chicago Teachers Union.