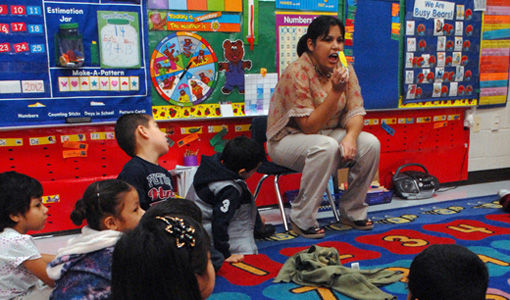 WASHINGTON (PAI) – A rigorous "bar exam," after tougher training, for teachers? That in essence is what the American Federation of Teachers, the nation's second-largest teachers union, proposes.
Noting almost every state has committed to a nationwide core curriculum for what kids must learn in school, AFT President Randi Weingarten says it's time for tougher curriculum, training and testing of new teachers' competency, too.
"We need a systemic approach to preparing teachers for a successful career in the classroom and a more rigorous threshold to ensure every teacher is actually ready to teach. If both are done well, a teaching credential will be meaningful," she said in introducing AFT's 40-page report on teacher training and qualification, Raising The Bar. U.S. teacher training "is a patchwork lacking consistency," Weingarten added..
"As in medical, law and other professions, all prospective teachers-whether they come to the profession by the traditional or an alternative route-should meet a universal and rigorous bar that gauges mastery of subject matter knowledge and demonstrates competency in how to teach it," she added. AFT issued the report Dec. 1.
That will make beginning teachers prepared to teach the kids, especially kids who need the most help – the kids whom new teachers are usually assigned to-she adds. Starting teachers told AFT they're often thrown in to "sink or swim" in classrooms.
AFT's 14-person panel on the teacher training and standards issue spent more than a year studying what to do to both raise teacher training and raise the bar for entry into the profession. Its 40-page report says the new standards should be nationwide and enforced by a board of "practicing professionals" in teaching. That's a slap at politicians who have imposed teacher standards from the outside.
The report also recommends that "all stakeholders must collaborate to ensure teacher preparation standards, programs and assessments are aligned with a well-grounded vision of effective teaching." And it states "teaching, like other professions, must have a universal assessment process for entry that includes rigorous preparation centered on clinical practice as well as theory, an in-depth test of subject and pedagogical knowledge, and a comprehensive teacher performance assessment."
The National Education Association, which is larger than AFT, had no reaction to the report. Obama Administration Education Secretary Arne Duncan welcomed them. Improving education has been a key presidential focus.
"Too many new teachers enter our schools feeling unprepared. We shouldn't tolerate that in a profession so important to our country's future," Duncan said.
Photo: Gallegos Elementary Pre-K teacher, Blanca Gonzales teaches a lesson on vocabulary in Brownsville, Texas. Brad Doherty/The Brownsville Herald/AP