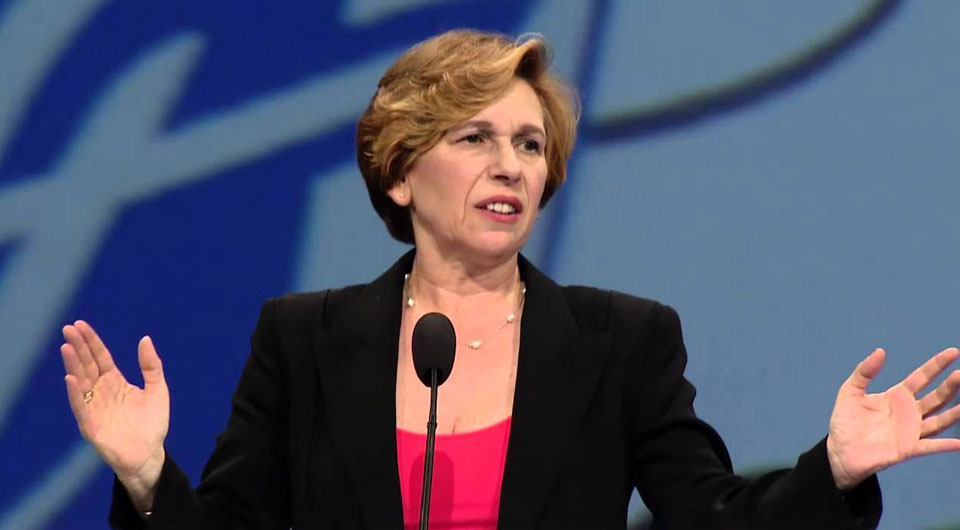 WASHINGTON—The Teachers (AFT) will take to the streets, if necessary, to defend U.S. democracy during and after the Nov. 3 election, the 1.7-million-member union's Executive Council announced. And their resolution makes clear the threat comes from GOP Oval Office occupant Donald Trump.
But it's not just Trump, Protecting American Democracy, adds. It's also his armed white nationalist supporters and GOP-run state legislatures and GOP governors who could override popular vote majorities against the White House denizen.
Further, AFT predicts the rest of the labor movement will be out in the streets, too, the council's Oct. 26 resolution says.
"We will organize and participate in peaceful, nonviolent mass protests against any efforts to thwart free and fair elections and to undermine American democracy," the union said in a statement elaborating on the resolution.
"When democracy is in danger, we will be in the streets and in our workplaces with our colleagues in the labor movement and allies in the community, defending it against its enemies—foreign and domestic."
"We take very seriously any threat to the sanctity of our elections and the peaceful transfer of power," union President Randi Weingarten, a New York City middle school civics teacher, explained. "It is our job as…most importantly, human beings, to defend democracy, which requires fighting for Americans' right to vote and then counting every vote. That is the first step to building a fairer and more democratic society.
"I feel this keenly as a teacher, particularly a teacher of civics. I feel this even more keenly watching President Trump undermining the foundational underpinnings of our democracy: The consent of the governed.
"And I am not alone. Our executive council…feels this same urgency. We vow to stand—masked, safely—with our fellow citizens in this fight to preserve our beloved country, whatever form that fight might take."
Like almost all labor movement leaders, AFT endorsed and is campaigning for Democratic presidential nominee Joe Biden and running mate, Sen. Kamala Harris, D-Calif. Biden and Harris pledged to abide by the electorate's will, whenever the election is decided.
Trump has not given that same pledge. His own words, and those of his top staffers, encourage his armed white nationalist supporters to swarm nationwide to keep him in office, in what other commentators would describe as "a coup," should he lose.
"The 2020 election is a test of who we are as Americans and what we will do to preserve our democracy when it is in mortal peril," AFT's resolution says.
The union recited U.S. history of extending and defending democracy, including actions by "working people who faced violence and repression when they organized unions and defended free speech." That, plus beating fascism in World II and defeating Jim Crow via the civil rights movement, shows "Americans have made immense sacrifices and put our lives on the line to make the democratic promise of 'Liberty and justice for all' a reality.
Teachers have been part of defense and extension of liberty, the AFT adds. Now democracy faces a new and "historic challenge," their resolution declares: Trump.
"Donald Trump's presidency has been marked by a series of attacks on the democratic institutions and norms of our government and civil society: Assaults on the rule of law, an independent judiciary, a free press, the separation of governmental powers, the right to protest, equality under the law, the rights of people of color, believers in minority religious faiths and immigrants, the freedom of association of working people, and more."
"This endless barrage has taken a deep and destructive toll on our political life, our national psyche and our national identity, threatening to lay waste" to U.S. norms and its motto. "Now, Trump and his supporters have mounted an offensive on the very foundation of democracy: The power of the people to choose their government through free and fair elections."
"The AFT is unequivocal and unwavering in our response: We stand for American democracy. Democracy is a defining principle of our work… and a core value of who we are as unionists and citizens. Our vote is our voice and a sacred right upon which freedom depends. We see no choice: To be true to ourselves and the values we hold dear, we must rise to the defense of democracy."
In its covering release and Weingarten's statement, the union elaborated on the resolution. In particular, it warned the right of "we the people" to decide who governs us "must be respected" by those in power, all the way up to Trump.
That means opposing not just the president and his white nationalist supporters but also efforts by state and local officials, including state legislatures and governors, to nullify the vote. The union also said, in the resolution, that it would mount the same defenses regardless of political party affiliation.
"The will of the voters must determine who is president must not depend on a presidential preference," the union said. And the transition from Trump to "legitimate winners must be free and fair," it declares.