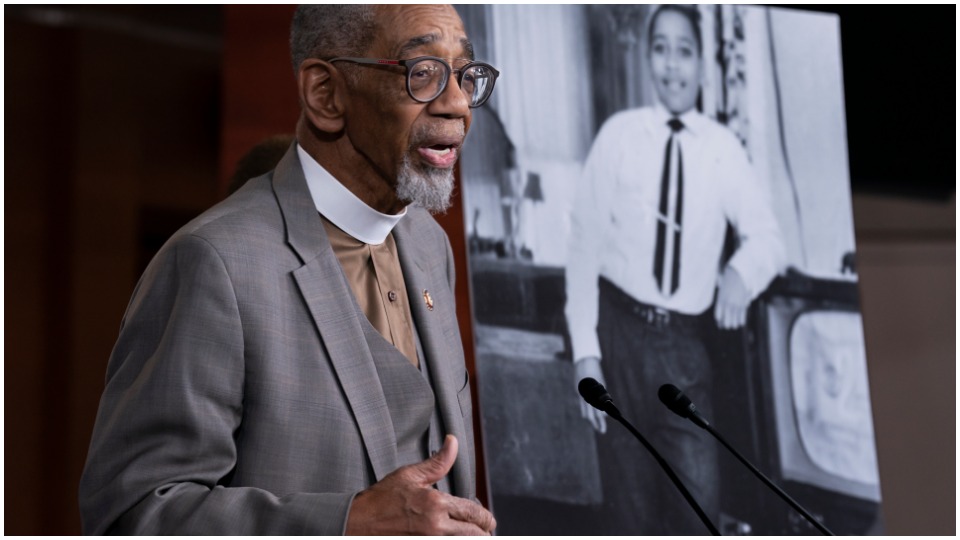 WASHINGTON—After a century or more of defeats, many of them at the hands of racist filibustering Southern senators, Congress is specifically declaring lynching a federal hate crime.
The 410-4 House vote on Feb. 26 on the Emmett Till Anti-Lynching Act, HR35, followed a unanimous Senate vote on an almost identical bill last year. The House vote occurred during African-American History Month, and the hate crime declaration carries a specific federal sentence of 10 years in prison upon conviction for that hate crime. The GOP Trump administration has yet to take a position on HR35.
Lawmakers said at least 4,742 people, 99% of them African Americans, were lynched between 1892 and the mid-1950s. One member of Congress noted that the number represented only publicly reported lynchings.
The bill was named for the victim of one of the worst lynchings, Emmett Till, a 14-year-old African-American boy from Chicago's South Side who, while on a visit to relatives in rural Mississippi, was beaten, lynched, and then thrown into the Tallahatchie River, all for allegedly whistling at a white woman on the street in 1955.
His mother decided to show the nation the violence of lynching, which lawmakers repeatedly called officially sanctioned murder on the basis of race, by having an open-casket viewing of his body.
Leading members of the white community committed, condoned, or aided the lynchings. Often, especially at the height of Ku Klux Klan influence, whites treated lynchings as public spectacles and occasions for white celebration. There was only one conviction, and it was in the 1960s.
Starting in 1918, the House occasionally passed anti-lynching bills, but the legislation more often died either on the House floor or Southern segregationist Senate filibusters killed it.
HR35 won't. Its House sponsor, Rep. Bobby Rush, D-Ill., whose Chicago district includes the Tills' home, noted a virtually identical bill by Sens. Kamala Harris, D-Calif., and Cory Booker, D-N.J., raced through the Senate last November.
"Lynching, plain and simple, is an American evil," Rush declared. "This atrocity is comparable to the French use of the guillotine, the Roman Empire's use of crucifixion, and the British use of drawing and quartering as a tool of terrorism."
"And for too long, federal law against lynching has remained conspicuously silent."
Rush also reminded colleagues that while lynching as a crime against African-Americans may have ceased, hate crimes have not.
"Many may consider lynching to be a relic of the past, but as we all know, unfortunately, recent events have shown us this is not the case," he said. "Instead, we have seen a rise in race-based violence that culminated in events like the white supremacist rally in Charlottesville, Va., or the racially motivated mass shooting in El Paso, Texas." And other colleagues cited other hate crimes, including the massacre at the Tree of Life synagogue in Pittsburgh. "In passing this bill, we send a resoundingly strong message about what we are as a nation, our country's values and, more importantly, what we as Americans stand for and what we will tolerate and what we will not tolerate," he added.
"Even today, we continue to see the memory of lynchings used to instill fear and threaten minority populations, from nooses being displayed as hate speech to threats of political violence using imagery of lynching. We still live with its dark legacy," added House Majority Leader Steny Hoyer, D-Md.
A memorial museum to victims, the National Memorial for Peace and Justice, opened 11 months ago in Montgomery, Ala. It has a walkway lined by worn steel columns hanging from the ceiling, carrying the names of lynching victims.
Rep. Bennie Thompson, D-Miss., whose district includes the site of Till's lynching, told his colleagues there's a small privately created memorial museum to Emmett Till and to other lynching victims near where the teenager's body was pulled from the river.
"Unfortunately, it is the only memorial in America that has to be bulletproof. In years past, the signs have been stolen, thrown in the river, replaced; shot, replaced again; shot again; defaced with acid; and had 'KKK' spray-painted on them," Thompson said.
Four lawmakers—three right-wing Republicans and independent Justin Amash of Michigan—voted against the anti-lynching bill. Rep. Louis Gohmert, R-Texas, said 10 years was too short. Reps. Thomas Massie, R-Ky., and Ted Yoho, R-Fla., objected to any federal hate crime laws. Amash said HR35 "criminalizes a conspiracy to violate hate crime laws," too. None of the four spoke on the House floor.