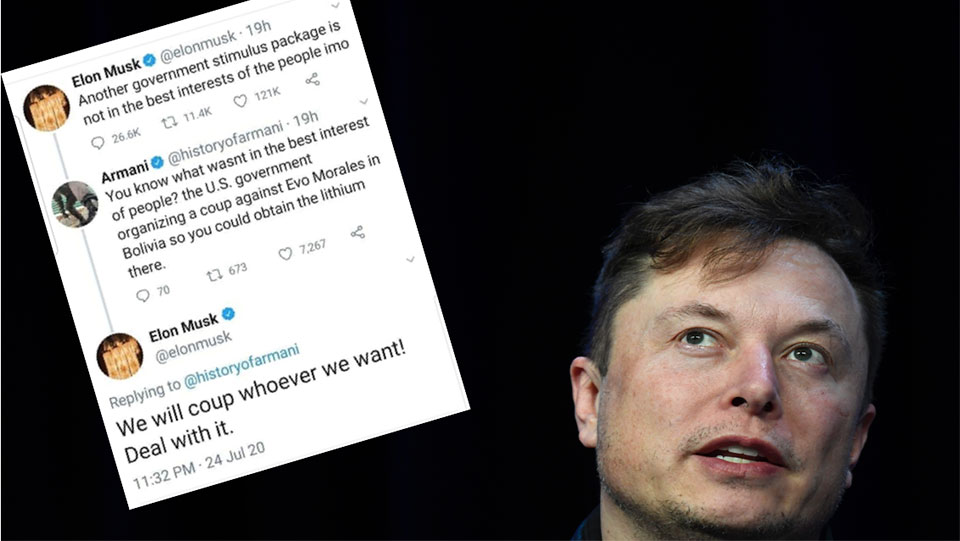 Billionaire Tesla owner Elon Musk has come under fire after welcoming last year's overthrow of Bolivian president Evo Morales in what was seen as a bid to obtain the country's lithium reserves.
In response to a tweet on Saturday that accused the U.S. government of forcing Morales out, allowing Musk to access Bolivian resources, he wrote: "We will coup whoever we want! Deal with it."
Musk had tweeted his opposition to the possibility of a new coronavirus economic stimulus package from the U.S. government, saying it was "not in the interests of the people." Another Twitter user responded that the U.S.-backed coup against Bolivia to get the county's lithium was something that was actually against the people's interest. That prompted Musk's angry retort that "we," presumably meaning the U.S. capitalist class, would overthrow anyone they wanted.
Hundreds of Bolivia's Indigenous population were massacred following what was branded "a fascist coup" against Morales, who is currently in exile in Argentina.
Bolivia has between 25% and 45% of the world's known lithium reserves, an estimated 21 tons, most of which is in the Salar de Uyuni salt flat.
Lithium is a crucial component of the batteries used in Tesla vehicles and other electric cars, as well as computers, smartphones, and other equipment, and its value is set to skyrocket as sales of such vehicles increase.
According to the current Bolivian constitution, lithium can only be extracted and processed by Bolivians, but privateers are continuing to press for access to the country's vast resources.
Efforts to obtain access to the precious metal, led by transnational mining companies based in the United States, Canada, South Korea, and elsewhere, had failed prior to the ousting of Morales.
Bolivia coup against Morales opens opportunity for multinational mining companies
The former president had instead struck deals with Chinese and Russian companies that would benefit Bolivia's Indigenous population. Morales branded the coup an "act of revenge by the United States, which never accepted the loss of control of the Bolivian lithium market in favor of Chinese and German companies."
Washington was particularly angry at Bolivia's plans to develop lithium production with China. The total value of trade deals between the two countries grew from $75 million to $2.25 billion between 2000 and 2014.
The coup administration led by Jeanine Añez immediately announced plans to invite transnationals, including Tesla, to exploit Bolivia's lithium reserves. A letter to Musk from Foreign Minister Karen Longaric, dated March 31, said: "Any co-operation that you or your company can provide to our country will be gratefully welcomed."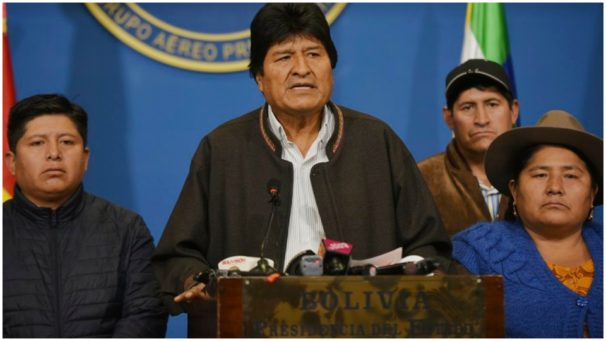 Morales's Movement Toward Socialism (MAS) party and Indigenous Bolivians have long warned against foreign exploitation of these lithium reserves, which are currently processed inside the country.
On Friday, a group of coca farmers warned of mass mobilizations unless the coup administration reverses its decision to postpone elections for the third time. MAS is predicted to win the next presidential and parliamentary elections, which are now due in October, despite a court ruling barring Morales from standing.
The government is trying to disband MAS to prevent it from contesting the polls.
An earlier version of this article appeared in Morning Star. It has been supplemented with additional material.