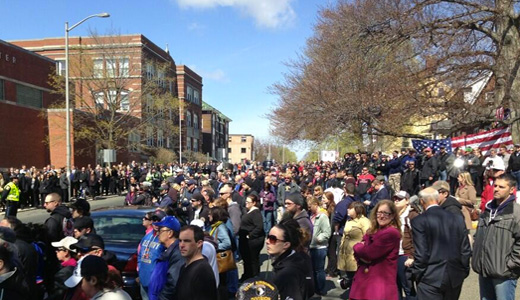 Family members and life-long pals said their final farewells Sunday to Krystle Campbell, one of the three people killed in the Boston Marathon bombing last Monday.
Eight -year-old Martin Richard of Boston's Dorchester neighborhood and 23 year-old Lu Lingzi, a Boston University graduate student from China, also died in the attacks.
People in Medford, Mass., began calling Teamsters Local 25, when they heard that members of the extreme right-wing Westboro Baptist Church were planning one of their infamous protests at the Campbell funeral today.
The Teamsters local, which represents 11,000 workers in the area, turned out 1,000 members this morning at St. Joseph's Church in Medford, forming a human shield and an honor guard to block the fringe group from coming anywhere near the mourners.
"The Campbell family and friends have already endured immeasurable amounts of heartache and tragedy this week, and deserve a peaceful funeral with time to grieve privately," said Sean O'Brien, president of the local. He warned the right wing "church" to stay away from all funerals of victims of the bombings this week.
"We will go to great lengths to make sure they don't show up at the funerals of any of the victims of the past week's tragedies, and that those we lost receive a proper burial," he said.
The Westboro Baptist Church attends funerals of servicemen or others and typically declares that the tragedies are the result of ignoring God's will, particularly his alleged teachings against homosexuality. Church members, who declared their intention to march on the Campbell funeral this morning, failed to show.
It was reported this morning, meanwhile, that Dzhokhar Tsarnaev, the bombing suspect captured and hospitalized Friday night is now awake and answering questions. Media reports are that he was responding to questions in writing despite being in serious condition after being removed, covered in blood, from a boat in which he was hiding in a Watertown backyard. The capture came at the end of a tense daylong manhunt that began with his 26-year-old brother dying after a gun battle with police.
Tsarnaev is being questioned under "public safety exceptions" that officials say allow them to avoid reading him his Miranda rights while they try to get what they say is information critical to the public safety. Officials have told the media that the first questions are: "Where did you make the bombs? Are there any more explosives out there? Any more cells? Are there any more people?"
The federal government charged the 19-year-old today with using a weapon of mass destruction to kill three people and wound more than 200. If convicted, Tsarnaev could face the death penalty.
President Obama said there were many unanswered questions about the bombing, including whether the Tsarnaev brothers – ethnic Chechens from southern Russia who had been in the U.S. for a decade – had help from others. The president urged people not to rush to judgment about their motives.
There is speculation that there may not have been outside help and that it is possible the brothers could have been acting alone. "All of the information I have is they acted alone, these two individuals, the brothers," Boston Mayor Thomas Menino said on ABC's "This Week."
The FBI interviewed the older Tsarnaev in 2011 at the request of the Russian government. The Russians felt Tamerlan Tsarnaev was engaging in terrorist-related activity but the FBI said it found no evidence of such activity. The older Tsarnaev travelled to Russia in 2012.
The media's rush to judgment and reporting errors has been a major concern. Only minutes after the first bomb exploded when some in the media decided that a Saudi Arabian student seen running from the explosion was a suspect.
"We learned from this how easy it is for the media, in the initial rush to be first, to get things wrong," said Dr. Jamie Wilson, an associate professor at Salem State College. CNN started out talking about a suspect with dark skin or a black person and this wasn't the case.
"The important thing now," Wilson said, "is that we are all trying to heal up here. Justice has to take its full course."
Teamsters came out en masse to protect Krystle Campbell's funeral from Westboro Baptists. Teamster Nation blog