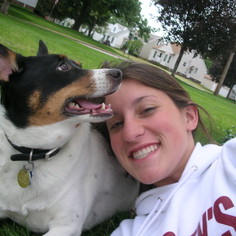 After Terry Safranek's dog, Sampson, fell seriously ill and died after eating Nestle Purina's chicken jerky treats, she launched a campaign on Change.org, leading the charge to urge the company to stop selling the treats that caused the animal's death.
Safranek, a Brooklyn Heights, Ohio resident, said of her nine year-old fox terrier, "Waggin' Train Wholesome Chicken Jerky Treats were the last thing Sampson ate before he fell ill.
"I've since learned that we're part of a known epidemic of hundreds of cases of illnesss and death attributed to these and other chicken jerky treats made in China. Nestle Purina needs to protect other families from what I went through by taking these treats off the shelves until they're proven safe."
According to MSNBC, the FDA was initially puzzled by strange illnesses in at least 600 dogs, until it turned to pet owners for answers. It was then that the culprit was found: the made-in-China chicken treats. These snacks are now believed to be associated with kidney failure, liver disease, and other serious ailments, internal FDA documents noted.
However, Safranek remarked, "Nestle Purina has refused all accountability, instead placing blame on people like me who have lost their companions. If the treats are safe, as they repeatedly claim, death and illness would never have been the end result for so many animals."
"Terry has connected with thousands of concerned dog lovers" with this campaign, declared Stephanie Feldstein, Senior Campaigner for Change.org, "as well as others who have reported deaths associated with the chicken jerky treats made in China. Terry's Change.org petition has turned her loss into an opportunity for Nestle Purina to respond to thousands of customers."
Safranek added, "The most shocking part is that the FDA has known about this for years, and has even increased their warnings as of Nov. 2011. They have researched thousands of cases, and the cases are mounting. Mine is now one of those that they are investigating. Although the FDA cannot force a recall – except in cases involving drugs or infant foods – the companies responsible should protect their customers and voluntarily recall the products in question until a definitive cause is found."
The petition currently has 9,452 signatures – rapidly nearing its 10,000-signature goal.
And, there are other petitions joining this fight as well; one of these has been launched by Care2, sponsored by Robin Pierre, co-founder of Animal Parents Against Pet Treats Made in China.
"At the slightest doubt, these products should have been recalled, especially knowing there was a link; at the very least, put a caution or warning label on the packaging," said Pierre, who believes the treats caused the death of her previously healthy two year-old pug, Bella.
"The last week of Bella's life was nothing but misery and pain," Pierre lamented. "Separated from her family, she died all alone in a cage, despite the fact that she had a family that loved her. She meant the world to me and my family."
The Care2 petition currently has 7,531 signatures – its goal is also 10,000.
"No animal should ever have to die due to 'treats,'" Safranek stated. "How many thousands of grieving pet owners still have no idea what sickened or killed their pet? As long as these products are still on the shelves, the suffering will continue."
Photo: Safranek's dog, Sampson, was unfortunate enough to die after consuming Nestle Purina's "chicken treats." Change.org