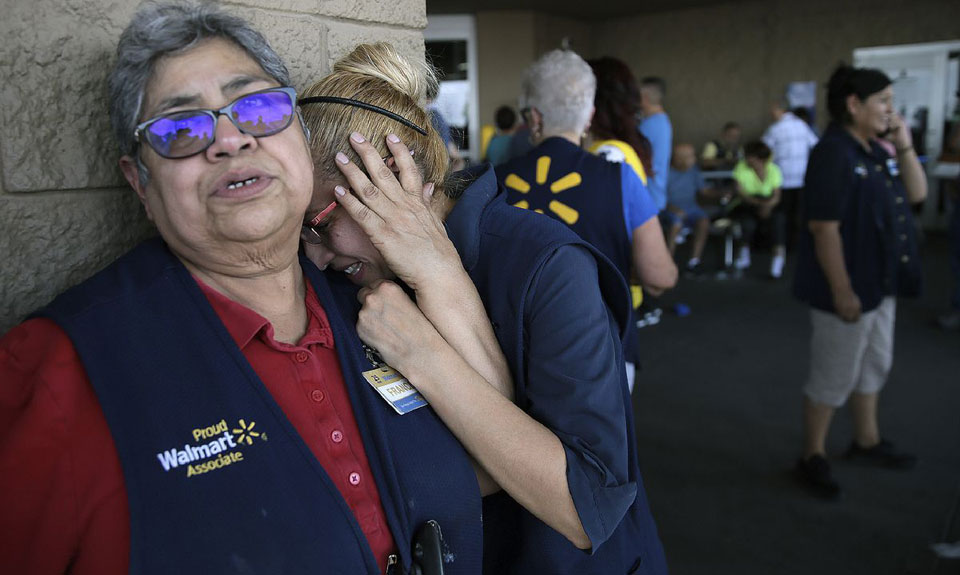 SAN BRUNO, Calif.—Walmart is the world's biggest retailer. It's also the U.S.'s biggest gun seller – and that role, following the August 3 El Paso, Texas, massacre, prompted 40 white-collar Walmart workers, most of them in San Bruno, Calif., to walk out four days later.
More would have done so, walkout organizer Thomas Marshall told various local and national media, had they not feared retaliation from bosses at the monster anti-worker retailer. They were right: Managers suspended Marshall's in-house e-mail account, at least temporarily.
But Marshall also made it clear he was willing to be fired from his Walmart e-commerce job, which included selling guns and ammo, to stand up for his beliefs and get his point across.
"Of all the gun tragedies, this hit the closest to home for a lot of us," Marshall told news media reps. "I felt like I had to do something or else I would really be complicit in a company that was continuing to sell firearms."
"In light of recent events, and in response to corporate's inaction, we are organizing a 'sick out' general strike to protest Walmart's profit from the sale of guns," Marshall's original e-letter to 20,000 colleagues on the firm's internal e-mail system said. He later changed it to a walkout.
"We love our fellow associates, we care for each other, and so this is really coming from a place of, we want to change this company into a place we can continue to be proud of working at," his e-mail added.
The walkout occurred after a white male domestic terrorist, having posted a racist anti-Mexican screed, walked into an El Paso shopping center and opened fire with his semi-automatic rifle. He killed 22 people and injured another 24 – and most were at that center's Walmart.
Walmart sells guns and ammo online, and it also still sells guns at half of its 5,724 U.S. stores. And it was the online white-collar workers, particularly in San Bruno but also in Portland, Ore., and New York state, who had had it with the firm's gun merchandising.
They felt, as a matter of conscience, they could not take part in such sales, and they hoped to convince Walmart to stop, too. The San Bruno workers held a silent vigil in the store's parking lot.
The walkout wasn't the only anti-gun move against Walmart. A petition on Change.org, demanding the monster retailer stop selling guns, period, gained 32,000 signatures in the first few hours after it was posted on August 7.
Besides disciplining Marshall, Walmart's response was to continue its present policies. It stopped selling any guns to anyone under 21 – or so it says – after the massacre at Marjory Stoneman Douglas High School in Parkland, Fla, on Valentine's Day 2018.
Walmart also stopped selling assault weapons in stores, though it did not stop selling them online. And it sells pistols only in Alaska, a spokesman added.