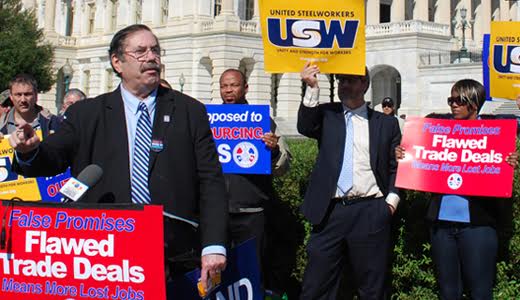 WASHINGTON (PAI) – After their first look at the actual text of the controversial Trans-Pacific Partnership (TPP) "free trade" agreement, union leaders gave the 12-nation treaty an initial thumbs down as being too pro-corporate and not guaranteeing workers' rights.
The U.S. and the other TPP nations formally released the text on Nov. 5, triggering a mandated congressional review that will stretch into next year. The review gives workers time – but not much – to mobilize against the TPP.
Then, lawmakers will be forced to vote not on the TPP itself, but on legislation to implement it. And fast-track trade authority bars solons from either changing the TPP's terms or revising implementing legislation President Obama will send to Capitol Hill.
Unions and their allies contend that, like the past 22 years' worth of other so-called "free trade" pacts, the TPP lacks workers' rights and would give corporations huge profits and incentives to move high-paying U.S. jobs overseas. Nothing they saw on Nov. 5 alters that.
Steelworkers President Leo Gerard said his union is "unalterably opposed to the TPP because it's a dagger twisting in the heart of American manufacturing…It would take workers backwards, not forwards.
"Even the Wall Street Journal predicted the deal would cause a massive trade deficit in manufacturing which would result in hundreds of thousands of job losses," Gerard noted. Factories have not recovered from the Great Recession and still shed "good, family-supporting jobs at an ever-increasing pace," he pointed out.
"The TPP provides incentives for U.S. companies to outsource production and offshore jobs – and that is far from the kind of trade policy America needs. The TPP may gain the United States brownie points with other countries, but at the cost of American economic strength and national security," Gerard stated.
Both Gerard and Communications Workers President Chris Shelton aimed squarely at the secret pro-business trade court whose "judges" – corporate trade lawyers – could unilaterally cancel U.S. laws, including Buy American laws, job safety laws and workers' rights.
"The TPP would give foreign corporations greater substantive and procedural rights than domestic firms to challenge government policies intended to protect the public interest. Corporations may potentially receive taxpayer compensation under investor-state dispute resolution" – the trade court – "provisions when they challenge domestic laws," Gerard said.
By contrast, nations would be told to ensure worker rights, but there's no enforcement mechanism, he noted.
"The plan negotiated with Vietnam would allow this country to receive up to seven years of reduced tariff benefits while still violating worker rights, and negotiators failed to get Mexico to agree to specific and much-needed reforms in its labor laws. There is no formal plan to ensure that U.S. engagement and enforcement in this critical area would change at all," the Steelworkers said.
Shelton called the TPP a trade deal "negotiated by and for the 1 percent."
While CWA is reviewing the TPP text, "based on what we've already seen and learned about this deal, we're not likely to change our position that this TPP is a disaster for working families and communities," he stated.
"Even a cursory review demonstrates how this trade deal fails working families. It forces U.S. workers to compete with the 65-cent an hour wages of Vietnamese workers and the slave labor employed in Malaysia," Shelton pointed out. Left unsaid: Tens of thousands of U.S. white-collar jobs, including at call centers, are at risk because firms could move them to TPP nations.
And TPP not only lets the secret trade court overturn U.S. federal state and local laws that might endanger future profits, but it would let that court overturn labor, environmental, financial and consumer regulations as well. just on the corporations' challenges, he added.
"It pays lip service to addressing real concerns about currency manipulation that costs American jobs and leads to more jobs being sent offshore. And it allies the U.S. with countries that abuse their own citizens," Shelton noted.
AFL-CIO President Richard Trumka voiced similar views. "The threats of this expansive new agreement outweigh its benefits-for good jobs, for democracy, for affordable medicines, for consumer safety, and for the environment. The hardworking families of the AFL-CIO will join with our allies to defeat the TPP," he said.
Worker allies agreed. And all three Democratic presidential hopefuls (Clinton, O'Malley, Sanders) criticized the TPP even before Obama released its text, which is available on several websites.
Sen. Bernie Sanders, Ind.-Vt., who voted against every single jobs-losing "free trade" pact since he entered Congress 24 years ago, has led the anti-TPP charge. In an AFL-CIO questionnaire, he called TPP "an example of a failed approach to trade which benefits large multi-national corporations…but which is a disaster for working families. It must be defeated."
Lori Wallach, director of Public Citizen Trade Watch – and a former trade attorney who has used her position as a consultant to smaller TPP countries to publicize parts of the deal they let her review – predicted it would face "massive opposition" once voters see it.
She called its fate in Congress "highly uncertain" due to "TPP's threats to jobs, wages, safe food and affordable medicines and more…The intense national battle over trade authority was just a preview of the massive opposition the TPP will face given that Congress and the public soon will be able to see the specific TPP terms that threaten their interests."
Photo: Steelworkers fighting for good jobs.