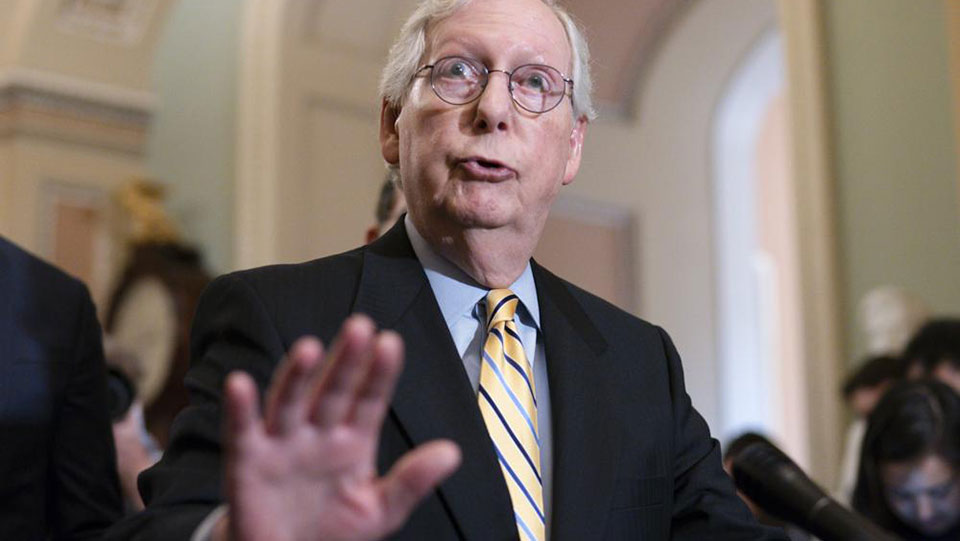 WASHINGTON—After a 50-50 partisan Senate tie, which in practical terms was a loss, disgusted and often angry voting rights advocates vowed to keep fighting for the cause.
From Democratic President Joseph Biden to AFL-CIO President Richard Trumka, they promised the contest "is just beginning" and will continue until everyone's path to the polls is easier and guaranteed and until all their votes are fairly counted, not manipulated, banned by arcane rules or overridden by partisan state legislators.
And that's just for starters among the reforms envisioned by the For the People Act, S1/HR1, the measure the united phalanx of all 50 Senate Republicans blocked from debate.
Teachers President Randi Weingarten, a New York City civics teacher, summed up what happened and who to blame in one sharp tweet: "The @GOP uses the filibuster to stop any debate about Americans' fundamental right to vote."
"Unfortunately, a Democratic stand to protect our democracy met a solid Republican wall of opposition," Biden said. "Senate Republicans opposed even a debate—even considering—legislation to protect the right to vote and our democracy.
"It was the suppression of a bill to end voter suppression—another attack on voting rights that is sadly not unprecedented."
Calling the measure "a step forward to honor all those who came before us, people of all races and ages, who sacrificed and died to protect this sacred right" to vote, he declared: "This fight is far from over—far from over. I've been engaged in this work my whole career, and we are going to be ramping up our efforts to overcome again—for the people, for our very democracy."
But Biden, Trumka, and other voting rights supporters, including everyone from organized labor to the CPUSA, face moneyed corporate capitalists who fund the GOP, plus white nationalist hatred. Neither of those interests want to see more people—especially people of color, workers, women, and young people—voting.
That's because, as several pro-voting rights organizations pointed out in their comments, those two groups know that in a fair fight at the polls, the right wing loses. So they want to rig the rules and the game.
The half-hour evening roll call ended with Vice President Kamala Harris, presiding over the chamber, announcing that because the 60 votes needed for the "motion to proceed" to debate had not been garnered, the motion failed, sidelining S1/HR1, at least for now.
An irate Senate Majority Leader Charles Schumer, D-N.Y., vowed to find other ways to bring the comprehensive voting reform measure before lawmakers and force a debate. He was not specific. "Today's vote was the starting gun, not the finish line" in the race to protect and enhance the right of everyone to vote, he said.
Senate Rules Committee Chair Amy Klobuchar, DFL-Minn., whose panel handled S1 first, announced one immediate move: Field hearings in various states during the coming congressional recess. She'll start in Georgia, site of one of the worst GOP anti-voter laws.
Trumka, whose union leaders lobbied hard for the For the People Act, suggested, by implication, that the Senate abolish the filibuster and its 60-vote requirement to consider and debate most legislation.
"When an American citizen is denied the right to vote, whether by a court, a state legislature or business as usual in Washington, we become a lesser nation," he declared. "When more than 60 million people would vote for a voice on the job today, but only one in ten workers are union members, something is terribly wrong.
"The For the People Act and the PRO (Protect the Right to Organize) Act would restore democracy to America's polling places and workplaces after decades of destructive attacks. These bills have broad support and limitless potential for good." The GOP plans to filibuster the PROAct too.
"Procedural roadblocks must be removed," Trumka said, meaning the filibuster. "Paths must be cleared. And laws must be signed. The American people voted for change. It is time for Congress to protect and honor that vote with action."
The Senate rules, like the economy and voting bans, "have been manipulated to favor the wealthy and powerful" and let lawmakers take "the coward's way out" behind the filibuster, added Communications Workers President Chris Shelton.
The Senate Republicans "placed themselves in history alongside the segregationists, the opponents of women's suffrage, and those who sought to disenfranchise Native American, Asian-American, and Latino voters.
"Today's vote is not the end of the fight. It reminds us the filibuster was created for this purpose–to prevent legislation that would enable all Americans to have equal protection under our laws. We deserve to hear debate on the issues and know where our senators stand."
Schumer was more caustic, angrier, and more partisan, laying blame where it belonged: On Republicans spooked by or scared of offending GOP leader Mitch McConnell, R-Ky., or, more importantly, former Oval Office occupant Donald Trump.
Trump's lies about election fraud and his control over the GOP rank-and-file dominated by white nationalists combined to cow the lawmakers into line, political analysts note.
"Once again, Senate Republicans have signed their names in the ledger" against voting rights, "alongside Trump's, to their disgrace," a fuming Schumer said. "Republicans may want to avoid it," he said of the issue. "But we will never let it be swept under the rug."
Other commentators also aimed at the Republicans, plus several errant Senate Democrats. Some suggested concrete moves. Indivisible told members to sign up for voting rights events during the congressional recess at a new website, DeadlineForDemocracy.org.
"Getting as many people in the streets and in Senate offices as possible, and building enough media attention that senators can't ignore us is crucial to succeeding this recess. It worked for the Tea Party. It worked for us when we saved the Affordable Care Act. It can work again."
The Revs. William Barber and Liz Theoharis, co-chairs of the Poor People's Campaign, escorted seven busloads of poor and near-poor people from their people's assembly site in Raleigh, N.C., to a planned protest in front of McConnell's Capitol Hill townhouse today, June 23.
They also planned to stop at the home of Sen. Joe Manchin, D-W. Va., one of three Democrats who still oppose the whole For the People Act. Manchin proposed a compromise, which McConnell promptly, rudely rejected—exposing absolute GOP opposition to anything.
Manchin and the other two holdouts, Sens. Mark Kelly and Krysten Sinema, both D-Ariz., voted for the motion to proceed to debate, producing the united Democratic front.
But Democrats would still need 60 votes to break a GOP filibuster against S1. And Manchin earlier pledged to keep the filibuster as a lever for compromise. Sinema, in a June 22 Washington Post op-ed, did, too.
"Unless we can make Joe Manchin and Kyrsten Sinema change their stance on the filibuster, we are on the brink of a nightmare," the Bernie Sanders-inspired Our Revolution movement warned.
"The end result of taking no action while Republicans move forward with draconian voter suppression laws–premised on Trump's big lie–would be Republicans retaking power and blocking any path forward on progressive priorities."
"It's a travesty there is even a need for a 'For The People Act' when we have a Constitution with the 15th Amendment that says no state or entity can deny or abridge the right to vote," Barber said.
"The For the People Act is only necessary because of extremist Republican politicians who have attempted to deny and abridge the right to vote of Americans with whom they disagree," he added.
The first set of those politicians was in his home state, North Carolina. Barber's previously noted that after the Supreme Court's five-person GOP-named majority gutted the key section of the Voting Rights Act precisely eight years ago, the GOP-gerrymandered state legislature took "45 minutes" to impose draconian voting restrictions in the Tar Heel State.
Its action set off the Moral Mondays movement weekly voting rights marches. Moral Mondays has morphed into the Poor People's Campaign and broadened its scope.
"Neither Manchin nor McConnell has done a thing over the last eight years to fix the Voting Rights Act," said Barber. Added Theoharis: "What is happening in state legislatures across the country in terms of passing voting restrictions is threatening our democracy. What extremists are doing in state legislatures is hurting all of us.
"We must fight to defend our democracy and protect and expand voting rights. From West Virginia to Kentucky and beyond, people are rising up to stop the filibuster and demand living wages, healthcare, infrastructure, and more."
Schumer, however, had the last word on the Senate floor after Harris announced the results.
"This voter suppression cannot stand, and we will work tirelessly to see it does not stand," he said.