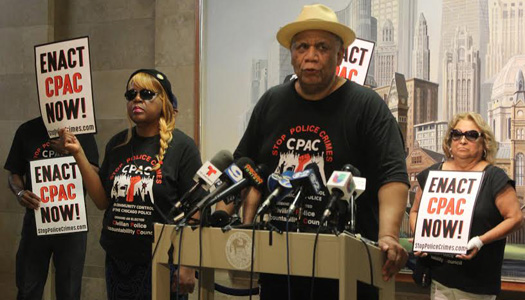 CHICAGO – On the heels of two more police shooting deaths in the black community nationally, field organizers from the Chicago Alliance Against Racist and Political Repression (CAARPR) met with elected officials at City Hall Wednesday to discuss a plan for future action around police accountability. While Mayor Rahm Emanuel has created his own task force on the subject, critics take issue with the lack of community engagement in the selection process, pointing out that there has been a long history of appointed boards that have 'failed miserably.'
Nevertheless, members of several different organizations testified at the City Council hearing on Wednesday, including representatives from Black Youth Project (BYP) 100, The Chicago Lawyers Committee for Civil Rights, Enlace Chicago, and The Chicago Urban League. There were minor differences in tone, and most agreed that not enough was being done to move forward in the process. Emanuel has not yet released the details of his plan, though his efforts were highly criticized after ignoring a majority of the input given by his appointed Police Accountability Task Force. The mayor's blatant disregard for public engagement has left community groups with little faith in possible contribution.
Regardless of whether or not elected officials are ready to proceed with immediate plans, public outcry is escalating after two incidents involving police violence went viral over the last several days. On Tuesday night, 37 year old African American father of five Alton Sterling was shot at the hands of the police in Baton Rouge, LA. Less than 48 hours later a woman by the name of Diamond "Lavish" Reynolds streamed her boyfriend's death over Facebook live. 32-year-old Philando Castile, from Falcon Heights, Minnesota, was pulled over for a busted taillight and was shot dead by police. The video begins after Castile has already been shot, Reynolds attempts to maintain her composure as retells the specifics of the incident; a frantic police officer can be heard yelling off camera "I told him not to reach for it, I told him to get his hands up." Lavish indicates on video that Castile notified the officer that he was armed but is licensed to carry and then attempted to reach for his ID and wallet before the officer opened fire.
The internet has been afire with outrage as the public demanded justice for the deaths of both Sterling and Castile. Most people were still reeling from the shock of the Sterling's death and had hardly enough time to catch their breaths in preparation for another wave of grief. The protest that have ensued nationally, from Black Lives Matter and other affiliates groups, reflects the urgent need for mandatory police reform.
Yet in states like Louisiana – where Sterling was executed- Democratic Governor John Bel Edwards recently signed the country's first "Blue Lives Matter" law, which would expand the state's hate crime law to include law enforcement officers, firefighters and other emergency medical services personnel. Such bills, like laws that protect officers from having to give statements or be detained for long periods following a shooting incident, have gained popularity in other areas.
This trend now includes Chicago, where activists are fighting against enactment of a Blue Lives Matter measure. The ordinance would allow for harsher penalties and fines for offenses committed against current or past police officers, which many deem unnecessary as there are already legally enhanced penalties for assaulting police officers. Rachel Williams, a member of Black Youth Project 100 spoke at the hearing on how such ordinances are counterproductive to the work community organizers aim at completing. She pointed out that police are not the ones in need of protection from the state: "They are not the ones that are marginalized!"
Despite the frustrations over 'Blue Lives Matter,' activists continue to engage the public in community organizing, and have openly advocated for the Civilian Police Accountability Council (CPAC). Frank Chapman, a leading organizer of CAARPR's parent organization, The National Alliance, stated that the goal under CPAC would be to build a formal movement, with the communities impacted by police crimes, and elect community members from all of the police districts, that would hold police accountable for the crimes they commit. Additionally, they would determine how their own communities are "policed."
Thus far the plan has garnered support from various elected officials. Ted Pearson, co-chair of CAARPR, spoke to People's World about the continuing campaigning efforts. "We have over 35,000 signatures on petitions and 8 aldermen sponsors in support of CPAC." Carlos Rosas, alderman of the 35th ward, told the People's World: "For over a year, the coalition that supports CPAC has been organizing in the communities, working to craft a solution that will bring police accountability to the hands of the community. So many organizations have come forward and have supported the proposal. It is clear that they want CPAC."
The influence CPAC would have on the city far exceeds anything currently in place, as the details of the proposal suggest having CPAC replace the current Police Board and the Independent Police Review Authority (IPRA). Members would be directly elected by people in the community in each separate police district. This would eliminate concerns about 'insider' politics and bias within police criminal investigations. Even with the weight of 35,000 signatures and a coalition of community organizations backing it, the Alliance continues to face resistance from the mayor and his cabinet.
In the meantime, black and brown communities continue to mourn as they demand the justice and accountability necessary for their survival.
Photo: Frank Chapman from the Chicago Alliance Against Racism and Political Repression speaking in support of CPAC. | Michelle Zacarias/PW