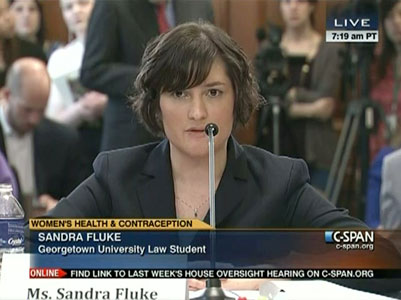 Is a woman who uses birth control a "slut"? Is she a "prostitute" who ""wants to be paid to have sex"?
Is it OK for a major radio host, Rush Limbaugh, to use the public airwaves for that kind of character assassination?
His target is 30-year-old Georgetown University law student Sandra Fluke, who has spoken out against Republican efforts to deny women access to birth control at no cost.
"She's having so much sex she can't afford the contraception. She wants you and me and the taxpayers to pay her to have sex," Limbaugh luridly declared on his show last week. He suggested she make videos of her sexual relations and make them available for people like him to watch.
As of today eight companies have suspended their sponsorship of the Limbaugh show over his "inappropriate" commentary. These include AOL, ProFlowers, Quicken Loans (owned by Cleveland Cavaliers owner Dan Gilbert), Sleep Train, Sleep Number, Citrix Systems Inc., Carbonite, LegalZoom and Sears.
"No one with daughters the age of Sandra Fluke, and I have two, could possibly abide the insult and abuse heaped upon this courageous and well-intentioned young lady," Carbonite CEO David Friend said.
Others want Limbaugh's show pulled from the air altogether.
Limbaugh on Saturday "apologized" for two of his "word choices," but not for the vicious misogynistic ideas he expressed. Fluke said the "apology" did not change the situation, especially since it came after sponsors starting pulling out of the show. See video here.
Rick Santorum dismissed Limbaugh as "absurd" and "just an entertainer," while an aide to MItt Romney, along with birth-control witch-hunter Rep. Darryl Issa, said it was just an example of extremism on all sides.
On the other hand, President Obama phoned Fluke to express support for her courage in speaking out on women's rights.
Pentagon press secretary George Little told CNN today that the Defense Department had no plans to stop broadcasting Limbaugh's show to service members on the American Forces Network. The show is part of the Defense Department's policy to broadcast shows that "reflect a wide range" of opinion, Little said.
But VoteVets.org, a veterans advocacy group, released a statement from three women Iraq war veterans calling on the American Forces Network to stop broadcasting "The Rush Limbaugh Show."
Miranda Norman (a VoteVets.org Senior Advisor), Kayla Williams, and Robin Eckstein, all Iraq War veterans, and Katherine Scheirman, former chief of medical operations for the U.S. Air Forces in Europe at Ramstein Air Force Base in Germany, said:
"Rush Limbaugh has a freedom of speech and can say what he wants, but in light of his horribly misogynistic comments, American Forces Radio should no longer give him a platform. Our entire military depends on troops respecting each other – women and men. There simply can be no place on military airwaves for sentiments that would undermine that respect. When many of our female troops use birth control, for Limbaugh to say they are "sluts" and "prostitutes" is beyond the pale."
"The Rush Limbaugh Show" is run on Premiere Networks, which is owned by Clear Channel Communications.
Los Angeles Times Pulitzer Prize-winning columnist David Horsey had this to say today:
"Rush Limbaugh's lame apology to Sandra Fluke does not even come close to getting him off the hook. He needs to apologize to America for pushing political discourse to the level of drunk good ol' boys shouting crude epithets in a topless bar."
Horsey continued:
"If this were some aberration in Limbaugh's behavior, fair-minded people might be tempted to accept his grudging and very limited apology. But it is nothing new. This is how he has "entertained" day after day for years. He doesn't debate. He doesn't inform. He vilifies, insults, smears, slanders, distorts and misleads. Rush is a schoolyard bully who specializes in picking on girls – or "feminazis,' as he loves to call them.
"It's bad enough that his overbearing pseudo-patriotism has been emulated by other right-wing radio and TV commentators; worse is the fact he has become the oracle of the dominant wing of the Republican Party."
Photo: In this image made from Feb. 23 video provided by C-SPAN, Sandra Fluke, a third-year Georgetown University law student, testifies to Congress in Washington. Rush Limbaugh drew fire from many directions for his depiction of Fluke as a "slut" because she testified before Congress about the need for contraceptive coverage. C-SPAN/AP