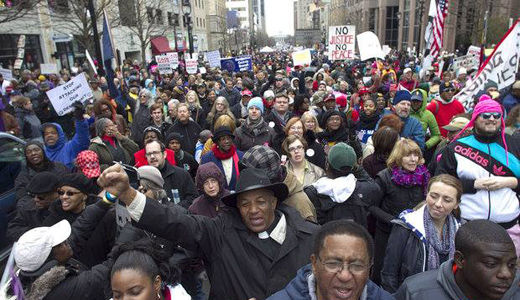 CHICAGO – Just weeks after many Republicans were swept into office three of the nation's top labor leaders declared at a public forum here Nov. 13 that unions are ready to fight what they expect will be a renewed nationwide assault on workers' rights.
"What happened in this election," Richard Trumka, president of the AFL-CIO declared, "is that the vast majority of the voters stayed home." He attributed the massive stay-away to widespread disgust with falling wages, fear of the uncertain in both foreign and domestic affairs, a flat or declining standard of living and serious problems in the messaging that came form both major political parties. "The Republicans blamed everything on President Obama and there was no real message coming from the Democrats either," Trumka said.
He warned that the GOP should not interpret the results as "any kind of mandate for their policies," pointing out that when given the chance to vote on specific issues, "people voted overwhelmingly for hikes in the minimum wage. When polled they were overwhelmingly against any cuts in Medicare and Social Security."
Trumka was joined by Leo Gerard, president of the United Steelworkers and by Eliseo Medina, former SEIU secretary-tresurer and currently a leader in the national fight for comprehensive immigration reform. The event was a forum sponsored here by the University of Chicago's Institute of Politics.
Gerard said the election results should also be blamed on "the record amount of dark money poured into the Republican campaigns. They, the Koch brothers and their like spent four and a half billion buying this election," Gerard said. "That's a record."
Trumka said the labor movement "can usually be counted upon for 25 percent of the vote. That usual 25 percent went down to 18 percent. Still," he noted, "the fact that 18 percent of the voters were union members puts our participation in the election ahead of our percentage in the overall population."
Nationally, only 11 percent of the workforce is unionized.
Trumka noted that because of the small size of the labor movement, unions cannot alone carry on the fight to defend workers rights and turn the country around. "This is why we are fully engaging with our allies in the community," he said. "Our values and what we stand for are in sync with the majority of Americans. We want to build a permanent coalition on as many issues as possible together with other groups," he added. Trumka noted that current efforts to build lasting coalitions with allies differ from past efforts by unions "which were directed at forming temporary alliances on single issues rather than ongoing coalitions around a number of concerns we all have."
Some in the crowd at the University of Chicago last Thursday questioned the enormous amount of effort unions have been putting into the fight for immigration reform. "Wouldn't it be better if we just froze all immigration for the time being, until the job situation improves?," one participant asked.
"That is not the way to deal with the problem we have," Medina said. "There are millions who are now here with their families. Their immigration status is being used to deny them their rights and this brings down conditions for all workers in the country."
"As long as I am president of the AFL-CIO," Trumka said, "our fight is going to be for full rights for immigrants. That is the only way unscrupulous employers can be prevented from playing immigrant workers against native born. It's the only way to resolve the problem."
Gerard said that when President Obama acts soon by executive order, to provide relief for perhaps millions of undocumented workers, "we [the labor movement] are going to have to get behind him and support him; the Republican attacks on him will be unrelenting," Gerard warned.
Trumka vowed that unions will continue their battle for civil rights on every front.
"We were down in Ferguson right away," he said. "During the last pesidential elections we made it clear that the one totally unacceptable reason for not voting for Barack Obama was that he was black. Equally, it would be unacceptable not to vote for Hillary Clinton because she is a woman."
Gerard said that there is work to be done yet in the area of increasing workers' understanding of major economic issues.
"People need to know, for example," that when the Republicans talk about the 'free market' they are talking about something that doesn't exist. No markets are free. They all have rules, it's only a question of who makes the rules for whom."
Trumka followed up on that theme: "People need to know, for example, that it was Milton Friedman from this university who first developed the extreme free market shock capitalism model and that it was no accident where he applied it first – in Chile where it resulted in tens of thousands of deaths and economic disaster that continues on some levels today."
He was referring to the right-wing economic policies instituted under the Washington-backed military coup that resulted in the death of elected socialist President Salvador Allende in Chile in 1973.
Photo: An example of the type of ongoing coalition between labor, civil rights, and community groups that union leaders are talking about. Moral Monday Facebook page