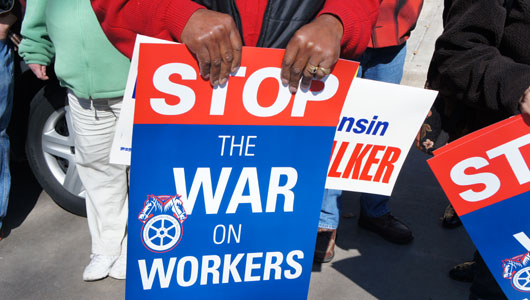 The nation's union presidents, led by AFL-CIO President Richard Trumka and Change To Win Chair Joe Hansen, emphasized the positive impact of mobilizing tens and hundreds of thousands of union members nationwide for politics after the bitterly contested Wisconsin recall election.
Republican Gov. Scott Walker, whose law killing collective bargaining rights for 200,000 state and local workers triggered months of mass protests, the million-signature recall petition and the June 5 vote, survived the recall but lost control of the state senate.
Union members went for Barrett by a 3-to-1 margin, said AFL-CIO pollster Guy Molyneux. Non-union households backed Walker by 20 percentage points.
"This is not the end of the story, but the beginning," a feisty Trumka declared at a post-election telephone press conference from federation headquarters in D.C. "We knew the recall would be tough and we knew we would be outspent."
Virtually all the union leaders emphasized the tons of corporate cash flowing into Walker's coffers – a flood that can be expected to back other anti-worker candidates this fall. And all countered that ground troops can successfully fight that tide.
"We're building a new political infrastructure on the ground and we'll keep it there on a permanent basis," Trumka told questioners. But he conceded unions "face a new political environment due to Citizens United," the 2010 U.S. Supreme Court ruling that opened the way for unlimited unaccountable corporate spending on elections.
Walker and his backers spent at least $50 million on ads, but "Walker leaves this recall bruised and weakened," said Hansen, a former Milwaukee union meatcutter who heads Change To Win and the United Food and Commercial Workers.
"Walker will try to spin last night's outcome as an endorsement of his anti-worker policies," Hansen continued. "Nothing could be further from the truth. In Ohio and now Wisconsin, we've seen the great possibilities when ordinary citizens band together to fight for their rights. Collective bargaining is a fundamental right like free speech, not some line item in a budget to be cut. Politicians across the country should take notice that if they attempt to take this right away from workers, they will be in for the fight of their lives."
Steelworkers President Leo Gerard, whose union has 60,000 members and retirees in Wisconsin – now the nation's most heavily industrialized state – agreed: "Voter turnout and ideology to destroy collective bargaining rights and jobs for Wisconsin workers drove us to the finish line for a narrow defeat" of Barrett, he said. "It's disappointing, but we're not done fighting for workers' rights. Walker used his tens-of-millions in right-wing corporate monies to buy his way out of the recall.
"As workers we may be disappointed, but we are still motivated by the injustice of his ideology to 'divide and conquer,'" Gerard added. "The courage and convictions of everyday people in Wisconsin, who stood up united, and fought to take their government back, makes me proud.
"This was an uphill battle against corporate money that drowned out the voices of real people. Money won at a shocking 8-to-1 factor. We fought for a different outcome, but the spirit of union workers and their families are what were best about the recall," he declared.
Teamsters President James Hoffa also blasted the big money influence that, he said, won the election for Walker. But unionists benefit, too, he declared.
"Walker gave a wake-up call to Wisconsin's working families, and they gave it right back," Hoffa said. "These Tea Party governors will think twice before they attack workers' rights and the benefits they've earned.
"It's hard to recall a sitting governor, especially one with a huge spending advantage. The results show grassroots organizing can hold its own against overwhelming financial advantages.
"Our Teamster brothers and sisters in Wisconsin and across the nation are more active, energetic and educated because of this historic recall election," said Hoffa. Other union presidents agreed.
So did AFL-CIO Political Director Mike Podhorzer.
"We saw a level of sustained activism from workers that we haven't seen in a long, long time," he told the telephone press conference. "They serve as an inspired example for the rest of the country."
Photo: Marcus Holowell/PW