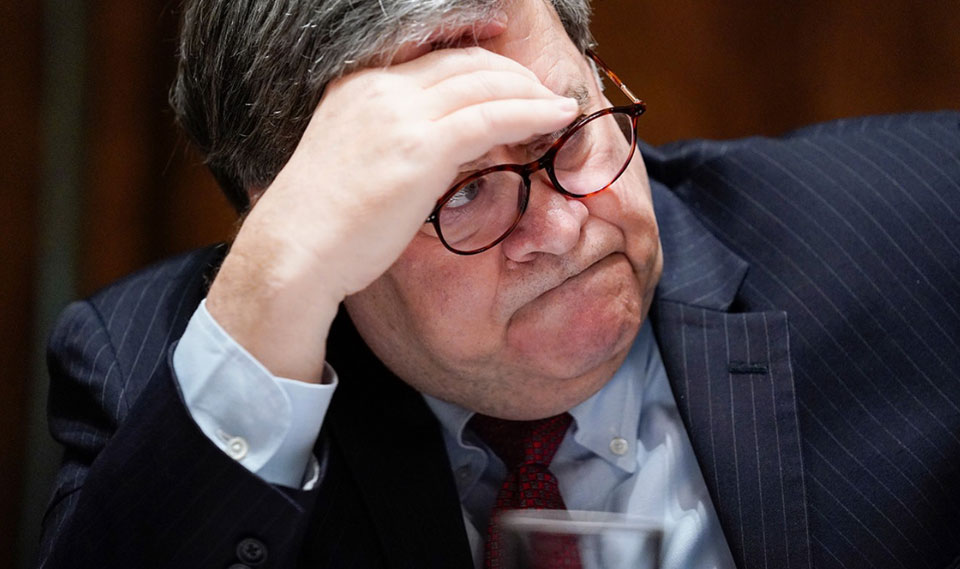 Attorney General William Barr is the most recent to learn that after you spend time in bed with Donald Trump, doing everything possible to please the megalomaniac in the White House, it will be difficult if not impossible to get out when it comes time to do so.
Barr is well aware that his reign as Trump's enabler at the head of the Justice Department is about to end, so in a desperate attempt to save his reputation for the future, he announced this week that his department has found no evidence of massive election fraud, as the president, in his attempt to reverse the election results, has been claiming was rampant.
The other attempt by Barr to save his skin involved his not putting forward charges against Trump's political opponents, including former President Barack Obama and former Vice President Joe Biden, resulting from a baseless investigation the U.S. Attorney for Connecticut, a Republican, was conducting. Trump had hoped that investigation would produce bombshell findings in the lead-up to the election, helping propel him to a victory.
On Tuesday, Barr told the Associated Press that "to date, we have not seen fraud on a scale that could have effected a different outcome in the election," despite Trump's repeated claims that he had piles of such evidence.
Several news outlets, including The Washington Post and major cable news networks, reported yesterday that the president was furious with Barr for these transgressions. When asked by reporters, White House press secretary Kayleigh McEnany refused to say whether Trump was considering firing Barr.
There were reports Thursday morning that a civil war was raging inside the administration over whether the president should or should not fire Barr.
The Post offered an explanation of why Barr made the remarks he made Wednesday to the Associated Press. The paper reported that an associate of Barr's, who spoke to the Post on the condition of anonymity, explained that the attorney general "has to leave, and he does not want there be questions about whether the department was sitting idly by under his watch with respect to investigating fraud."
The anonymous source in the Justice Department then offered remarks that backtracked on the original Barr statement to the AP.
"Some media outlets have incorrectly reported that the Department has concluded its investigation of election fraud and announced an affirmative finding of no fraud in the election. That is not what the Associated Press reported nor what the Attorney General stated. The Department will continue to receive and vigorously pursue all specific and credible allegations of fraud as expeditiously as possible," the anonymous source told the Post.
Barr finding himself in danger of being fired just weeks before what would be the end of his tenure anyway is further stark proof that Trump requires total blind loyalty from everyone in his circle and that the slightest deviation can result in being tossed aside. People who have ruined their reputation by associating with Trump are not allowed to do or say anything that crosses the president in any way, even if that action is only an attempt to save their reputations for a time when Trump will be gone.
On the other hand, those who choose to go down with Trump's sinking ship expect that even if they have committed crimes for the president they can hope for an undeserved pardon for their crimes.