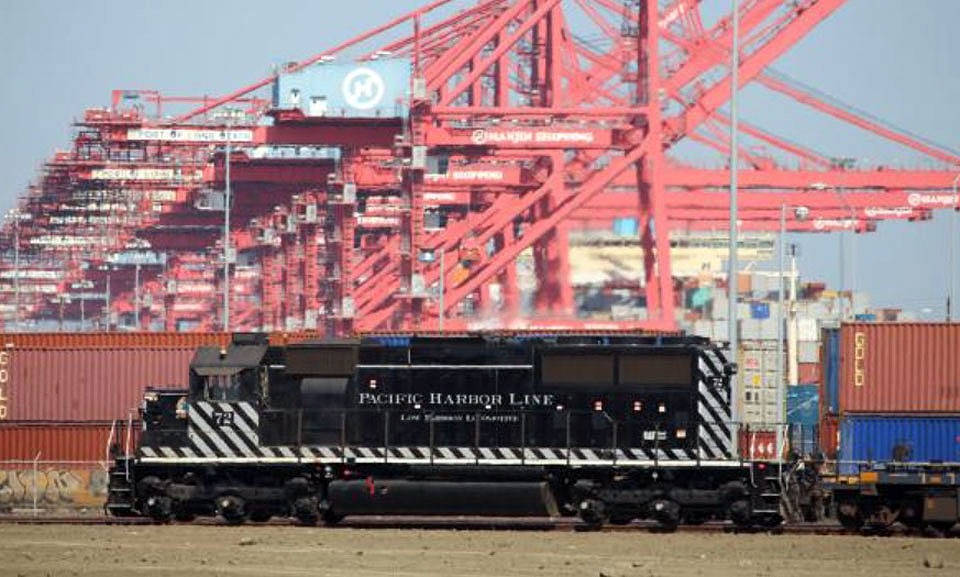 LOS ANGELES-LONG BEACH – Years of racial epithets. Bags of feces left in lockers. The "n" word. Being called slaves and labeled with racist stereotypes. Whites were promoted; Blacks were not. Drawings of KKK images, complete with hoods and nooses. Complaints to bosses producing retaliation against the complainers. And on and on and on.
Welcome to Pacific Harbor Lines, a shortline railroad transporting freight within the nation's busiest port, Los Angeles-Long Beach, and nearby areas and freight terminals.
It's so bad there that "this pattern of conduct became such a regular part of the workplace that such harassment was a term and condition of employment," says railroad engineer Lonnie Pate, now suing the firm in federal court in Los Angeles. Six of his colleagues filed a similar suit in Los Angeles Superior Court. All but one are Black. The other is Latino.
The rail line is "among the most difficult and racist work environments for black industrial workers in the country," both cases say.
Engineers Pate, Monte Chandler, Ricky Hawkins, Jessie Luvert, Rodney Williams, Manuel Alvarez, and Joshua Jones sued Pacific and its parent firm, a nationwide shortline rail freight company, Anacostia Rail Holdings, in late August. They add the toxic work environment extends to another of Chicago-based Anacostia's shortline rail firms, serving the Port of New York.
The suits are important, showing the often-hidden racism that still exists at many U.S. job sites, with pervasive epithets, racial discrimination in hiring and promotions, constant denigration and harassment, and management failure to respond, or worse, blame the victims.
For example, the federal Equal Employment Opportunity Commission, which enforces civil rights and anti-discrimination laws—and which by law, had to give the go-head for Pate to sue in federal court—won its only 2020 case for such on-the-job discrimination against Porous Materials, Inc., an Ithaca, N.Y., tester of the porousness of face masks and respirators.
The workers got $93,000 and the firm is under a four-year consent decree to report to the feds on its policies and diversity training. Conditions at Porous sound similar to those the rail engineers faced.
"Porous subjected its employees to an ugly mix of sexism, racism, and national origin discrimination," EEOC said. That included racial and sexual slurs from immediate bosses. The company's top management did nothing.
That was EEOC's only actual court settlement in 2020. The former GOP Trump government otherwise muzzled the agency, even weakening its rules about what employers had to report about discrimination on the job.
At Pacific Harbor Lines, the environment is so nasty the engineers named specific supervisors, plus unnamed co-workers below them, as responsible. After all, nobody's owned up to drawing the KKK figures with nooses, yet.
The seven engineers have worked, and some still work, at PHL for between seven and 18 years, but their suit says the situation really got bad after Anacostia took over in 2009.
One engineer had to take family and medical leave to deal with the pressure and the racism. When he got back, he was written up. Another was promoted to a supervisory job, but the racism was so bad at that level that he returned to being an engineer. The court papers are silent about whether the return was voluntary or not.
Others were fired or forced into "constructive discharge," in labor law terms—i.e. they had to quit—according to the suits, filed by Pasadena-based civil rights attorney Dan Stormer.
Alvarez witnessed the racism against the Blacks, the state suit says. "Because he found such conduct to be intolerable and distressing, he likewise faced a hostile work environment," the Superior Court filing adds. White workers who stood up to the bosses, defending the Blacks, were called "n*** lovers," Stormer adds.
Chandler, a 16-year engineer, told Stormer he sued "because I do not want the next generation of Black workers to have to go through what I went through. My co-workers hung nooses where I could see them and pelted me with bottles. They terrorized and humiliated me, and when I spoke up it only got worse."
"The racial discrimination at PHL and Anacostia has been going on since the early 2000s," Pate said. The 14-year veteran said he feared for his life while working at night after a manager in a white truck drove by, shining a flashlight at him and calling, sing-song, "Here," followed by the n-word three times. The next time Pate saw the truck, he hid.
He later was wrongfully fired, losing his job and his career, the suits add.
The court papers show Black workers were disciplined and fired at higher rates and hired and promoted at lower rates, than non-Black workers. The number of Blacks among the firm's 169 workers has been declining for years, and the number of Black supervisors can be counted on one hand.
"I want to see PHL and Anacostia held accountable for their horrendous treatment of Black employees," said Jones, a seven-year veteran.
"I want PHL and Anacostia to change for the better and truly become equal opportunity employers for everyone—not just say they are," said Pate, who felt "anxious, humiliated, and disgusted" on the job.
Added Luvert: "No one should have to endure a hostile work environment because of the color of their skin."
No date has been set for the court hearings on the two suits. Anacostia has not mentioned them on its website.