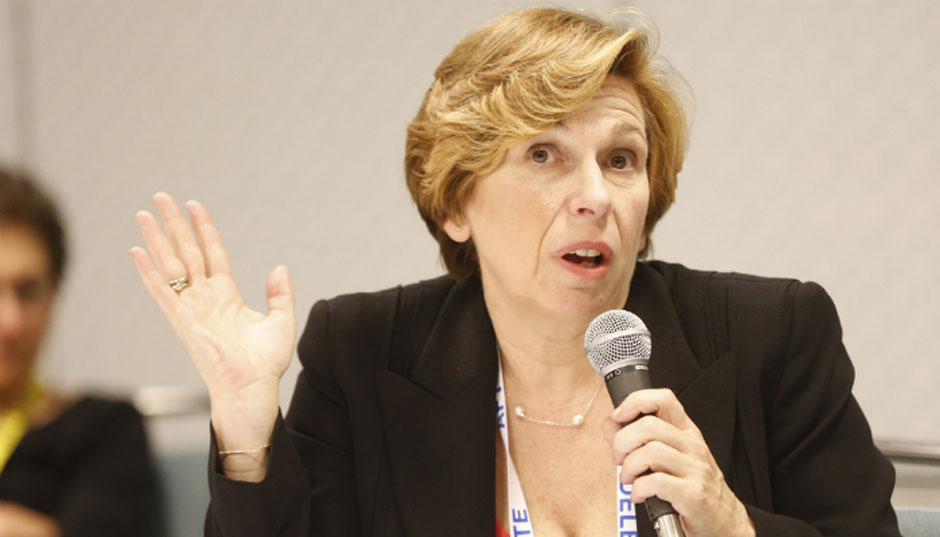 WASHINGTON—With the House Judiciary Committee scheduled to vote on impeachment articles against GOP President Donald Trump the week of Dec. 9, Teachers (AFT) President Randi Weingarten is urging her members to strongly lobby their lawmakers now to vote to impeach Trump for bribery and obstruction of justice.
At this point, with reports in hand of Trump's constitutional crimes from both the Judiciary and Select Intelligence Committees, the lone remaining question seems to be whether the lawmakers will stick to impeaching the president for bribery by endangering national security with his demands to Ukraine to investigate former Vice President Joe Biden, using $391 million in U.S. military aid to get the Ukrainians to act – or how far to go beyond that.
The Judiciary panel also plans to impeach Trump for obstruction of justice in stonewalling the Ukrainian investigation. Still uncertain: Whether the Democratic-run committee will add obstruction counts for Trump's refusal to cooperate in any way with the congressional probes.
Weingarten, a New York City high school civics teacher, says in her open letter to her union's 1.6 million members that Trump committed impeachable offenses in his dealings with Ukraine.
That follows up on the AFT board's earlier decision supporting the opening of the impeachment investigation. Several other unions and union presidents also weighed in for starting that probe, but the others have yet to come forward and support impeachment itself.
"The facts are clear: President Trump abused his power by pressuring a foreign country to interfere in the 2020 election. He has betrayed his oath of office, betrayed our national security and betrayed the integrity of our elections for his own personal political gain," she declared.
"Congress must take the impeachment report seriously," she added. "It's time to put facts over partisanship. Tell your member of Congress that what Trump has done" – itemized in the Intelligence committee's 300-page report – "is clearly an impeachable offense."
"The evidence has been put forward in a public forum, and it's unambiguous: Trump withheld military aid and a White House meeting as leverage to push Ukraine to smear his political rival. Furthermore, he has obstructed justice with his efforts to block Congress' constitutional investigation."
"Trump solicited a bribe and shook down the Ukrainian president for his own personal political gain, and that is an abuse of power. Trump's actions jeopardize our national security and invite even more foreign interference into our elections,' Weingarten warned.
She also cited the testimony to the Judiciary panel the week before from constitutional law professor Michael Gerhardt of the University of North Carolina. He warned solons that if they don't impeach Trump, future presidents would read that as an open signal to commit similar – or worse – offenses.
"The president's serious misconduct, including bribery, soliciting a personal favor from a foreign leader in exchange for his exercise of power, and obstructing justice and Congress, [is] worse than the misconduct of any prior president, including what previous presidents who faced impeachment have done or been accused of doing," Gerhardt told the panel in the testimony Weingarten cited.
"If Congress fails to impeach here, then the impeachment process has lost all meaning, and, along with that, our Constitution's carefully crafted safeguards against the establishment of a king on American soil. No one, not even the president, is beyond the reach of our Constitution and our laws."
"The simple fact is, no one is above the law. Not you or me, and certainly not the president," said Weingarten.
House Democrats run the Judiciary panel. But they're split, as a party, about whether to expand the impeachment counts against Trump to include his obstruction of justice in the Russian case. Intelligence Committee Chairman Adam Schiff, D-Calif., a former prosecutor whose panel produced the detailed 300-page report, told Face The Nation he favors sticking to narrow, provable grounds with overwhelming evidence in back of them, as in the Ukraine case.
But other more-progressive Democrats want to bring the Russian election interference and Trump's obstruction of justice into the mix, too.
In his testimony about that, Special Counsel Robert Mueller told Rep. Ken Buck, R-Colo., that if Trump were not president – and thus protected by a 1999 Justice Department legal memo saying a sitting president cannot be indicted for crimes – he would have been indicted for obstruction in the Russia case. Mueller's report set out at least ten instances of Trump obstruction and attempted obstruction of that investigation.
Weingarten's teachers, non-partisan analysts such as the professors, and others who look objectively at what Trump did, may not convince the House Republicans. The GOP has united as a phalanx behind Trump and his claims of "no obstruction", "fake news", "witch hunt" and – the latest – "nothing happened" despite the mountain of evidence to the contrary.
"If you have the facts on your side, pound the facts. If you have the law on your side, pound the law. If you have neither on your side, pound the table. Today, Republicans are pounding the table," Rep. Ilhan Omar, DFL-Minn., tweeted in response.
But regardless of what the House does – or the pressure from Weingarten, AFT and other impeachment advocates, Rep. Justin Amash, Ind-Mich. – a libertarian thrown out of the GOP for reading the entire Mueller report and concluding Trump committed impeachable offenses – warned an impeachment is only an indictment.
"This should be unanimous, not partisan. Impeachment in the House is not a conviction. The trial happens in the Senate. All the House does is charge impeachable conduct. All we need is probable cause. That threshold is easily met with the existing evidence," Amash said.
The Senate's GOP majority, quailing in fear of retribution from Trumpite voters, is unlikely to convict the Oval Office occupant.