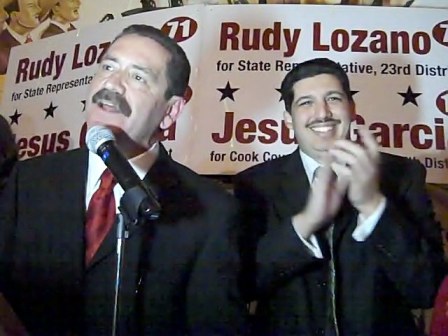 CHICAGO — Voters in the Feb. 2 Illinois primary election seemed to send a message to politicians: We're fed up with corruption; we want solutions.
Illinois has the earliest off-year primary in the country, a factor that depressed voter turnout to a mere 25-30%, according to analysts.
With a record state budget crisis, Main Street depression and an impeached former Democratic governor and Democrat-controlled legislature, Republicans anticipate a comeback this year. Especially, the Republican Party sees the state's U.S. Senate seat, once occupied by President Obama, as a key race nationally. Rep. Mark Kirk, who handily won the Republican Senate nomination, immediately tried to employ "Scott Brown" tactics calling for an end to "one party" rule in Illinois. Kirk's challenge will be to unite the extreme rightwing and more moderate sections of the state Republican Party which has been in shambles for several years.
State Treasurer Alexi Giannoulias, with significant labor backing, won the Democratic nomination for U.S. senate and will face Kirk this November. At his victory party, Giannoulias who was widely seen out of the three-way Democratic primary race as having the best chance to win in November, was surrounded by workers from HartMarx, a garment factory he fought to save. He hit hard on the need for jobs creation in his speech.
In close primaries for governor, current Governor Pat Quinn, a maverick on many issues, seemed to narrowly win against State Comptroller Dan Hynes, who comes from a Chicago political machine family. Quinn had the political misfortune of stepping into office in the wake of a scandal by his predecessor, Rod Blagojevich, and the biggest budget crisis in state history. The Republican race for governor is too close to call.
Hynes had enraged the progressive community and African Americans with an attack ad that repeatedly showed a speech by the late Mayor Harold Washington criticizing Quinn upon firing him from his administration. But the Hynes family, including the comptroller's father, had been one of the chief obstructionists to the Washington administration.
Cook County government has long been a bastion of political patronage and corruption. Now the economic recession has compounded the government's budget crises. The Cook County Board of Commissioners President race was closely fought among Democrats vying for the nomination. Current Board President Todd Stroger, appointed by Democratic Party bosses after his father had a massive stroke, ran against three other candidates. He came in last. Many voters were reacting to a recent sales tax increase that he implemented. Plus budget cuts have heavily impacted health care and other vital services.
Alderman Toni Preckwinkle won the Democratic nomination for Cook County board president. Preckwinkle, an African American and seen as the most progressive of the candidates, could be the first woman elected to the post. She put together a coalition that reflected the racial diversity of the city.
Cook County Democratic primary winners in heavily Democrat Cook County are seen almost as shoe-ins for the general election. Although there will be Republican and Green Party candidates on November's ballot.
But perhaps the most important results for Chicago-area independent politics came from the city's southwest side in the form of two races.
The first race was the decisive victory of Jesus "Chuy" Garcia over Mario Moreno in the Democratic primary for Cook County Commissioner of the 7th District. Moreno, a Democratic Party machine incumbent, is widely seen as corrupt and a do-nothing. Organizers see the Garcia win as a victory for grassroots political empowerment in the Mexican American community, as well as, progressive coalition politics seeking to address the widespread economic troubles of voters.
"Tonight all of Chicagoland and suburbia is watching this new southwest side," declared Garcia triumphantly to a jubilant crowd at a packed victory party in the Little Village neighborhood here. "We demonstrated that progressive politics are possible anywhere in the Chicagoland metropolitan area."
Many see Garcia's win as putting back on track the movement Garcia helped to lead as state senator when Chicago's infamous Democratic Party machine ganged up to defeat him in 1998. The defeat chilled the city's progressive independent movement. The 22nd Ward Independent Political Organization, of which Garcia is a leader and founding member, was one of the main groups still trying to carry on an independent, progressive and pro-working families agenda. Garcia was an early supporter of the late Mayor Washington and the first Latino elected to the state senate.
Garcia called for other communities to come forward with an alternative vision and to build broad unity around a new agenda for the metropolitan area that could challenge the old machine politics, much like the coalition that carried Washington to victory in 1983 and 1987.
The second significant race on the southwest side, which profoundly shook up the political scene was for state legislature. In his first race for public office, Rudy Lozano, Jr. lost by just 434 votes to Rep. Dan Burke, from one of the most powerful and connected families in the state. Lozano's campaign in the 23rd legislative district won 46% of the vote, but had to contend with a record low voter turnout across the state.
Lozano, an educator and community organizer, inspired an army of young grassroots activists and leaders, who with their courage and audacity refused to be intimidated by the machine thuggishness, intimidation and efforts to isolate Lozano's campaign. They braved Chicago's hot summer and cold, snowy winter to canvass the neighborhoods daily.
Garcia jumped into the race for commissioner late, teaming up with Lozano and bringing many veterans of previous campaigns with him. It helped open up resources and gave both campaigns the feel of an intergenerational movement.
The threat of Lozano's campaign so worried the establishment that powerful House Speaker Michael Madigan became personally involved, first dispatching his attorney in an attempt to drive Lozano from the ballot, then marshalling the remnants of the old corrupt Hispanic Democratic Organization to back Burke with a public display of Latino support while intimidating Latino political support for Lozano.
Efforts were made by both Madigan and the Burke family to deny any support for Lozano in the labor movement. Lozano still garnered endorsements from United Electrical Workers (UE), Workers United and Citizen Action Illinois.
Lozano racked up surprising vote totals in stronghold precincts of the Burke and Madigan machines. This also reflected the large demographic change on the southwest side and the desire for elected officials who are honest and responsive to a district hard hit by joblessness, home foreclosures, school overcrowding and concerns with gang violence, as well as, Latino representation in the state house.
"This is just the beginning," Lozano told the crowd at Little Village's Mi Tierra Restaurant. "Regardless of the outcome we have already won a great victory. We have a movement on our hands not just on the southwest side, but across the city of Chicago. We have put progressive independent politics on the map and it's here to stay."
As part of the Garcia-Lozano alliance, progressive independent Alderman Ricardo Munoz was elected to the State Democratic Party Central Committee.
In other races closely watched by labor and progressives, Robyn Gable, director of the Illinois Maternal and Child Health Care Coalition won the Democratic nomination for the 18th Legislative district being vacated by Rep. Julie Hamos. Gable who is part of the progressive movement around Rep. Jan Schakowsky (D-Ill.), vowed to continue the fight for health care reform.
Hamos had given up her seat to run for U.S. Congress in the 10th Congressional District, the seat currently occupied by GOP Senate nominee Mark Kirk. Hamos ran against Dan Seals, an African American who had challenged Kirk twice. Seals defeated Hamos and his victory in November would flip the seat for Democrats.
Photo: Jesus Garcia, left, addresses the victory party crowd Feb. 2 with Rudy Lozano. John Bachtell/PW