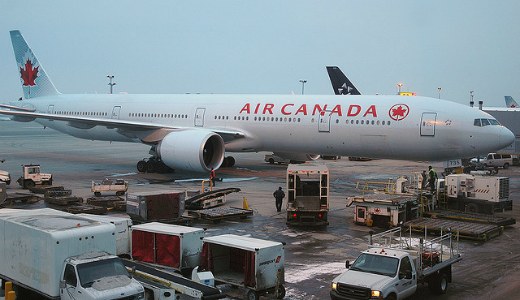 Flight attendants at Canada's largest airline overwhelmingly endorsed strike action on Sept 13 with results of the 10-day vote showing 5,175 ballots favoring a walkout, and 116 opposed. The Canadian Union of Public Employees Local 4095 reported a high turnout of 78 percent.
The Air Canada employees could end work as early as Sept. 21. If that occurs, Canada's government would be expected to step in and quickly shorten any strike, perhaps through back-to-work legislation such as that introduced earlier this year for Canada's striking postal workers, or instead block strike action altogether.
Though a tentative deal was reached last month, 88 percent of workers rejected it in the vote that followed, with the dominant issue being a dispute over pension changes for new hires: rather than agree on a set payout level, the plan proposed by Air Canada's management would see benefits tied to future investment performance.
Conditions and benefits, such as rest periods and meal allowances, and the fate of a regional carrier based in Halifax, Nova Scotia are among the other issues previously raised by workers.
Air Canada's plans to start a new discount business line are also a point of contention, with management proposing a lower pay scale for its attendants.
Other Air Canada workers were also engaged in strike action this summer: sales and customer service agents, represented by the Canadian Auto Workers, went on strike for three days in June before Canada's labor minister, Lisa Raitt, announced intentions to prepare legislation.
However, a strike by the airline's 6,800 flight attendants, represented by the Canadian Union of Public Employees, would be far more disruptive to services. "No one wants a strike", bargaining unit president Jeff Taylor said in a Tuesday press release. "But if we can't reach a tentative agreement which addresses our members' concerns, and soon, it could be our only choice."
CUPE is also challenging the company's strike plan strategy, featuring intentions to use non-union staff and enroll replacement workers in a training program, prompting them to file a complaint with the Canada Industrial Relations Board.
The airline is expected to reduce service if the union provides notice of a strike, which must occur 72 hours in advance under federal laws. Air Canada has cited increasing fuel costs as driving the need for austerity, while employees cite a past record of sacrifices and the company's current profitability.
'They've been giving up concessions within the company for the past ten years', Taylor told Canadian Press interviewers. He did not confirm or deny the possibility of work-to-rule plans, a job action where employees perform minimum contractual and safety tasks to force a slowdown.
Air Canada has provided little public commentary, though it released a statement acknowledging the vote's result and contingency plans for a 'partial schedule including codeshare flights operated by [partner airlines].'
The government of Canada previously justified back to work legislation by warning that disruption of services would be a threat to Canada's fragile economic recovery; Air Canada pilots and dispatchers both rejected tentative deals earlier in the year, while mechanics and baggage handlers are still preparing to start negotiations.
The airline also came under scrutiny last month when it was fined $50,000 by the U.S. Department of Transportation for deceptive advertising of flight prices. In response, the opposition New Democratic Party cited its previous introduction of a Passenger Bill of Rights. Among its provisions were measures to keep passengers fully informed of flight cancellations and delays, and a full-fare refund if flights were delayed by five or more hours.
Independent analysts expect a strike to almost certainly impact operations, as flights must maintain a minimum number of flight attendants at all times.
In 2010, the airline reported net profits of $107 million, and gross earnings of $1.38 billion, the highest in its history.
Photo: caribb // CC 2.0