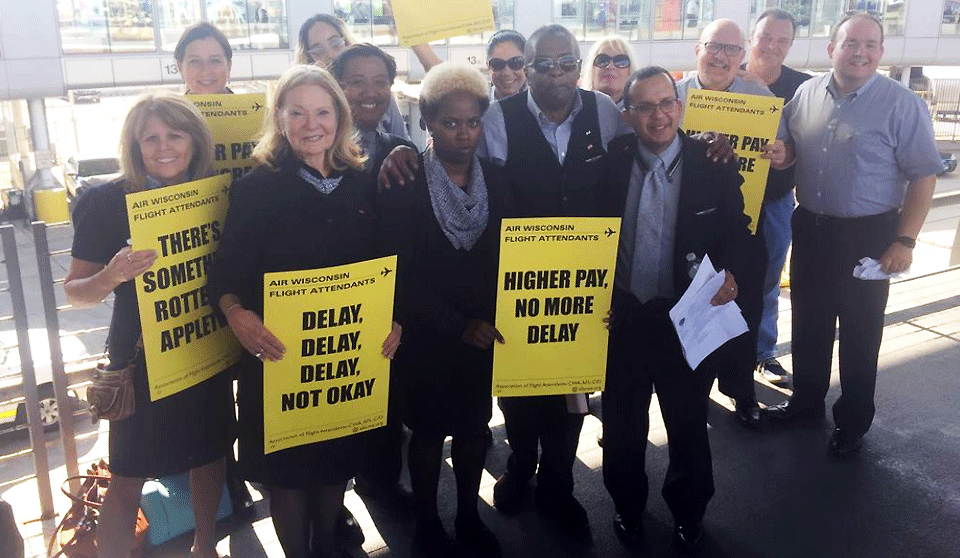 CHICAGO (AP) – Despite their important safety responsibilities, Air Wisconsin flight attendants report starvation wages as low as $15,000 a year. They will be walking an informational picket line this Thursday, April 11, handing out flyers to bring attention to the dire need for a wage increase. Union members will gather at Chicago O'Hare International Airport between Terminals 1 and 2 from 1:00 to 2:00 p.m.
Union flight attendants have participated in similar protests in the past, but are now increasing the pressure for the airline to take serious measures towards addressing their concerns.
Negotiations for a contract began in June 2016. Since then, the Air Wisconsin members of the Association of Flight Attendants-CWA authorized a strike by a vote of 99 percent. But for now, they are protesting outside of work hours.
Union rights of most U.S. workers are overseen by the National Labor Relations Board, but airline and railway workers operate under a separate set of rules governed by the National Mediation Board. Strikes are barred until a set of requirements are met. Until then, flight attendants say they will continue to protest off work hours in between their flights.
Ernie Lazernick, president of the Air Wisconsin unit of AFA-CWA told People's World that beginning flight attendants are typically given 70 hours a month with a starting pay of $17.51 an hour. "That might sound great," he says, "but we're paid in block time. So [only] from the moment the gate doors close until the second they open we're being paid, but all the time spent boarding beforehand we're not being paid for."
Many of Air Wisconsin's employees suffered special financial hardships in 2018 when the company switched from partnering with American Airline to United Express. During this transition, Lazernick said, several of the staff were not scheduled to work and consequently lost out on income. "I had to take a loan out of my 401k — we even have a flight attendant that lost her house," he reported.
Turnover rate among flight attendants is high due to stressful working conditions. The job is both physically and emotionally demanding — they are expected to be on their feet during most of the flight and must work through jet lag. New employees are often scheduled to be on-call for 16-hours days, without the guarantee of being asked to come into work, says Lazernick.
Air Wisconsin functions exclusively as a United Express regional air carrier. It serves over 31 states with primary hubs at Chicago O'Hare International Airport and Washington Dulles International Airport. "When the company first started, flight attendants would be based out of smaller communities, [where] the cost of living might not have been as high," AFA spokesperson Taylor Garland told People's World. But now, Garland explained, flight attendants are based in expensive-to-live-in urban centers such as Chicago, Washington, D.C. and Columbia, South Carolina.
In 2018, Air Wisconsin took care of the company's security by signing a long-term contract with United Airlines. Garland says that union members are seeking similar protection by negotiating a contract with higher pay and better benefits. "They secured the company's future and now we need to secure the future of the flight attendants," he said.
The 2 percent raise management is offering its employees is not nearly enough for them to live off. "The low pay is forcing airline employees to make difficult and unnecessary decisions about their lives," says Garland. "They have to decide between paying rent, buying groceries, or paying bills."
In spite of being seriously underpaid, Air Wisconsin flight attendants are highly trained professionals. A standard flight attendant undergoes training in customer service, pre-flight procedures, boarding, in-flight service, safety and security procedures, and first aid. "These flights attendants are the first responders in case of an emergency," says Garland. "They need to be rewarded for the safe, sensitive and important work that they do."
Air Wisconsin operates out of 75 destinations with nearly 350 flights per day, transporting nearly six million passengers annually as an integral part of the United network.
Air Wisconsin Association of Flight Attendants members are hoping that their protest in Chicago will put pressure on United Express to hold its partner, Air Wisconsin, accountable for the underpayment of their employees. "We wear the United uniform, we represent the United company too," says Lazernick. "Your flight attendants are suffering and we need help."
Thursday's protest, which highlights the ties to the transport giant United Airlines, has the potential to send waves throughout the airline labor world. The union flight attendants at Air Wisconsin are hoping to set a precedent for regional airlines and uplift the important and necessary work that they do.