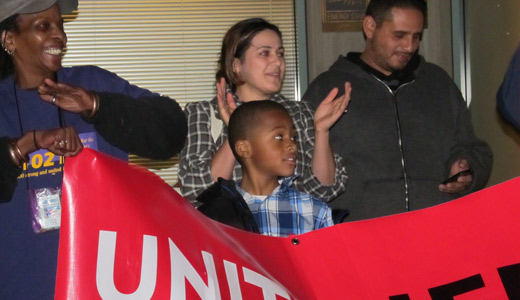 OAKLAND, Calif. – Non-union workers at Oakland Airport concessions were backed by their union counterparts and by other port workers and community supporters Dec. 6 as they told the port commissioners just why they are struggling for the right to organize.
Concessions that lease directly from the airport have signed an agreement with Unite Here! that includes a provision for "card check neutrality" – a fair process to decide whether or not to join a union. That agreement covers more than two-thirds of Oakland Airport workers who are represented by Unite Here! Local 2850.
But the pact doesn't apply to workers at eight concessions subcontracting from the main food service provider, HMS Host.
The nonunion workers say they experience lower wages and benefits, poorer working conditions and management harassment when they seek to win labor rights.
When her aunt died recently, one worker said, she wasn't allowed time off to attend the funeral or spend time with her family. "My manager came up to me and she said, 'well, you had two hours off and that's all I can do for you right now.' After I finally arranged for my co-workers to cover my shift, she asked me again, 'tell me why you want the day off. Is it really that important to spend time with your family?'"
Last July, workers from eight non-union food service subcontractors at the Oakland Airport launched a public campaign for justice on the job.
They filed claims against employers for numerous violations of federal, state and local labor laws. They also demanded a fair process to decide whether to join a union without interference from bosses.
As a result, they say, they are experiencing a lot of harassment, and several have been fired.
The union workers are engaged in their own struggle as they negotiate a new contract to replace the one that expired July 1. They say HMS Host is seeking to keep wages the same while "freezing" health coverage so workers will have to pay a larger share.
Local 2850 President Wei Ling Huber described the union's frustration as HMS Host put off meetings until after the first of the year. Now, she said, HMS has said it is available at midmonth, and Local 2850 is determined to carry the talks forward.
Also backing the concession workers were other port workers – maintenance, administrative and other support staff – who held their own one-day unfair labor practices strike last month over the port's refusal to provide key financial information their union says it needs during its contract negotiations.
"My hat goes off to every one of you here, for standing up for your rights," said airport custodian Yvette Nixon. "And I will stand with you for yours, because you showed me you would stand with me."